The Branch Line runs down the western side of the Railway Centre, from Didcot Halt - near the Turntable in the centre of the site, to the Transfer Shed at the north end of the Centre.
The line was laid by the Great Western Society in the 1970s, and as well as sometimes providing train rides is also home to a large quantity of preserved Great Western buildings and infrastructure which has been moved to the Centre and which create a wonderful atmosphere, reminiscent of a rural GWR in the golden age of steam.
Didcot Halt
Didcot Halt represents a typical Great Western wayside stopping place. It has been created with a collection of buildings and other items moved from elsewhere, together with some 'new build' in the Great Western style.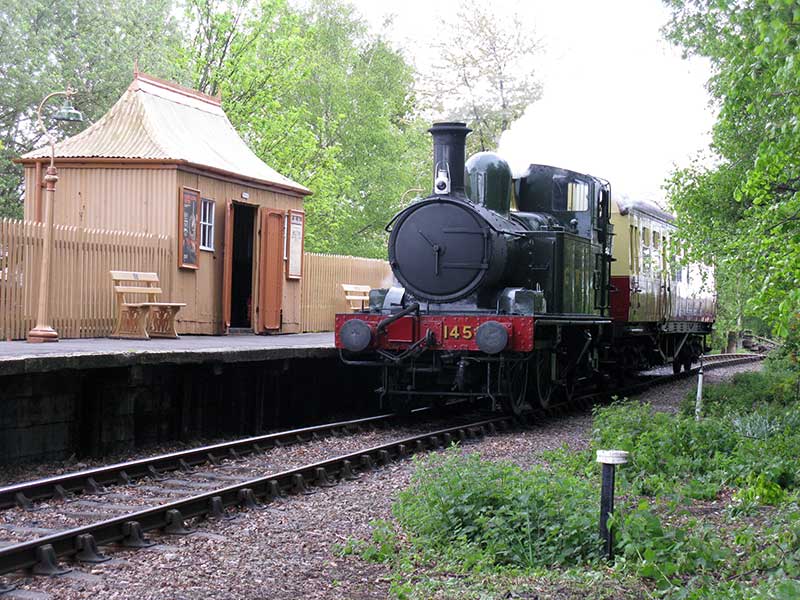 The principal buildings are the corrugated iron 'pagoda' shelter on the platform, which was originally at Stockcross and Bagnor halt, and the wooden Ticket Office from Welford Park. Both these locations were on the Lambourn Branch not far from Didcot.
Beyond Radstock Signalbox, adjacent to the level crossing, you can see the original Great Western water tower, which was moved here from Bodmin (General) station in Cornwall. On running days keep a look out for the locomotives filling up their tanks using the leather 'bag' hanging from beneath the water tank.
The Transfer Shed
The Transfer Shed was moved from what is now the station car park to form the northern terminus of the Branch Line.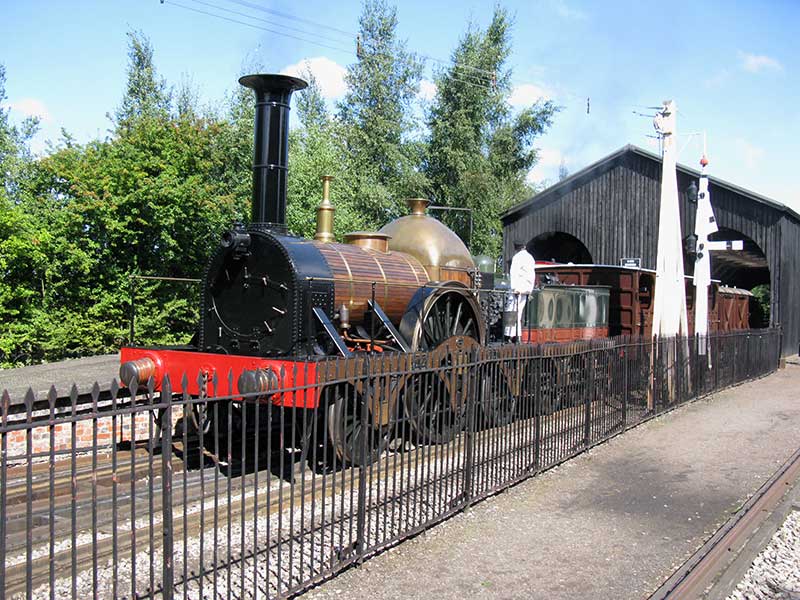 Transfer sheds date back to Brunel's broad gauge railway, when it was necessary to manually transfer goods from trains of one gauge to trains of another.
The shed has a central platform, with a standard gauge line on one side and a broad gauge one on the other, to make this transfer as easy as possible.
Although the building was originally designed for the transfer of goods, the platform now forms the northern passenger terminus of the Branch Line, and has been named 'Burlescombe' to remind us of the location from which much of the bridge rail used in our broad gauge display was recovered.
Signal and Telegraph
The Branch Line is also home to an extensive collection of Great Western signalling equipment. Not only are there two signalboxes, a level crossing and an impressive array of semaphore signals but also cast-iron signs, spear fencing, stone setts and the once ubiquitous telegraph wires.
Generally the signalling equipment is based around two different periods each centred on one of the two signalboxes. Radstock North Signalbox has been restored to a 1930s condition and controls equipment of a similar vintage, whilst Frome Mineral Junction Signal Cabin has been taken back to the 1870s and controls a, largely replica, system of 19th century signalling.