The Great Western Society and Didcot Railway Centre have been delighted over the years to have been the recipient of many awards for excellence in a diverse range of fields. Here are just a few examples of more recent awards:
March 2022 - Pendennis Castle wins Steam Railway Magazine Readers award
Team 4079 at the HRA Awards on 19 March, left to right Chris Handby, Leigh Drew, Drew Fermor, Harry Pettit and Richard Croucher.
A second award to the Great Western Society was also announced at the Heritage Railway Association (HRA) awards ceremony held at the Burlington Hotel in Birmingham on 19th March 2022. This was the Steam Railway Magazine Award which is the only one of the HRA awards voted for by the public. Voting took place over the course of two weeks in February. The award was presented by well known TV presenter and railway enthusiast Tim Dunn.
4079 Project Manager, Drew Fermor commented that "I am both amazed and humbled to say that you, the public, declared our restoration of Pendennis Castle to be the winner! It is an amazing honour to have any award from the HRA but to know that this one was voted for by the general public makes it all the more special to us".
The GWS also received a 'runners-up' award in the Large Groups category in respect of last year's 60th Anniversary celebrations.
February 2022 - GWS wins Heritage Railway Association Interpretation Award
The Annual award, sponsored by Heritage Railway magazine, was given in recognition of 60 years of excellence in providing access to the Society's ever-expanding collection of exhibits, These range from locomotives and rolling stock to small relics and a photographic archive and are thought to represent the largest collection of items relating to any one railway company in the world. The award also reflects the achievements of the Education Team, our guides, re-enactors and operational staff for the quality of their interaction with our visitors. Also mentioned are such individual attractions as The Signalling Centre and the air raid shelter.
The award was presented at a ceremony held at the Burlington Hotel in Birmingham on 19th March 2022.
Frank Dumbleton, named an 'Unsung Hero' at Tourism South East's Beautiful South Awards for Excellence
Frank is one of the Centre's longest-standing volunteers having been involved with the Great Western Society since its formation in 1961. He was recognised for the countless hours he puts in taking photographs that contributed to the success of the image-led marketing strategy adopted last year, along with his efforts as a guide, museum steward and compiling the popular 'On This Day in History' posts for the Centre's Facebook platform and his input into the successful online blogs launched in 2020.
Like many other recent events, the awards ceremony switched to an online format – in his short acceptance speech, Frank (suitably attired in DJ and bow tie) thanked his fellow volunteers and the staff at the Railway Centre and said he is looking forward to helping welcome back visitors when the Centre reopens next month.
Head of Visitor Experience and Marketing, Graham Hukins, said "We are delighted that Frank has received this accolade; it is extremely well deserved and a very welcome boost after a very difficult year".
"Frank is one of the 400 or so wonderful volunteers whose work is invaluable in running the Centre. He typically puts in over 100 days on site every year and posts really informative historical snippets on our Facebook page every day" he added.
Fran Downton, Chief Executive of Tourism South East, said, "Congratulations to all our finalists. Achieving excellence is not easy, particularly in the year we have just navigated. All the finalists can be extremely proud of what they have achieved. I was blown away by the quality, positivity, and innovation of the tourism businesses we have across the South East. Many of the winners are truly world class. I am extremely grateful to the sponsors and voluntary judges who make the Awards possible. We look forward to celebrating with our winners and working alongside them as they lead the way in a year of recovery".
Andrew Mosley, Headline sponsor, The Grand Brighton said "What a line up! Huge congratulations to all of the winners and nominees, we're sure these awards are made even sweeter after a year of such highs and lows. It's a pleasure to be part of such a positive celebration amongst many friends and colleagues within the hospitality industry. Here's to 2021 and continuing to support our industry, celebrate successes and help each other bounce back bigger and better than ever".
September 2020 - Saint Project Highly Commended in annual Museums + Heritage Awards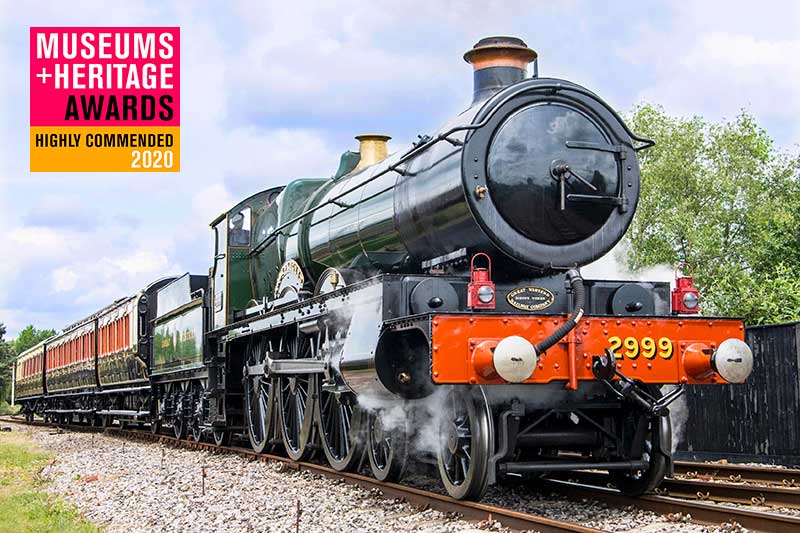 At the national Museums + Heritage Awards - held online on Tuesday 22 September, we received a Highly Commended accolade in the Restoration or Conservation Project of the Year category for the Saint Project placing it in the top three restoration and conservation projects nationally.
The locomotive, No. 2999 'Lady of Legend', is a recreation of an iconic type of Great Western steam engine last seen in 1953 when the last of the original examples was scrapped. The £825,000 project was undertaken by a team of dedicated volunteers and took almost 24 years to complete with 2999 taking to the tracks in 2019.
Gaining such recognition on a national stage is a huge achievement and highlights the innovation, tenacity and hard work of the whole project team.
Chief Executive, Emma Jhita, said, "This is wonderful news, a real tribute to the hard work and enthusiasm of the team here at Didcot. It is particularly rewarding to be recognised nationally, especially as we're not a conventional museum or gallery".
Anna Preedy, Director of the annual Museums + Heritage Awards commented: "Being able to share such great news, in announcing the winners of the 2020 Museums + Heritage Awards, has been a real privilege. As we work together to recover, these Awards are a timely reminder of the exceptional creativity and determination of this sector, characteristics which are demonstrated so well by all of our winners."
February 2020 - GWS receives HRA Award for the re-creation of the Saint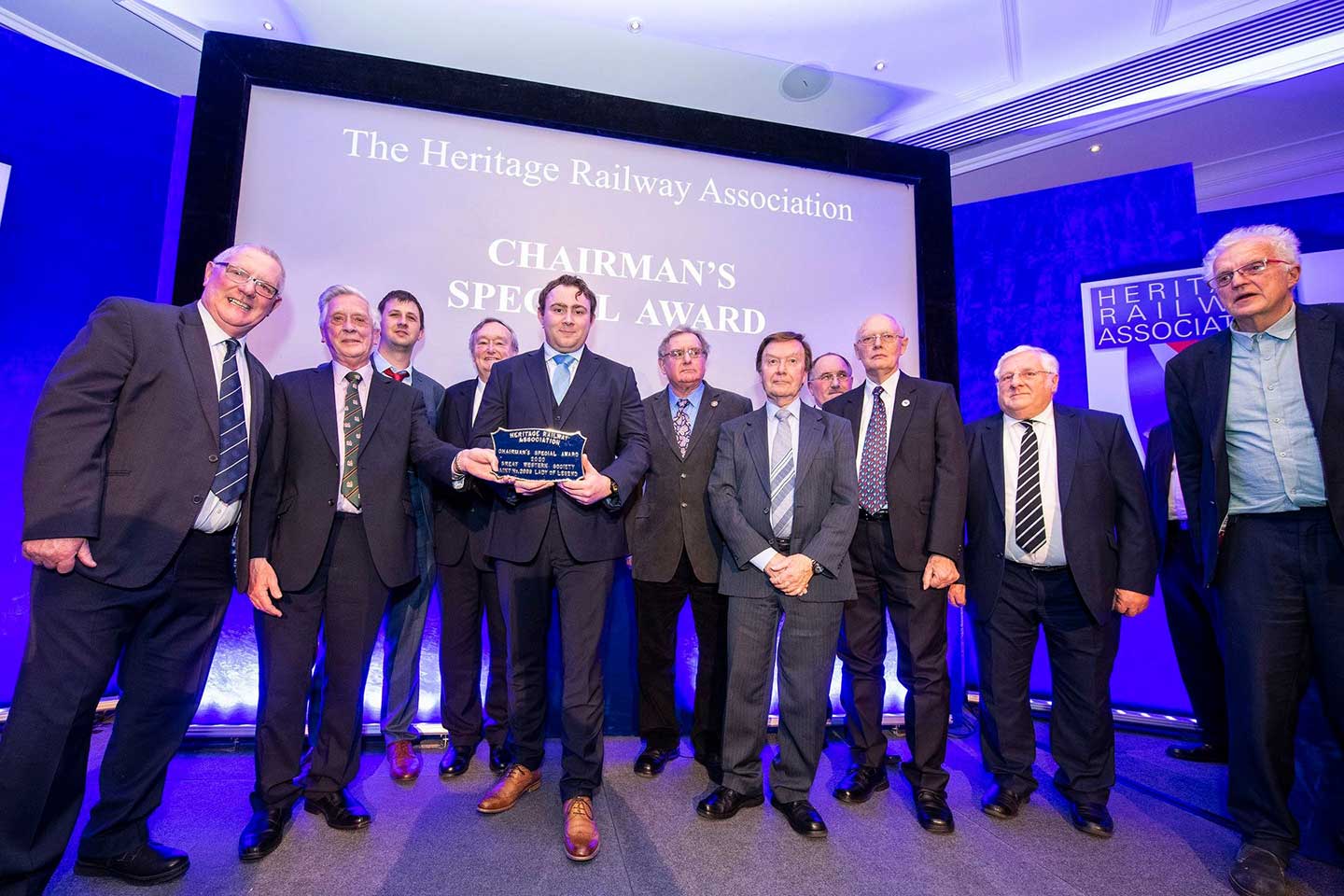 At the Heritage Railway Association annual awards, a team from Didcot Railway Centre received the Chairman's Special Award 2020 for rebuilding a representative of the long-lost Saint class locomotive, at Didcot Railway Centre. The Award Ceremony took place at the Burlington Hotel in Birmingham on Saturday 8th February 2020. Great Western Society members (l to r) Richard Croucher, Leigh Drew, Ian Camfield, Alasdair Matthews, Martin Breakspear, Ian Welsh, Richard Jermyn, Geoff Moxham and Ron Hows are seen flanked on extreme left by Brian Simpson OBE, Chairman of the Heritage Railway Association, and on extreme right by Christian Wolmar, Broadcaster and writer specialising in railways, who was guest of honour at the Awards.
February 2020 - Lifetime Achievement Award for former GWS Chairman Richard Croucher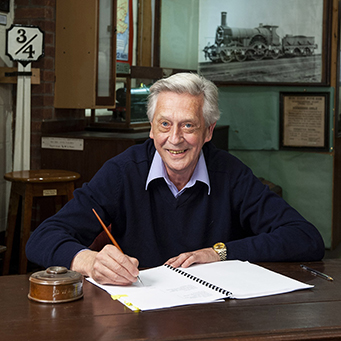 Former Chairman, Richard Croucher, received The Railway Magazine Lifetime Achievement Award for services to Railway Preservation.
The Award was presented at the annual Heritage Railway Association Awards on Saturday 8 February and recognises Richard's work spearheading many projects at the 21-acre living museum over the past four decades. He has been instrumental in raising funds and coordinating projects including the restoration of flagship express passenger locomotive No. 6023 'King Edward II' from scrapyard condition, the recreation of 'Saint' Class locomotive No. 2999 'Lady of Legend' which entered service in 2019 and the renovation of the unique Great Western steam railmotor No 93. He was also an integral part of the team that repatriated the iconic locomotive, No 4079 'Pendennis Castle' from Australia. The engine is currently being returned to working order in the Centre's workshops.
Richard also served as GWS Chairman for 18 years and led protracted negotiations with the British Rail Property Board, then Railtrack and finally Network Rail to secure a long-term lease on the Railway Centre site with its original 1932 engine shed and working coal stage.
Current Chairman, Richard Preston said "This accolade is richly deserved. Richard's efforts have allowed us to achieve so much and we're delighted that 6023, 2999 and No 93 are all scheduled to be in action this year helping us to tell the story of the Great Western Railway to visitors young and old alike".
May 2019 - Didcot Railway Centre receives TripAdvisor 'Hall of Fame' Award
Didcot Railway Centre is delighted to announce that the Centre has been recognised as a TripAdvisor Certificate of Excellence, 'Hall of Fame' winner. The Certificate of Excellence award celebrates all round excellence for a visitor attraction, and is given only to establishments that consistently achieve great reviews.
The 'Hall of Fame' was created to honour those businesses that have earned a Certificate of Excellence for five consecutive years; being created in 2015 for the fifth anniversary of the Certificate of Excellence. It was not offered in 2016 or 2017.
Being awarded the Certificate of Excellence for many years, this induction into the 'Hall of Fame' is a huge source of pride for the entire team at Didcot Railway Centre. We would like to thank all of our past guests who took the time to complete a travel review. There is no greater seal of approval than being recognised by our visitors. With the TripAdvisor Certificate of Excellence based on visitor reviews, the accolade is a remarkable vote of confidence to our living history museum, and to our continued commitment to excellence.
Ann Middleton, Commercial Manager, said, "We are proud and delighted to have qualified for a Certificate of Excellence, Hall of Fame entry, from TripAdvisor. We really value our visitors' opinions of Didcot Railway Centre and are always striving to improve where we can".
June 2017 - Didcot Railway Centre receives Queen's Award For Voluntary Service
The Great Western Society at Didcot Railway Centre was granted the Queen's Award for Voluntary Service, in recognition of the voluntary work that has taken place at Didcot Railway Centre for over 50 years, and could be deemed particularly apt in this, their 50th anniversary year.
The wide ranging skills of the volunteers, past and present, can be seen in how the Centre has developed, from a railway depot, into a globally recognised centre of excellence in railway preservation. The work includes the restoration of steam locomotives, historic carriages and wagons, and buildings sourced from many outposts of the original Great Western Railway. The Centre now has an unmatched collection of locomotives, rolling stock, and small and large artefacts of railwayana from a single railway company.
Centre manager, Roger Orchard said, "We feel hugely honoured to have been given this award, especially in our 50th anniversary year. We hope this award will stimulate more volunteers to come to the Centre and see the many different volunteering roles we are able to offer people of all ages and abilities."
You can find out more about the Queen's Award for Voluntary Service on the www.gov.uk website.
January 2017 - GWS member awarded BEM
Viv Cooper was awarded a British Empire Medal in the 2017 New Year's Honours List.
The Official Listing reads 'Vivien Alma, Mrs COOPER - Volunteer, Great Western Society, at Didcot Railway Centre. For services to Railway Heritage. (Maidenhead, Berkshire)'
Joining the Great Western Society in her teens, 53 years ago, Viv quickly became involved with administration, which has continued to the present day. The first locomotives and coaches purchased, or cared for on behalf of fellow members, were based at Totnes in Devon. Here Viv would also help with cleaning the locomotives as well as promoting the Society at open days, on sales stands and in other forms of publicity.
Once the Society moved to the Didcot Railway Centre, which is now its home, Viv, for some years, took on the duties of liaising with British Railways for open days and filmings plus arranging VIP entertaining. For many years her home telephone number was the Society's main point of contact. Viv has covered most aspects of administration in the Society, including forty years of producing newsletters for members and latterly transferring them to digital format. Currently company secretary for the Society's rolling stock holding company, Viv is now gathering together the Great Western Society's own history. She has always felt part of a team to make the Great Western Society and Didcot Railway Centre successful and accepted the BEM on behalf of all the volunteers.
Married with three daughters and four grandchildren, Viv lives in Maidenhead, Berkshire.
The main photograph shows Viv in May 1964 with No 1466, just a couple of months after the Great Western Society had purchased its first locomotive, and apparently before health and safety had been dreamed of - The inset shows Viv on the same locomotive in less perilous pose in January 2017.
Mike Peart, one of original four 'schoolboys' founders of the Great Western Society adds his congratulations "Volunteering is obviously the secret of eternal youth! Well done Viv".
April 2014 - Didcot Railway Centre Gains Full Accreditation Award
Didcot Railway Centre was awarded Full Accreditation by Arts Council England. The Accreditation Scheme is a benchmark for museums, setting nationally agreed standards in collection care, public services and museum management. Gaining Full Accreditation status shows that Didcot Railway Centre is meeting the national standard and is key to gaining future grant funding to develop the Centre.
Richard Croucher, Chairman of the Great Western Society, which runs Didcot Railway Centre said "I am delighted that Didcot Railway Centre (DRC) has achieved full accreditation status. DRC first obtained museum registration over a decade ago and as museum standards have been raised, we have been invited to jump the next height which has been achieved each time.
Unlike many other museums, the achievements at Didcot Railway Centre are made entirely by volunteers and I am particularly pleased as a voluntary organisation, that we are able to equal, and in some cases, exceed the standards being accomplished in the professional world which reflects highly on our volunteer members."
Lord Faulkner, President of the Heritage Railway Association said "Heritage railways and living history museums are an important part of explaining our heritage to current and future generations of enthusiasts. Gaining Full Accreditation reflects a high degree of professionalism within a voluntary organisation. It is a real achievement that shows how Didcot Railway Centre has developed into the successful visitor attraction it is today."
There are currently just under 1,800 museums participating in the Accreditation Scheme, which sets nationally agreed standards for museums in the UK. The Accreditation lasts for three years and defines the good practice and standards that help museums to be the best they can be, for current and future users.
November 2013 - Didcot Railway Centre Highly Commended in Beautiful South Awards
Ken Robinson looks on whilst Jackie Murphy, of Flagship Consulting, presents the award to Ann Middleton and Frank Dumbleton of the railway centre
Didcot Railway Centre flew the flag for the heritage railway sector in the South East, at the Beautiful South Awards on 27 November, by securing a Highly Commended accolade as a visitor attraction.
Organised by Tourism South East the Beautiful South Awards has run for over twenty years and celebrates the very best the South East has to offer for all types of tourism businesses including B&Bs, hotels, holiday parks, self catering, visitor attractions as well as recognising those businesses that have gone the extra mile on accessibility, sustainability and great customer service.
The ceremony was co-hosted by Tourism South East Chairman, Ken Robinson CBE and travel journalist and broadcaster Alison Rice. Our category of award was sponsored by Flagship Consulting and the event overall by Shepherd Neame.
Ken Robinson said: "It is great to see such excellence rewarded. These 2013 Beautiful South Awards represent the culmination of hard work and dedication by the best tourism professionals, in our best tourism businesses, that have been recognised for providing such outstanding customer experiences."
Ann Middleton, Commercial Manager of the railway centre said: "We are so proud to win a Beautiful South Award. It's a great achievement for all the volunteers and staff at Didcot Railway Centre."
October 2013 - Didcot Railway Centre receives Didcot First Business and Community Award
Some of the Didcot Railway Centre team with Mayor Axel Macdonald
Didcot Railway Centre was the community winner in the Science and Innovation category of the Business and Community Awards (BACAs) organised by Didcot First. Didcot First is an independent organisation, committed to bringing together commerce, statutory bodies, voluntary agencies, and the general public to ensure that Didcot is a positive place to live, work and invest. The BACAs scheme is now in its fifth year.
The award was won for implementing the Electronic Point of Sale (EPOS) system which allows us to claim gift aid, and hence increase our funds. There is a small cash prize which we are going to use to implement one of the recommendations from our recent Visit England - Visitor Attraction Quality Assurance Scheme (VAQAS) assessment. This inevitably involves toilets - Visit England are rightly concerned with quality toilets!
The awards ceremony was held at the Cornerstone Arts Centre in Didcot on Saturday 19 October where the certificates were presented by Didcot Mayor Axel Macdonald. Railway Centre Commercial Manager, Ann Middleton said "There's so much talent in Didcot, so well done to all our fellow award winners and everyone nominated. We were so proud to be nominated for a Business and Community Award and it was a wonderful surprise to have won."
December 2011 - Heritage Railway Association Large Group Award
The Steam Railmotor stands alongside Tornado at Didcot - 11-June-2011
The Great Western Society was awarded the Heritage Railway Association Large Group Award for 2011. This recognises 50 years of excellence within the railway preservation movement, culminating in the restoration to working order of Steam Railmotor No. 93, which entered traffic in May this year after a seventeen year rebuild .
Richard Croucher, Chairman of the Great Western Society, said: "I am delighted that the GWS has won the main HRA award for 2011 which fittingly marks a momentous year as well as the 50th anniversary of the society. This really is the icing on the cake after we managed to acquire the new 50 year lease of Didcot Railway Centre to safeguard the future. We are particularly proud to be able to join the small band of organisations which have won the main award three times, the previous occasions being in 1974 and 1981."
2011 has been arguably the most successful year ever for the Great Western Society and Didcot Railway Centre. It has organised several major launch events, including one for the newly restored King class locomotive 6023, outshopped in blue livery, as well as the Steam Railmotor. In April two Kings, 6023 and 6024, were together at Didcot, and in June the new-build A1 pacific Tornado was posed with the Steam Railmotor. Visitor numbers to the railway centre have increased by about 13% in 2011, compared with 2010 which itself was an improvement on previous years. With the security of the 50 year lease, work has already started on a new services building to improve the capacity of the electricity supply for planned visitor enhancements.
The GWS was previously the recipient of this prestigious award in 1974 to recognise its running the Vintage Train of GWR locomotives and carriages on the main line. It received the award again in 1981 for developing Didcot Railway Centre as a major visitor attraction, together with giving a major overhaul to the boiler of national collection locomotive Evening Star, enabling it to run on the main line.
June 2011 - Didcot Railway Centre named as Depot of the Year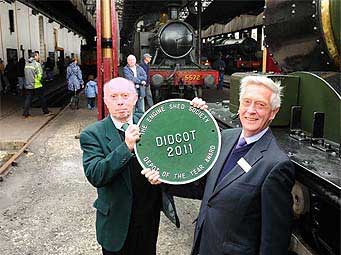 Eddie Lyons (l) presents the plaque to Richard Croucher (GWS Chairman)
Didcot Railway Centre was presented with the Engine Shed Society's - Depot of the Year Award.
The plaque was presented to Richard Croucher by Eddie Lyons, Chairman of the Engine Shed Society and long standing Great Western Society member. In his youth (in the 1960s) Eddie produced a comprehensive book on all Great Western Engine Sheds, published by OPC and regarded by many as the definitive work on the subject. Last year's award went to Barrow Hill.
The aims of the Engine Shed Society are:
To provide an information exchange between members
To build up a full list of every single standard gauge MPD, sub-shed, stabling point and works complex that ever existed, including industrial, military, multiple unit and underground depots.
To monitor the status of surviving shed buildings or site re-usage of those which have been demolished or converted.
To liaise with official bodies and pressure groups with a view to preserving or listing depots of outstanding architectural value.
To record for posterity the reminiscences of former shed employees.
June 2010 - Steam Railmotor Project receives a Transport Trust Award
HRH Prince Michael of Kent presents the award to Richard Croucher (right) and Graham Drew (left)
Photo: Brian Gooding (The Transport Trust) - 14-Jun-10
The Steam Railmotor project was given an award by The Transport Trust for restoration work being undertaken on Railmotor 93.
The Trust give these restoration awards to projects that are current, rather than complete, to encourage and recognise work in progress. The awards are not restricted to railway related items and amongst others receiving awards this year were projects as diverse as helicopter restoration and rebuilding a mobile cinema.
On Monday 14 June Society Chairman Richard Croucher and Vehicle Project Manager Graham Drew attended the Trust's award ceremony at London's Camden Roundhouse, on behalf of all the Project Team. The award was presented by HRH Prince Michael of Kent.
April 2010 - Didcot Railway Centre receives the Transport Trust's Red Wheel
Sir William McAlpine, President of the Transport Trust, Richard Croucher, Chairman of the Great Western Society and Peter Stone, a trustee of the Transport Trust, stand in front of the red wheel after its unveiling
As a fitting start to the GWR 175 celebrations, Didcot Railway Centre was awarded a 'Red Wheel' plaque by the Transport Trust, recognising the Centre as a transport site of special significance.
The plaque, which is mounted on the outside of the Great Western Trust museum, was unveiled by Sir William McAlpine on Good Friday.
The award is part of a major new transport heritage initiative to commemorate Britain's rich and globally important legacy in the development of transport. The Red Wheel programme will eventually mark hundreds of sites of special historic interest with a distinctive Red Wheel plaque and will be administered by The Transport Trust, the hub of the transport preservation and restoration movement in Great Britain.
The Didcot plaque reads: 'Didcot Railway Centre – 1932 Great Western Railway Engine Shed complex, now developed to preserve the spirit and style of the GWR for future generations'.
June 2009 - Didcot Railway Centre receives Visitor Attraction Quality Assurance Service Award
Mike Bedingfield presents Didcot Railway Centre's Ann Middleton with a plaque.
At a recent tourism industry event, hosted by Tourism South East, at Farmer Gow's Farm attraction at Fernham near Faringdon, Oxfordshire, Didcot Railway Centre officially received their VisitBritain Visitor Attraction Quality Assurance Service Award (VAQAS).
When presenting the award, Mike Bedingfield, Chief Executive of Tourism South East said "We are delighted that Didcot Railway Centre applied for this accreditation and that VisitBritain has recognised the ongoing investment in and development of the Railway Centre. This is particularly topical in the current economic climate, where many of us plan to holiday at home this year. Tourism businesses that continue to promote themselves and add value to their offer, in the way that Didcot Railway Centre have, are most likely to survive the recession."
Just one of four attractions in Oxfordshire to be recognised in this way, Didcot Railway Centre joined over 40 other tourism businesses to exchange ideas, contacts and information about some of the key challenges facing the tourism industry today. The event also enabled those attending to learn how their business can gain support from services offered by Tourism South East.
The VAQAS inspector who visited the railway centre on 3 May wrote in his report, "The centre's extensive area and comprehensive collection is generally well managed, exhibiting some remarkably well preserved locomotives and rolling stock. All of the staff/volunteers were very pleased to interact with visitors."
March 2009 - 6023 receives Transport Trust 2008 David Muirhead Award
The Transport Trust has decided that the Great Western Society should be awarded the 2008 David Muirhead Award for the restoration of 6023 King Edward II. The Award includes a cheque for £2000.
February 2009 - GWS receives Investors in Education Award
David Bevan shows the award to working members in the staff refreshment room
The South Oxfordshire 'Investors in Education' Awards Ceremony 2009 took place at The Cornerstone Arts Centre, Didcot on Wednesday 11th February.
The Winner in the 'Work Experience' category was the Great Western Society, Didcot Railway Centre, in recognition of its ongoing work-related learning support.
The ceremony was arranged by the Oxfordshire Education Business Partnership and Ed Vaizey MP presented Awards to the winners. David Bevan, the Society's Education Officer, accepted the award on behalf of The Great Western Society.
Didcot Railway Centre offers a wealth of learning in science and heavy engineering. The nomination by St. Birinus School and the winning of the award will be a great encouragement to the members of the restoration groups who welcome the opportunity of passing on their skills to students.
August 2008 - GWS receives IMechE Engineering Heritage Award
(l to r) Nigel Southwood; Brian Walker, Richard Croucher, Andrew Myhill, and, holding the plaque, Peter Chatman
The Great Western Society was honoured with an Engineering Heritage Award by the Institution of Mechanical Engineers in recognition of its achievements at Didcot Railway Centre.
The commemorative plaque was presented by Nigel Southwood, Director, Membership & Information Services of IMechE, to Richard Croucher, Chairman of the Great Western Society, on Wednesday 27 August. Nigel said, "The IMechE is delighted to make this award to the Great Western Society as it has preserved an important part of Britain's railway heritage and kept it on display for all to enjoy. Most importantly, through its work it is passing on engineering skills to the next generation. As with so many of these projects, for those who work on them, it is often labour of love, not money."
Richard Croucher, Chairman of the Great Western Society said, "We can show 125 years of development of railway engineering at Didcot. As enthusiasts, we are tremendously honoured to receive this recognition from the leading body for professional mechanical engineers."
As well as Nigel Southwood and Richard Croucher the presentation was attended by Brian Walker, Vice Chairman Thameswey Region of IMechE; Andrew Myhill, Public Affairs Officer IMechE; and Peter Chatman, Deputy Chairman of Great Western Preservations Ltd, the rolling stock holding company at Didcot Railway Centre.
The presentation was made on the footplate of locomotive 5322, which is nearing completion of its restoration. 5322 was built in 1917 to one of the standard designs introduced by George Jackson Churchward, Chief Mechanical Engineer of the Great Western Railway from 1902 to 1922. Churchward's highly successful locomotive policy incorporated features that were adopted by the other British railway companies through the first half of the 20th century.
April 2006 - Firefly Trust receives Heritage Railway Association Award
Sam Bee(l), Chairman of the Firefly Trust is presented with the John Coiley Award - 09-Apr-06
The Firefly Trust was presented with the 2005 John Coiley Memorial Prize for locomotives on 9th April 2006 at Didcot Railway Centre. The award, given by the Heritage Railway Association, recognises the Trust's achievements, in building a new broad gauge locomotive.
The original 'Fire Fly' was the first locomotive designed by Daniel Gooch, first locomotive superintendent of the Great Western Railway, and was one of a class of sixty-two; built in May 1840 it ran until 1870. Gooch took advantage of the broad gauge; his locomotives travelled at much faster speeds than those made previously. The Fire Fly class handled the principal trains from London to Bristol when they were new and were capable of hauling trains weighing 80 tons at speeds up to 60 miles per hour; one of the class hauled the first royal train, taking Queen Victoria from Slough to London, in 1842. The wheel arrangement is 2-2-2, the single driving wheel being 7 feet diameter, and the weight 24 tons 4 cwt.
The Replica 'Fire Fly' was conceived by the members of the Firefly Trust and they have assembled it at Didcot Railway Centre. You can travel, on the dates listed in our Calendar of Events, behind 'Fire Fly' on a section of broad gauge railway that the Great Western Society has recreated at Didcot Railway Centre using materials recovered from a disused railway in Devon. 'Fire Fly' will be operating on this line together with a replica of a third class coach.
June 2005 - Restoration of Coach 9002 receives Heritage Railway Association award
The Interior of award winning Special Saloon No. 9002
The Great Western Society was Highly Commended in the Heritage Railway Association's annual Carriage & Wagon Competition for the restoration of Great Western Railway Special Saloon Car No.9002 at Didcot Railway Centre.
No.9002 was one of two identical coaches built in 1940 originally intended for railway and government VIPs and fitted out with a large saloon with settees and armchairs, a pantry and kitchen. They were immediately pressed into war service and amongst the passengers during those years were Sir Winston Churchill and General (later President) Eisenhower. Subsequently they were promoted as travelling executive suites for business firms. It was one of the first vehicles to move to the fledgling Didcot Railway Centre in 1968 when it was acquired for preservation by the late John Mynors.
The award was presented at the Heritage Railway Association's Members' Weekend on Saturday 4 June 2005 to Mick Howse who lead the team that has carefully restored the carriage at Didcot Railway Centre. The completion of the project was notably marked by its return to service by HRH The Princess Royal when she visited the Centre in May 2003.
January 2005 - Science, Learning & Railways granted Rediscover Award
Children in Didcot and the surrounding area join many across the country with the opportunity to experience hands-on science thanks to grants of £7.3 million in the final round of funding from ReDiscover, the renewal fund for science centres and museums across the UK funded by the Millennium Commission and major charities. These new grants will enable children to engage with science and find out how it affects their lives.
Didcot Railway Centre in Oxfordshire has been awarded a grant of £134,694 to create a mobile science exhibition together with a learning centre. They will be accommodated in two specially adapted railway coaches at the Centre which will be made widely available for schools, colleges and general visitors. The exhibition will follow a historical trail of railway science and engineering through interactive exhibits and displays. The Learning Centre is designed to be flexible, with two teaching areas and information panels.
The 'Science, Learning and Railways' project is a partnership between the Great Western Society and the local science and engineering schools, St. Birinus School, Didcot and Faringdon Community College. Support is being received from several of the renowned science and technology centres in Oxfordshire. With its challenging interactive exhibits it will provide a valuable education resource in the County, be an exciting exhibition for visitors and provide a link with the abundance of science and engineering at the Railway Centre.
For forty years the Great Western Society has been preserving and presenting the history, science and engineering of the former Great Western Railway. Some 4 years ago Didcot Railway Centre was registered as a museum: this generous grant for the exhibition and learning centre provides the opportunity to both develop its working museum and to expand and refresh the presentation of science and engineering.
The work on 'Science, Learning and Railways' will be started without delay in two former British Rail Mark 2 carriages purchased from London Underground and is due to be completed in readiness for opening at the end of December 2005.
The £34 million ReDiscover fund is a joint venture between the Millennium Commission, the Wellcome Trust and the Wolfson Foundation and represents an innovative partnership between the National Lottery and major charitable funders. It was set up to support institutions which promote public understanding of science to renew their science, education and technology exhibitions to keep up with advances in science and technology and continue to provide high quality education.
January 2005 - GWS receives Investors in Education Award
The Great Western Society was awarded an Investors in Education Award at a presentation on 19th January 2005 from the Oxfordshire Education Business Partnership in recognition of our support for the work related learning curriculum of St. Birinus School in Didcot, providing work experience of a high standard and ongoing work to improve delivery of a curriculum related education programme. We have provided opportunities for work experience for their students and help with business and marketing for students in their last year at school.
June 2004 - Former GWS Chairman receives MBE
Graham Perry(l), is seen enjoying the 40-75 event in the company of current Society Chairman, Richard Croucher - 05-May-07
Graham Perry, one of the founder members of the Great Western Society, now based at Didcot Railway Centre in Oxfordshire, was awarded a Member of the Order of the British Empire (MBE) in the Queen's Birthday Honours List announced today (14 June).
He was one of a band of schoolboys that used to go trainspotting at Southall who in 1961 had the vision to realise that steam engines would soon be vanishing from the railway scene and he determined to ensure that at least a small part of the Great Western Railway was kept for posterity.
The Great Western Society is the result of his vision. It was initially formed to preserve just one branch line train but now has a large collection of locomotives and other artifacts based in the original engine shed at Didcot. The Society celebrated its 40th anniversary in 2001, when Graham stepped down as Chairman after serving the Society for the whole of its existence.
Graham said the honour recognised the 'members' brilliant efforts' of all the volunteers in the Great Western Society who are keeping alive the spirit of the Great Western Railway by supporting railway preservation which is now seen as an important part of our heritage and a major tourist attraction.