On Saturday 4th March, Didcot Railway Centre will be welcoming two guest engines, 5043 "Earl of Mount Edgcumbe" and 7029 "Clun Castle", from Tyseley Locomotive Works courtesy of Vintage Trains.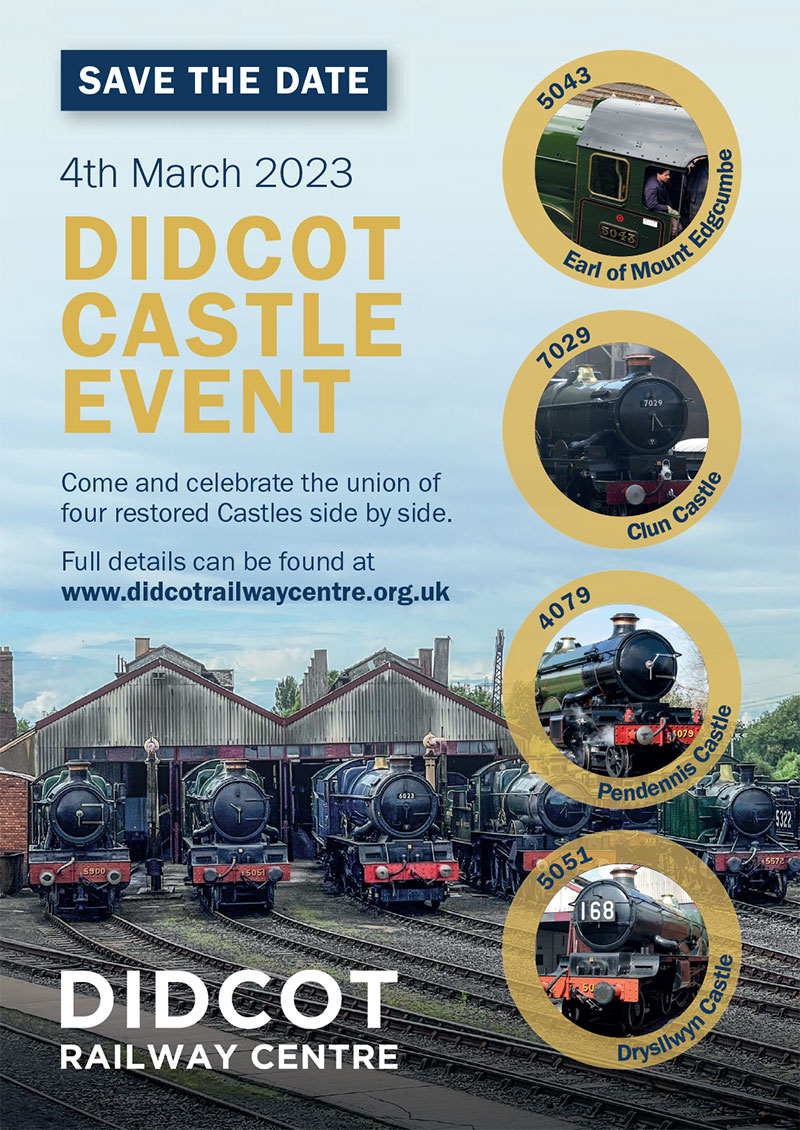 On arrival, both locomotives will pose for photographs in a unique line up beside our own newly restored and operational 4079 "Pendennis Castle" and cosmetically restored 5051 "Drysllwyn Castle". Following the line up, the two visiting locomotives will be turned and take coal and water before heading off back home.
2023 marks an important anniversary in the history of the Great Western Railway. 100 years ago, No. 4073 Caerphilly Castle was completed and put into service. This marked the beginning of what is considered by many as the most successful Express Passenger steam locomotives the UK ever produced - the Castle Class.
To celebrate this, Didcot Railway Centre in partnership with Vintage Trains at Tyseley, are working to bring you two very special events. We will bring together four restored Castles in one place. At Didcot we will see 4079 Pendennis Castle and 5051 Drysllwyn Castle alongside Tyseley's 5043 Earl of Mount Edgcumbe and 7029 Clun Castle for a few hours on Saturday 4th March. In return, Pendennis Castle will make a visit to Tyseley later in the year and be displayed on an open day. To have all four together in one place on the same day is an amazing achievement. Join us in March to help us celebrate this very rare event.
7029 – Clun Castle, is a relative newcomer to mainline steam having been built in 1950 by British Railways to the famous Great Western Railway Castle class design. She took the record for the shortest timed point to point journey from Plymouth to Bristol in 1964 from the previous record holder, City of Truro. This epic run by the last of her class in every day service ensured 7029's preservation and she came to Tyseley to begin a distinguished second career in preservation.
5043 – Earl of Mount Edgcumbe, is Vintage Trains' second member of the Castle Class, but unlike the others was built in 1936 and so is an authentic GWR locomotive, named after one of the directors of the GWR. When first withdrawn from service, she was consigned to Barry Scrapyard but found too good to destroy. Tyseley Locomotive Works rebuilt 5043 to exacting standards and she has run far and wide for Vintage Trains, including unfamiliar territory such as Stirling and Edinburgh in Scotland. 5043 is back in action after returning to Steam in the second half of 2021 after a 10 year boiler overhaul.
4079 – Pendennis Castle, was the seventh of 171 Castles built and was completed at Swindon in February 1924. On the 2nd April 2022, 'Pendennis Castle' was launched back into traffic following a 20+ year overhaul. Since then, she has won a number of awards for both the restoration and her service history. She will be having a couple of holidays to other Railways this year so stay tuned for her various exploits!
5051 – Drysllwyn Castle/ Earl Bathurst, was built at Swindon in May 1936. She was renamed 'Earl Bathurst' in August 1937 and carried that name for the rest of her GWR and BR life. Both names are regularly used on the locomotive at Didcot. She was rescued by a Society member and brought to Didcot in February 1970. She then ran many main line specials between (in the early years with Didcot's vintage train) until 1986 when the main line ticket ran out. The engine then ran at Didcot until the boiler certificate ran out in 1990. Following a second overhaul she was returned to service, and enjoyed runs out on the mainline once more, and visits to other preserved railways as well as Didcot duties. In 2008 the latest boiler certificate expired and the locomotive is now on static display until such time as a further overhaul can take place.