Western hydraulic Locomotive No 1023 "Western Fusilier" has been placed on loan to Didcot Railway Centre by the National Railway Museum (NRM) for a period of 5 years.
When British Railways was formed, the western region fought to keep the independent spirit of the Great Western alive. Whilst other regions primarily used electric transmission Swindon developed a fleet of diesel locomotives with hydraulic transmission. There were three larger bogie arrangement classes; Warships, Hymeks and Westerns and one smaller 0-6-0 class, most of which were built at Swindon works by former Great Western staff.
The largest and most powerful of the fleet were the C-C Class 52 'Western' diesels powered by Maybach engines with Voith transmission. Although the class were successful, their lives were always going to be short as they lacked Electric Train Heating (ETH) which was becoming standard with the introduction of more modern coaching stock. The class were moved onto freight traffic before being withdrawn in 1977.
Twelve bogie western region diesels have been preserved, of which seven are Westerns.
Didcot provided a home for 1010 in the late 80s and we purchased a class 14, 0-6-0 (Teddy Bear) No. 9615 in 2014.
Planned developments at the NRM led to them seeking to loan "Western Fusilier" for 5 years. Didcot Railway Centre was their first choice to provide a home for this period.
"Western Fusilier" was built at Swindon in September 1963 and was withdrawn in February 1977 having operated various runs including the last ever Western hauled rail tour the 'Western Tribute'. In 1973 she was the last ever hydraulic to have a general repair at Swindon. The loco was placed on display at York in 1977 and has been under the museum's care ever since.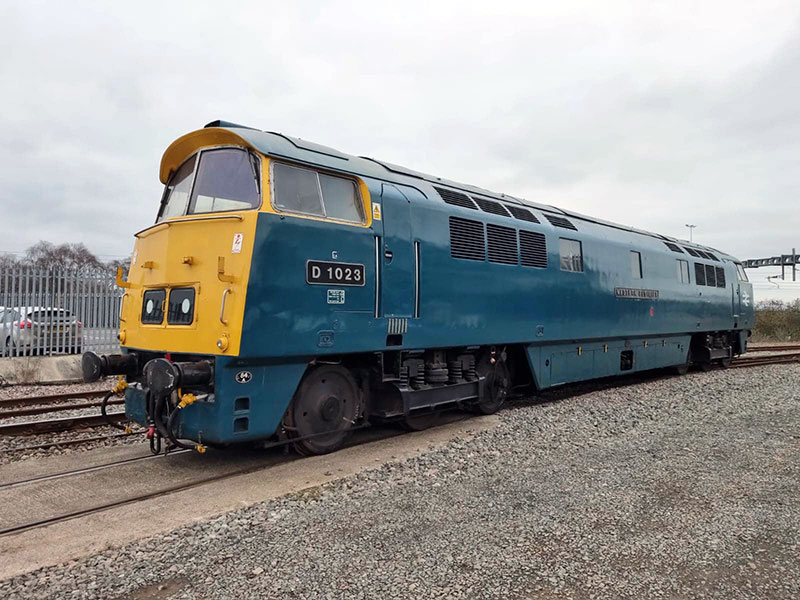 D1023 in Didcot West Yard awaiting transfer to Didcot Railway Centre - 28-Jan-2023
The loan provides an opportunity for the Didcot to further illustrate the history of the Great Western Railway and its development into British Railways Western Region. The chances of a long-term loan of any of the other preserved Western diesels was small so Didcot relishes this opportunity.
The locomotive is not operational and the NRM has no plans to get it working. Whilst visiting Didcot it will largely be on view to our visitors in our locomotive works.