Since work began on our new entrance ramp in September, the contractors have been working hard on excavating a very large hole. They have graded the hole, installed many tube piles, and laid out a large quantity of shuttering and reinforcing mesh.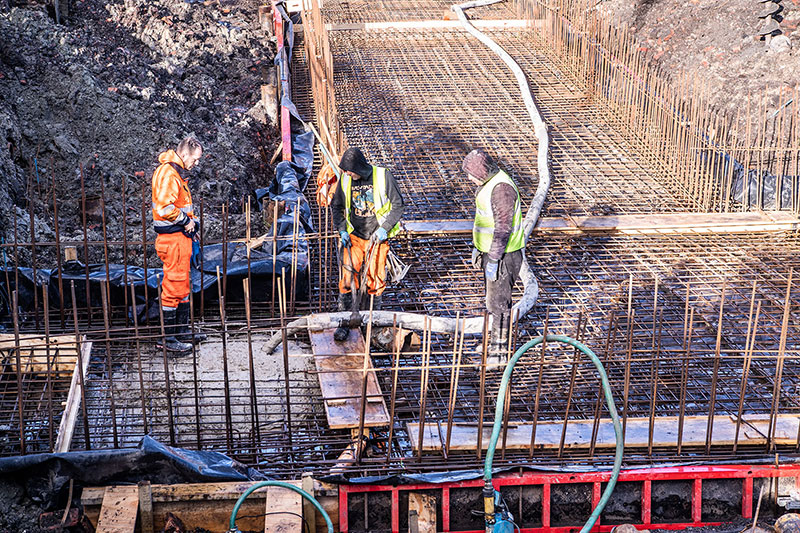 The first concrete starts to flow into the prepared area
All this preparatory work allowed for the first concrete pour on Sunday 5th November. There were of course no 'fireworks' and all went smoothly. It is expected that the other sections of the lower ramp will be poured in the next few days.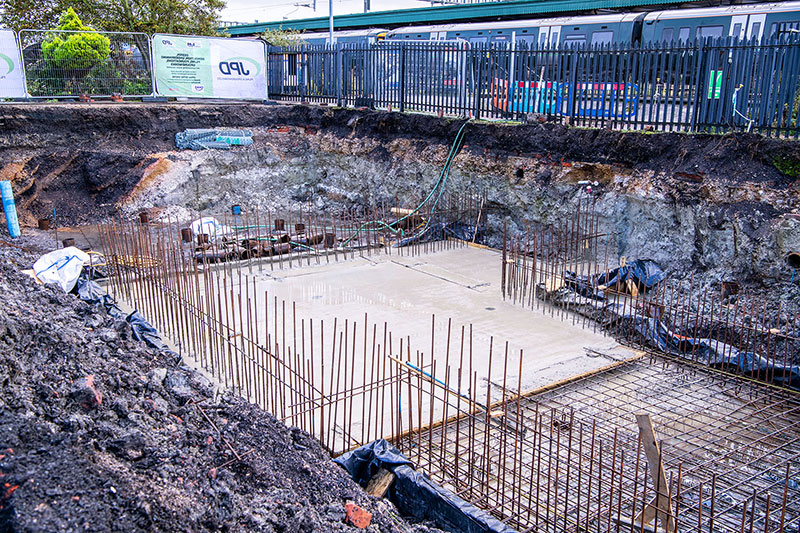 The view at the end of Sunday 5th, looking towards the station and the location where the connection to the existing subway will be made
Once this is complete work can begin to set out the walls, upper ramp and new stairs. We are also anticipating, at some point, the 'breakthrough' into the existing subway.
If all goes well, we are hopeful that the basic structure of the ramp can be completed by the end of year, but the project is a complex one, in our terms, especially given the additional logistical challenge of all plant and materials requiring delivery by rail. A formal opening ceremony is being planned.
Prior to the hole being dug a full archaeological survey of the site, which contains part of the foundation of the earlier GWR loco shed, was conducted under the supervision of Charlie McCarthy. A report on this survey appeared in the recent Great Western Echo.
Whilst we have the funds to complete the structure itself, we would very much like to introduce some Great Western features into what will become the first structure that our visitors see on entering our site. This could include such features as railings, gratings and tiling. We have launched an appeal to pay for these 'nice-to haves' and would welcome any contribution you may be able to make.
For more information see the Appeal Leaflet
Why do we need a ramp?
The steps at the entrance to Didcot Railway Centre have been challenging to some and impossible for others. In particular, for events aimed at young families, a huge number of prams and buggies have to be carried up the steps and then back down at the end of the visit. Whilst we try to provide help with this, it is not appropriate for a modern visitor attraction.