We are very fortunate indeed here at Didcot Railway Centre with our vast collection of historic locomotives, artefacts and memorabilia that forms our world-famous museum telling the story of the Great Western Railway and its employees. For our volunteers and staff there are objects of great interest everywhere around the centre, each item unique to keeping the greatest railway company on the rails.
Our Tuesday Treasures blog is designed to share this vast and historically important collection so enjoy our deep dive into the rich history in our Museum and Archives.
Latest Blogs
---
TUESDAY 21 JUNE
To Enjoy on the Journey – BR Style
We all know too well that a delight for the English is a smartly phrased criticism of a national organisation, which, however true at first, simply proves too popular to resist its constant use many years beyond its justification.
For BR at least, though many other criticisms will no doubt come to our audience's mind, the most favoured and still used one is that aimed at the BR sandwich!
Dry, tasteless and definitely curled at the edges, lamenting its life on the Station Refreshment Room counter under a plastic or glass domed cover, this was the popular image of BR take away food, which caused the BR management to urgently employ even the likes of Prue Leith to try to make it history.
Well, from our Great Western Trust archive collection, we proudly illustrate three images of a BR pamphlet of that era, which was their attempt to substantially change its packed meal image and offering.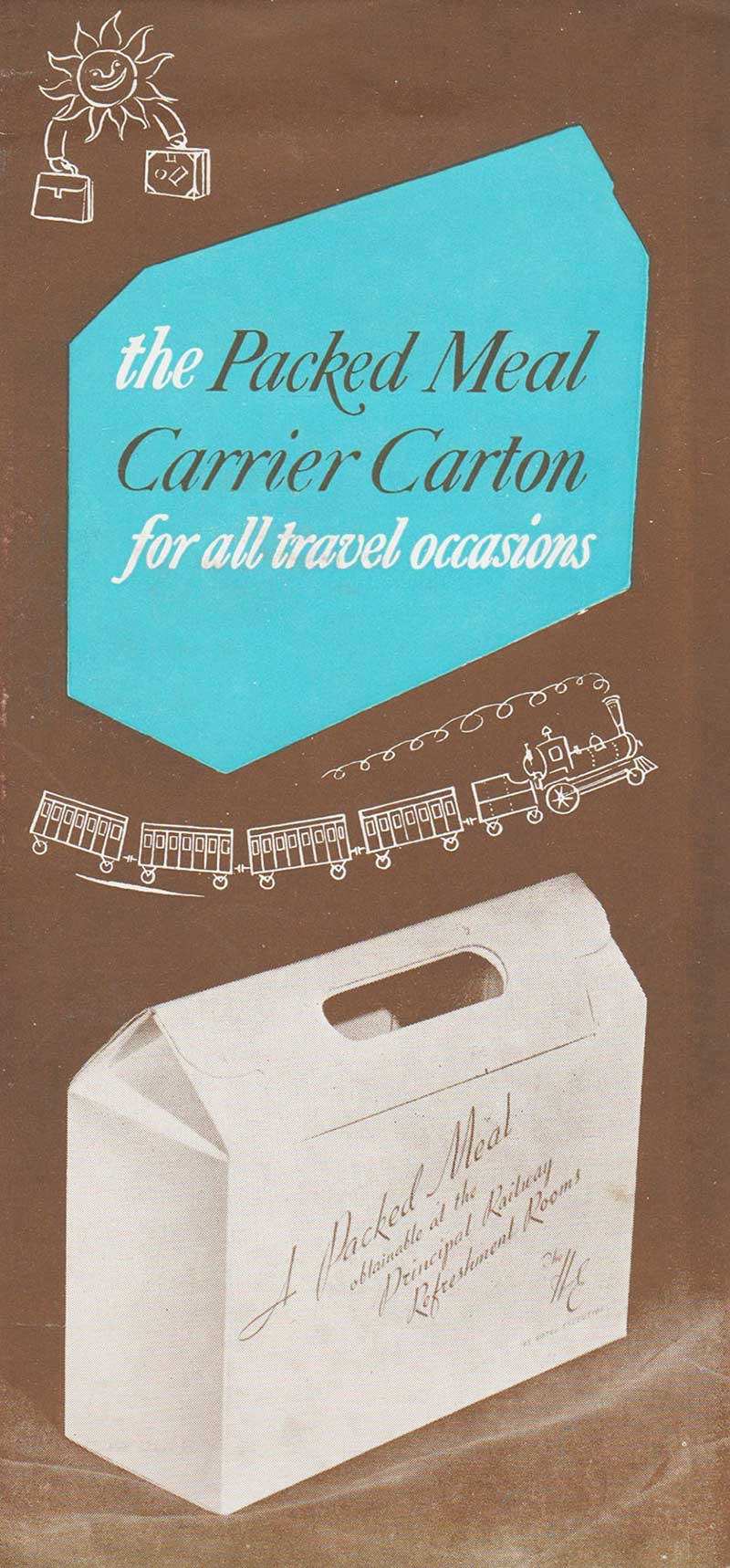 As steam engine and period train enthusiasts, we have to comment that whilst it was hardly the main subject of the pamphlet, surely BR could have directed the graphic designers to do rather better than their over simplistic sketch of a steam train?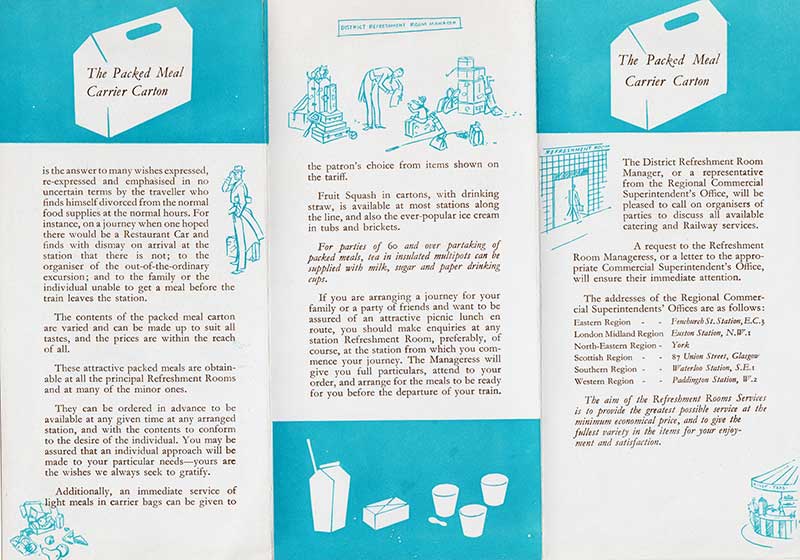 Oh well, grumble aside and we now turn to the main content. Our archive holds examples of the finely styled and crafted containers the GWR once produced for similar use (a future Blog will focus on them), but as yet, we have never found one of the kind shown on the pamphlet cover! This may well be a result of them being a 'throw away' item, as they would have suffered from staining etc from their purchased contents. It would be a nice discovery to find that an example does exist 'somewhere in England' though.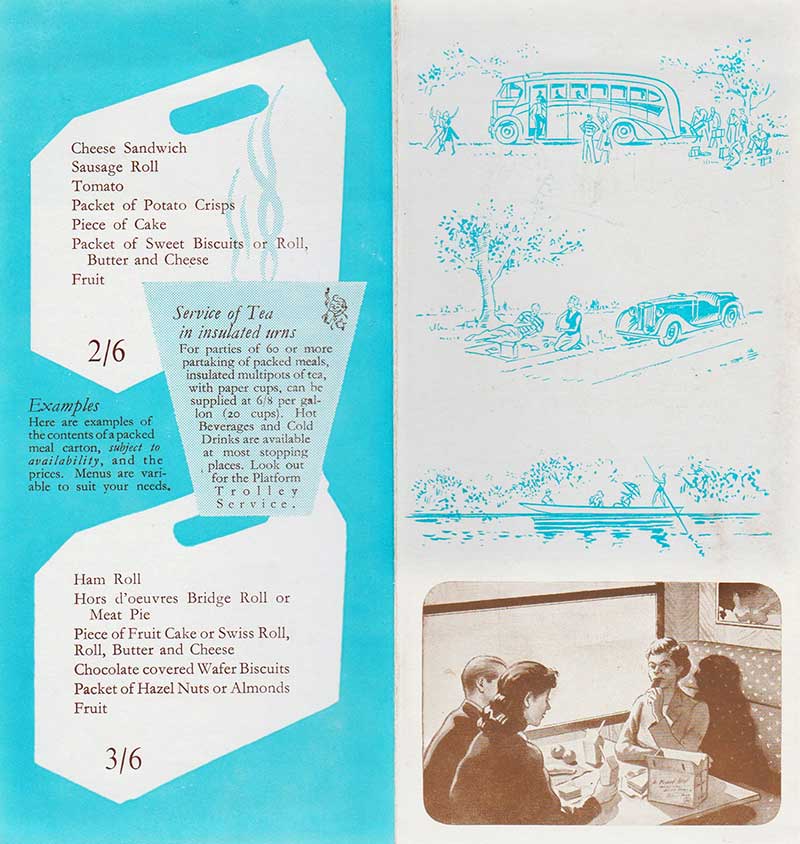 Quite how long this initiative lasted, and its degree of popularity is yet to be discovered. The pamphlet has been illustrated in full as its contents and prices are worthy of being fully appreciated.
Our final comment is to point out the helpfully inserted notice on the back section about 'Service of Tea from Insulated Urns'. In a far less Health and Safety and dare we say litigious age, there is no mention of the cautionary warning, 'this contains hot liquid' for those paper cups!
---
TUESDAY 14 JUNE
GWR Staff Social & Recreational Events – No 3
In our 28 July 2020 and our February 2022 Blogs, we covered both the GWR Staff Association Music Festival of 1939 and a programme for a production of The Gondoliers, a Gilbert & Sullivan Opera, by the Swindon (GWR) Mechanics Institution Amateur Dramatics Society on May 17 to 20 1905.
We explained that they were just examples from one of the most significant elements of the Great Western Trust Collection, our vast array of material and artefacts relating to the GWR (and then BRWR) staff recreational activities. We reflected that in our current times it was perhaps hard to imagine any large company supporting financially, let alone organising on the scale of the GWR, the breadth of activities and their year-on-year assured organisation. Well, our item today only goes to further that reflection.
It is a stunning silver medallion of striking design, in its own quality presentation box.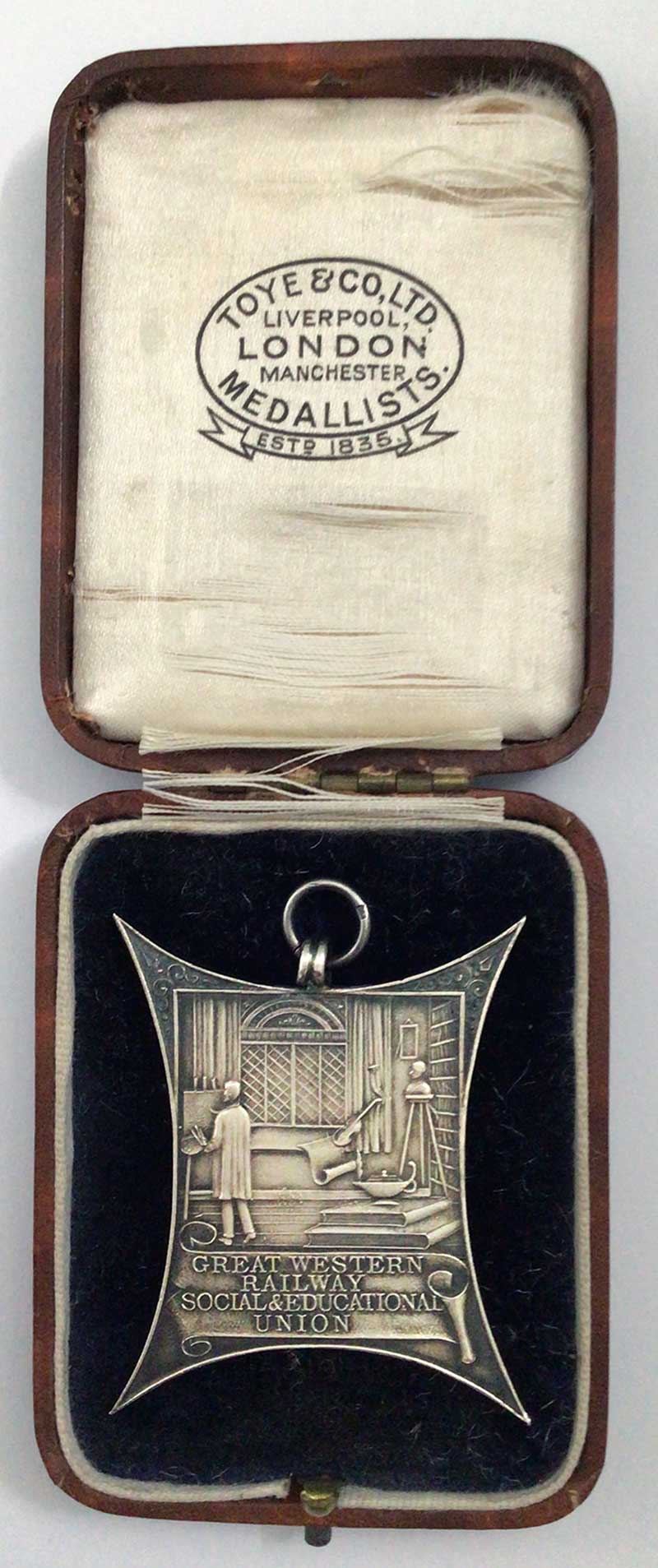 Awarded to Miss Eva Johnson, of Hirwaun, in 1929 by the GWR Social & Educational Union (which later became the GWR Staff Association) it was made for the GWR by Toye & Co Ltd Medallists, established no less than in 1835, the very year of the GWR founding Act of Parliament! Eva Johnson won her silver medal for a bedspread she exhibited in the Crochet and Knitting section of the 1929 Arts and Crafts exhibition.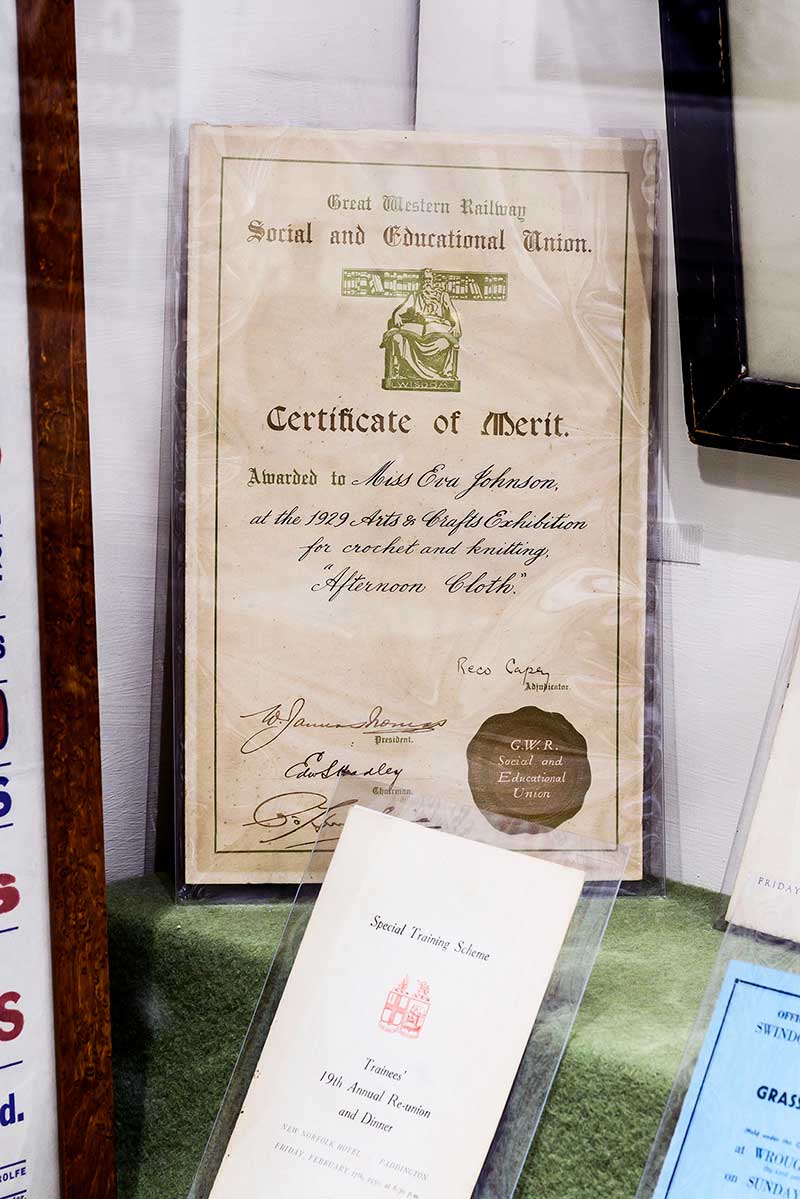 By wonderful coincidence, we also have the Certificate of Merit Awarded to Miss Eva Johnson in the Crochet and Knitting section at the same exhibition for an afternoon cloth. These items alone, prove the extent to which the GWR went to give due recognition of the regard they had for such voluntary engagement and personal effort of their staff in contributing to these annual events.
The high regard in which the exhibition was held is reflected in the renown of the adjudicators, who included Professor (later Sir) William Rothenstein, Principal of the Royal College of Art, and Reco Capey, Art Director of the cosmetics firm Yardley of London.
Almost certainly, the awards themselves would have been given to Eva Johnson by the GWR General Manager himself, and all results of the numerous competitive aspects of the S&EU Annual Event, were recorded with pride in the relevant edition of the GWR Magazine.
Of course at this long time gap from that 1929 event, we can only guess quite what an 'afternoon cloth' was used for, possibly a household, front room crocheted or embroidered table cloth or doily for tea and cakes when family or other visitors were guests?
Whatever the actual items created for this competition, the GWR awards themselves speak volumes on the social activities that were then an annual occasion, highly regarded and attended by its many staff members. And not a railway engine or train in sight (apart from model ones!)
---
TUESDAY 7 JUNE
GWR Commercial Advertising Initiatives
In our previous blogs we have often remarked upon the work and output of the GWR's Publicity Department and even its nationalised BR (Western Region) successor. The Great Western Trust collection at Didcot holds a vast array of their books, posters, handbills, and even their give-away modestly sized pamphlets, but today we explore yet another publicity related aspect of the GWR as a business enterprise.
Those who visit Didcot Railway Centre and enjoy the wonderfully restored GWR carriages, and those still recalling their own travel in the late GWR and BRWR era, will remember the interior layout of carriage compartments (yes before open format became the norm). Above the seating were usually a mirror (got to keep up appearances!) and a system map and either side of these, other rectangular framed sections for advertising of one kind or another. In the early GWR era those latter locations usually held sepia, colour tinted, or finally monochrome scenes of scenic or famous building locations served by the GWR. The photographs being of top quality having been produced by the GWR's own photographic team, the work of which itself deserves its own Blog.
In later, between the Wars years, the GWR realised that those spaces could be lucratively offered to commercial enterprises for their own publicity purposes. To give that business community advice on this new opportunity, naturally the GWR needed to produce an informative pamphlet which we illustrate here.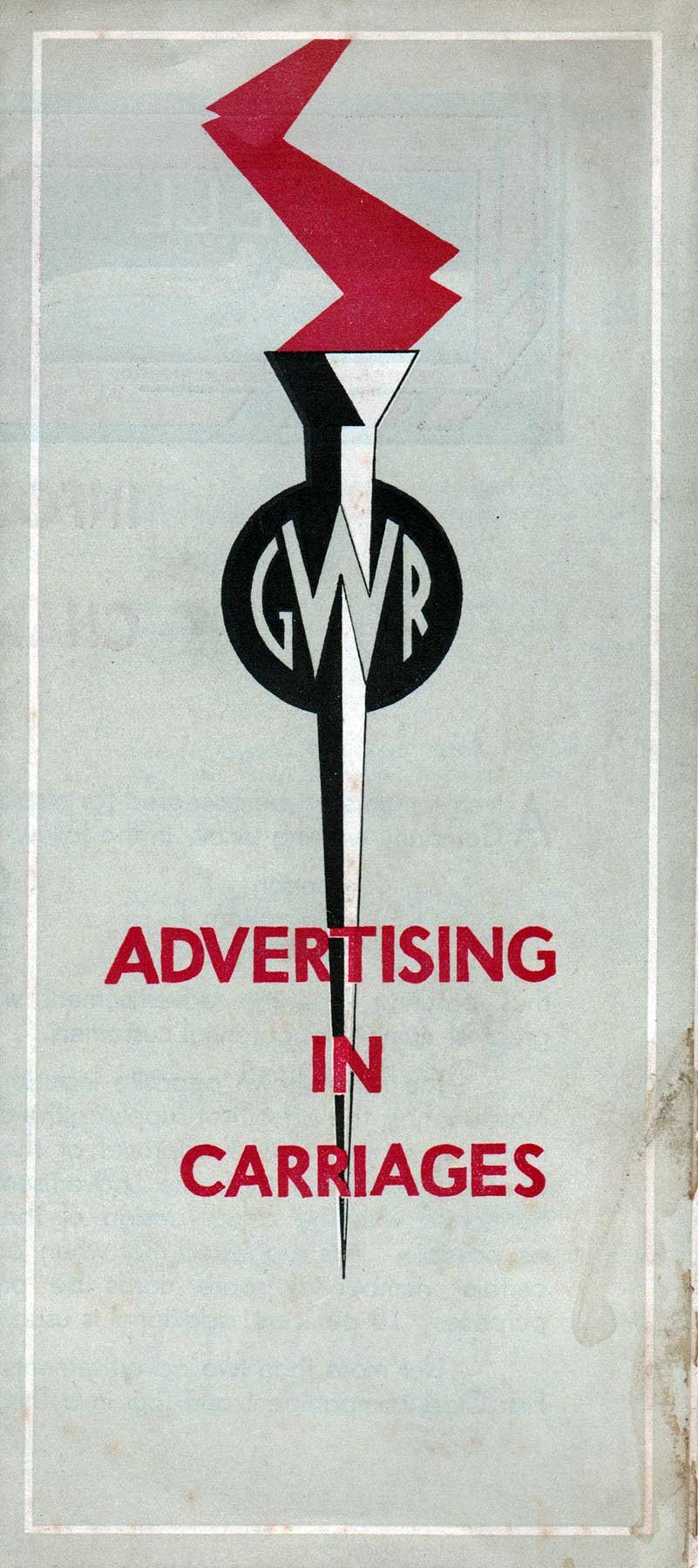 Our example came from the GWR Publicity Department's reference ledgers, which explains the slight staining on its cover from the glue they used.
The strikingly modern cover design of a flaming torch adorned by the company's modern cypher or logo 'GWR' as a roundel, is simple, eye-catching and effective. As the leaflet must have been printed between July 1929, when James Milne was appointed General Manager, and December 1932 when R H Nicholls retired, this is a very early use of the GWR roundel. The fully developed design of the GWR roundel was adopted in 1934, as announced in the GWR Magazine in September that year..
We include the rear cover, to show just how precise the GWR were in controlling the potential over-enthusiastic designs of the commercial companies who took up the offer. The pamphlet opens to provide even more information, shining otherwise unexpected primary GWR evidence of their trains.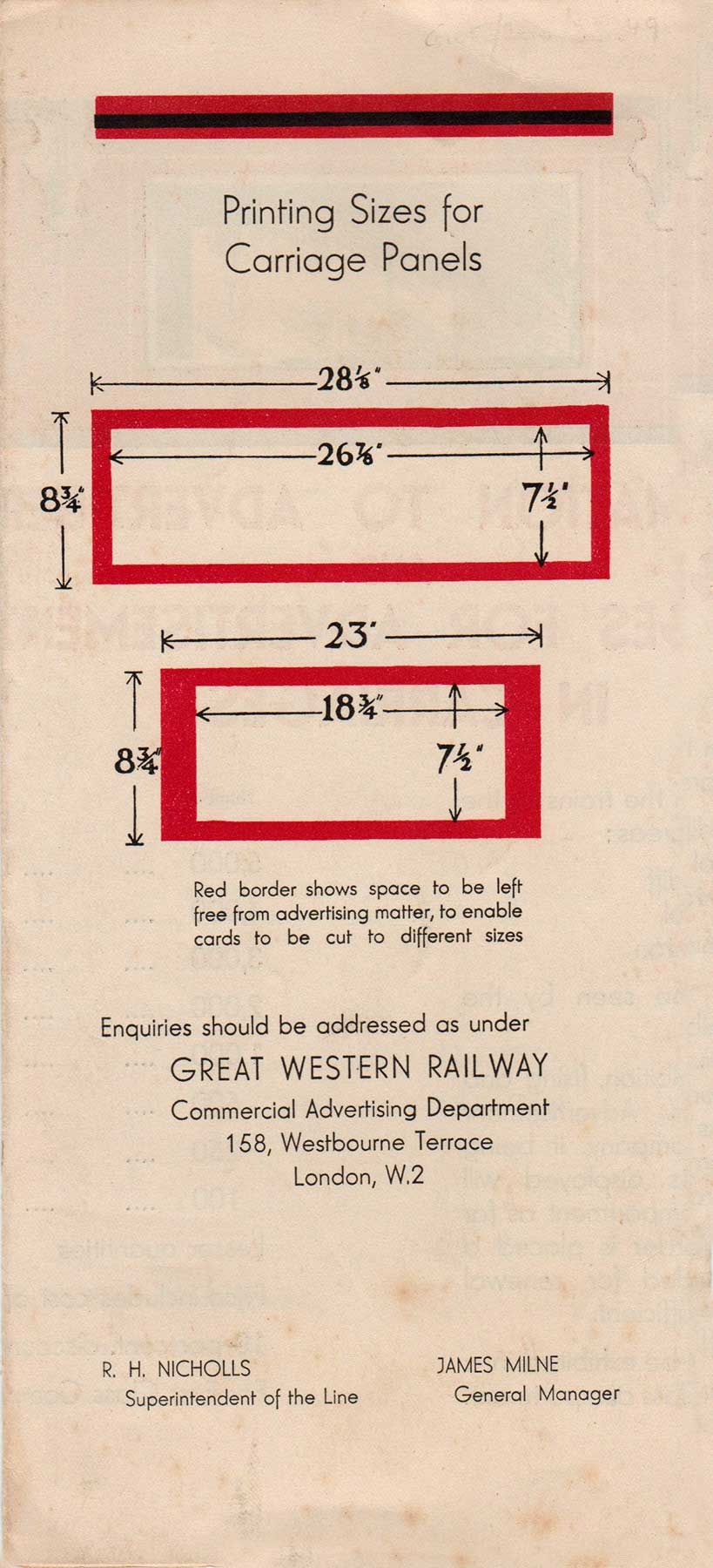 Not only are we advised of the relative fees, eg if 5,000 spaces or 'sites' were used, they would cost 10 old shillings (50p today plus vast inflation to compare!) per year, but if a three-year contract was agreed, then a 10% reduction applied. But if a first class compartment was the target, all prices increased by 10%!! These fees included the cost of GWR fixing the adverts. Clearly no outside contractor could be allowed to do the job!
What is really unique however is that to convince the commercial target audience, they had laboriously calculated the total number of sites for said adverts within all of their daily service trains, listed by district! The London district offered no less than 3,792 'sites', the Birmingham district the most at 6,696, whilst the Taunton district offered a mere 352.
The Trust collection has yet to acquire any original contracts that were created following this initiative, and we assume BRWR continued the scheme, but like so much of our work, we still have many unanswered questions about the GWR and BRWR operations! One that comes to mind, is how the GWR vetted the adverts themselves!
---
TUESDAY 31 MAY
A Royal Coronation
In our February Blog we detailed the extensive BRWR train arrangements for the funeral of King George VI based upon the selection of records we hold in the Great Western Trust Collection. Of course, a reigning monarch's death, instantly enacts the official creation of their successor, in our case that of Queen Elizabeth II. Official it may be, but the institutional and religious procedures require a Coronation ceremony, with all the pomp and circumstance and nationwide public celebrations that accompany it.
Just as they had to do so for Royal funerals, the railway companies had to be prepared for Coronations, but in those events, to manage alterations to their established, current train services.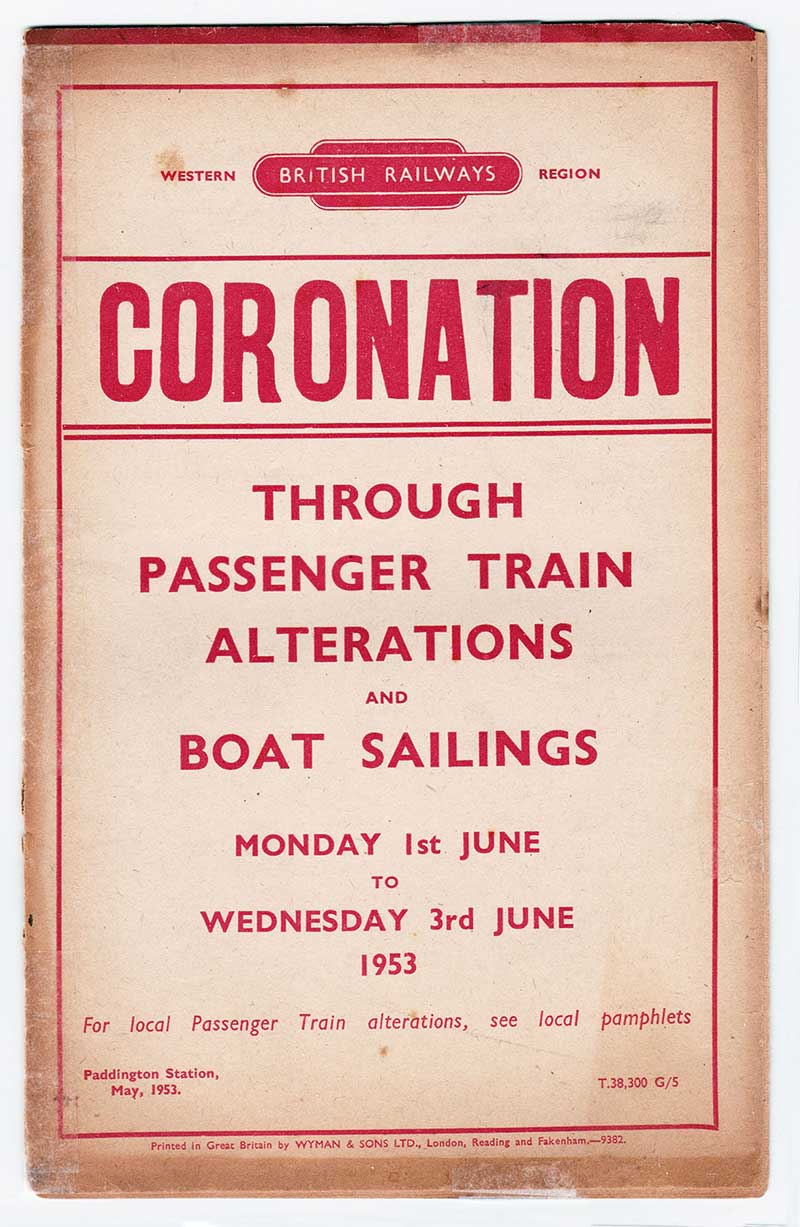 Our blog today delves into our records of two Coronations that the GWR and BRWR had to accommodate. The first illustration is that of our present Queen, a pamphlet covering entire Through Passenger Train and Boat Sailings on 1 to 3 June 1953. Yes, in stark contrast to our present railway service, BRWR inherited from the GWR, boat services to Ireland and the Channel Isles, hotels and a system-wide road cartage infrastructure. As our pamphlet explains, the changed train services were such that separate publications covered local services per district. The pamphlet illustrated ran to 15 pages of changes, and helpfully, the local service changes were published in five, differently coloured pamphlets, one for each district.
Our second illustration harks back some 51 years from 1953 to the similar publication, but this time by the GWR for the Coronation of King Edward VII and Queen Alexandra planned for 26 June 1902.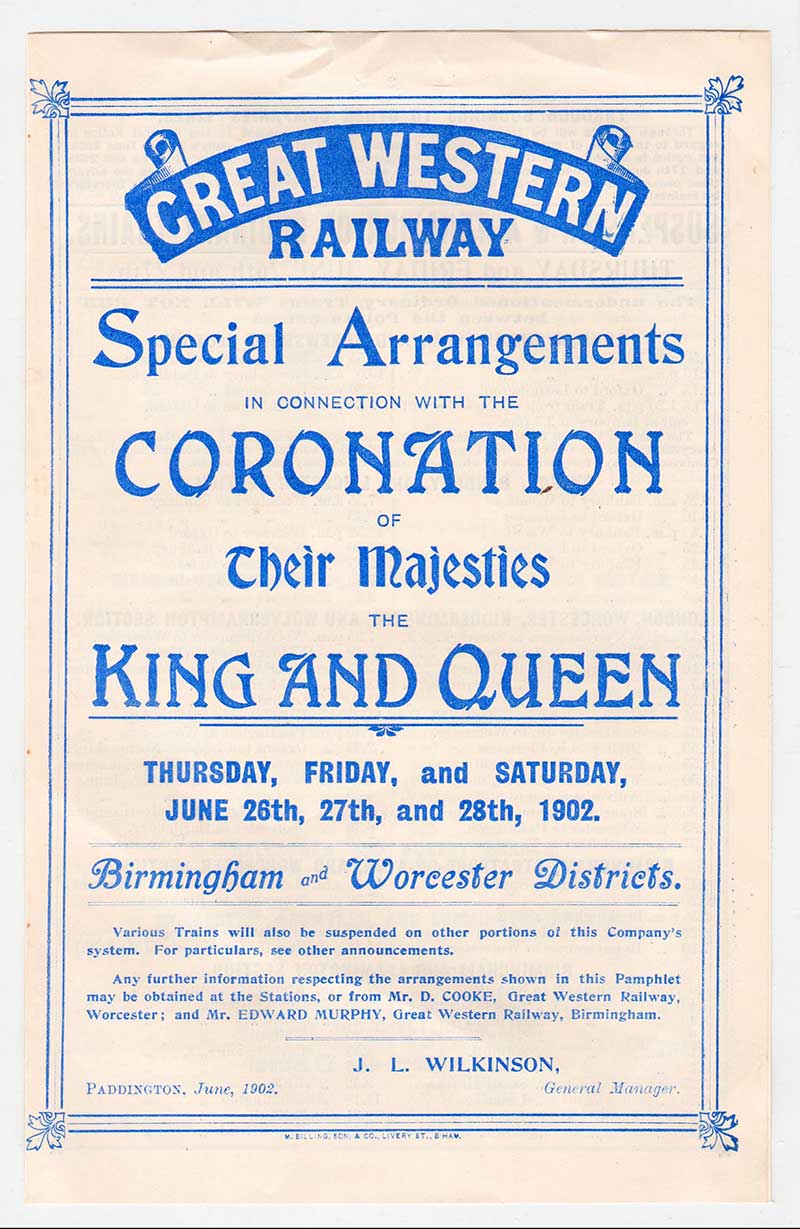 Here however, such were the extent of the service alterations, that this pamphlet only details those for the Birmingham and Worcester Districts, and all other districts would have had similar pamphlets.
As we now know, these plans were largely redundant because King Edward became seriously ill with appendicitis a few days before the Coronation date, and it developed into peritonitis. The Coronation was postponed, his surgeons carried out an operation on 24 June and the delayed Coronation took place on 9 August that year.
Our companion 'Going Loco' Blog of last Friday, gave a wide ranging introduction to the railway locos and carriages at Didcot Railway Centre that have direct or close association to Royalty. Hardly surprising when the GWR proudly publicised its "Royal Route" credentials, initiated by Queen Victoria herself using the GWR for her first ever railway journey, broad gauge of course!
Do visit us at Didcot over the special Jubilee holiday celebration period to enjoy and admire these wonderful Royal items.
---
TUESDAY 24 MAY
Changing Times and Changing Fashions
In a recent blog we illustrated a GWR pamphlet issued in June 1914 advertising excursions to London in the last summer before World War 1. Its cover was perhaps, to our current age and interests, a somewhat dated but nevertheless attractive combination of an iconic London scene plus for GWR enthusiasts, an equally iconic image of a Churchward locomotive on an express.
Our blog today, takes two more advertising pamphlets, from our Great Western Trust collection, but they have been chosen to demonstrate the impact of very changed times and attitudes from 1914 to 1979 no less.
The first is a companion of our June 1914 one, in that in April 1914, the GWR focus was now on excursions from London, and it added helpfully, that a separate programme was issued to cover the Easter holiday period.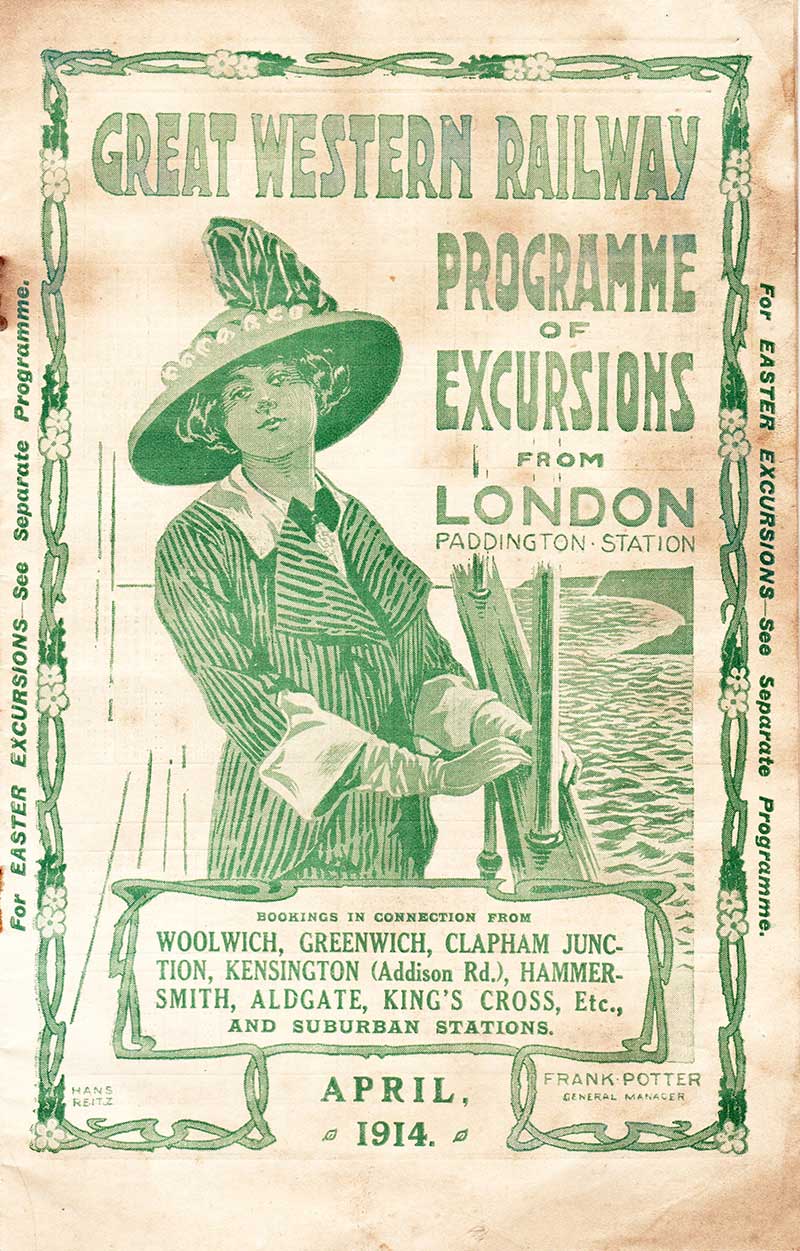 The cover artist's sketch by one Hans Reitz can only further emphasise the 'upper class' clientele that this pamphlet was meant for. A very expensively dressed and very confident lady of substance, with a 'snooty' facial expression, aboard probably a Thames river pleasure boat, stares at us with disdain? We hardly think any carriage other that first class would be her chosen ticket!
Fast forward some 65 years however, and our second pamphlet by BR Inter-City Western Region, is very different! It is a simple but effective trifold design, with the cover section showing the larger than life Ticket Office, itself stretching the theme to a Local Pub (note the DMU banner!), opens to reveal on its reverse, the open door of a BR MkII carriage next to a platform. The back cover also extends the theme to a modern street scene. What is most striking however between the design differences of these two publications, is the 'fashion' and the 'target audience'. Those of a particular age will remember and may have strutted their stuff in bell bottom trousers, loud ties, and for ladies of all ages, knee length skirts! Wow, and to connect trains with pubs…what decadence!?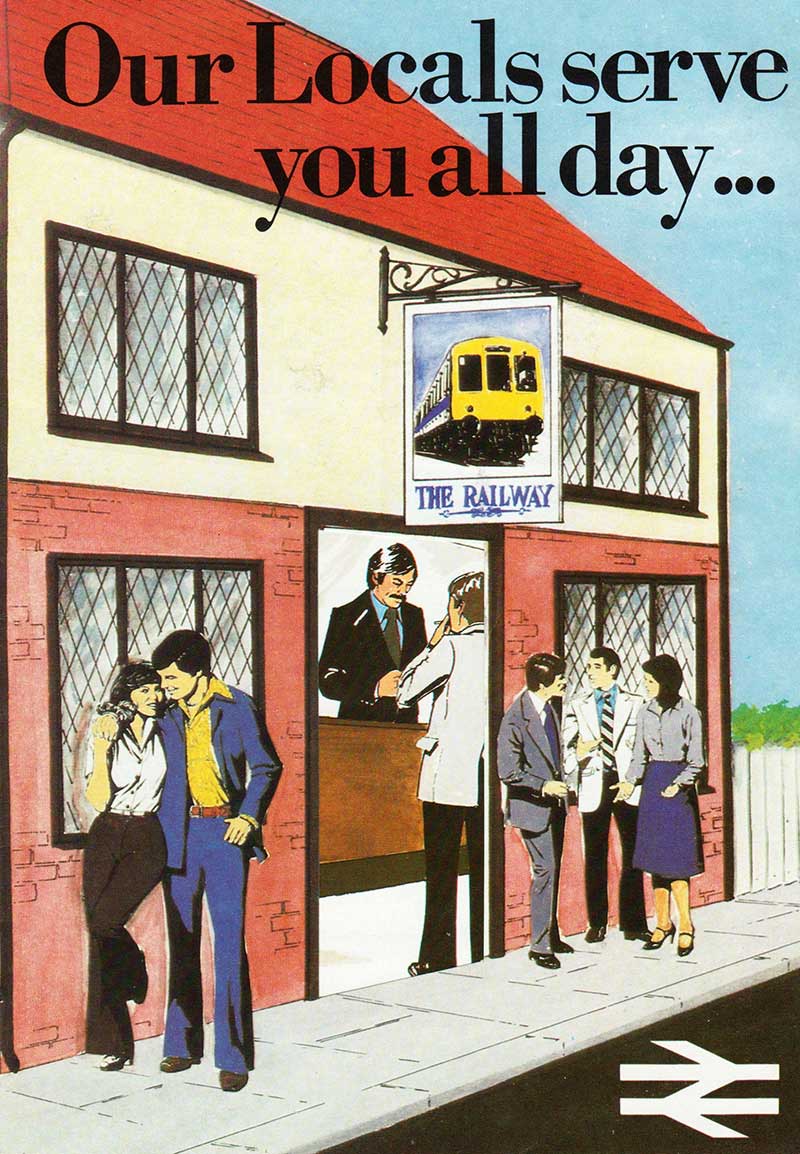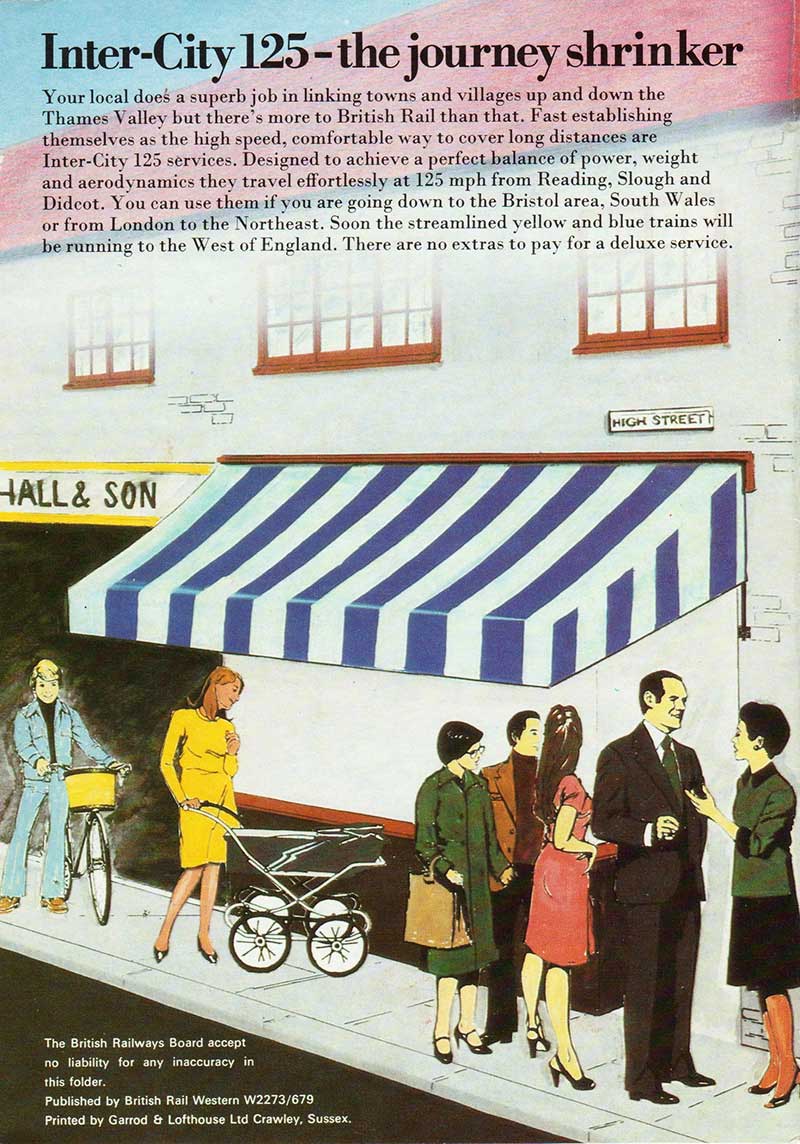 We have often commented, that the Trust collection, has so much more to offer than the purely railway transport story alone. We truly live in fast changing times, and more examples of that impact will be covered in our future blogs based upon our collection.
---
TUESDAY 17 MAY
From the Great Western Trust's poster collection we bring you an 85-year-old item which dates from the Whitsun holiday of 1937. Until the introduction of the late Spring bank holiday in 1972, the day after Whitsun (or Pentecost) was a public holiday. Pentecost is a movable feast, occurring on the seventh Sunday after Easter.
When the circus came to town it was always a major event and there would have been much excitement in Swindon in the days leading up to the show.
Koringa, 'the only female fakir in the world', was the leading act in Bertram Mills Circus in the time when it was socially acceptable to exploit animals and be entertained by midgets. She was famed for walking over broken glass and hypnotising crocodiles, walking on their heads in a specially designed tank whilst draped with a necklace of live serpents. Although her green makeup and outlandish hairstyle was supposed to evoke an air of Oriental mystery she was actually born Renée Bernard in Bordeaux in 1916. In addition to her performing talents she fought with the French resistance during the Second World War. She retired in 1968 and died in France eight years later.
The poster has an equally remarkably story. It is extremely rare and is stamped on the rear 'Superintendent's Office, Great Western Railway, Bristol. Sanctioned for Exhibition'. In October 1986 a Bath auction house offered for sale a number of posters that were found under the linoleum during a house clearance. In the days before fitted carpets, most people had their floorboards covered in old newspapers then lino with various strategically placed rugs and mats. In fact moving house often meant rolling up the lino for re-use. Luckily, the railway employees at the house in Bath used old posters instead of newspapers and they survived long enough for the Trust to acquire them. How very fortunate.
---
TUESDAY 10 MAY
Excursions in the last summer before war
An added bonus of the vast archive of railway excursion publicity that the Great Western Trust holds in its collection, is that it covers the broadest timelines of the GWR and BR Western Region eras and consequently, beyond train details, it provides a view on the social graces and interests of the generations so covered.
The illustrated pamphlet is of course sadly tired and partly soiled by having been in a GWR station loft or out-building since it was published in June 1914. That fact alone is another revelation of the strict regime each station was instructed to observe, the GWR alone had a detailed set of instructions on what should be kept and for how long. Even recycling is nothing new, as the Trust collection benefits from numerous older documents whose plain back pages were reused in both World Wars!
That said, frankly, we are blessed that by default over a long time, so many such items as that illustrated should never have survived to our day. Studying it closely, it was one of no less than 15,000 printed, for wide distribution at the target district stations, so it is an extremely rare survivor!
Its wonderful artist's cover image is at once designed to capture the attention of passing passengers. The inclusion of a Churchward era Saint class locomotive reflects what became a very long running design motif well into the BRWR era, by promoting the key motive power of each age, as we have previously blogged even to include Diesel Hydraulics and Diesel Multiple Units.
The social interest aspect of this pamphlet relates to the list of the 'London Attractions' which are certainly a step away from those which would attract current passengers! Quite what the 'Salvation Army Demonstration & Festival' might offer is a wonder, or the 'Tonic Sol-Fa Association Festival', but we assume the 'Rubber, Cotton Fibres & Tropical Products Exhibition' would have inspired the folk of Oxford, Abingdon, Witney, Marlborough, Savernake & Reading etc, to revise their domestic plans and catch those trains?
Rather poignant, is the date of this item, June 1914 with declaration of the so called Great War only a few weeks away in August 1914.
So much to discover and wonder about in this very modest, miraculously surviving document.
---
TUESDAY 3 MAY
An Historic Locomotive!
The Great Western Society has just very proudly commissioned the operational restoration of GWR Castle Class Loco No 4079 Pendennis Castle.
The photographs and the 'Going Loco' Blogs on the Didcot Railway Centre Facebook page and website provide a rich demonstration of that event and the story giving the reason why this locomotive deserves its high status in GWR history.
For our more humble part, the Great Western Trust has a small display in our Museum & Archive devoted to this locomotive, including the unique GWR & BRWR engine data sheets of its service record up to the fateful incident on that special train near Westbury.
Today our blog illustrates a rather surprising hardware item that BRWR Swindon Works had manufactured precisely because 4079 is unique! Readers may be aware of the King class and Warship class aluminium plaques Swindon produced in limited editions of 3,000 individually numbered plates, issued with a small paper certificate of authentication. Recognising the unique importance of 4079 however, they did the same to mark her Diamond Jubilee, and our example is No 85 of that series.
The 40th anniversary plaque in original aluminium finish and The painted version on display in the Museum.
Yes, it's looking rather tired but in the Museum display, another example which was acquired privately, has been very lovingly painted in GWR livery!
Ours is in the as issued condition, with the effect of later years marring the original matt black painting by which the raised lettering was emphasised.
Still, we should remember that after its creation in 1984, it is after all in its 38th year, but our beloved full size, working 4079 is but two years shy of a century!!
The original name and number plate on display in the Museum.
The Museum is also displaying a set of the original name and number plates for Pendennis Castle. The plates carried on the locomotive are replicas while the originals reside in the museum. Remarkably, the locomotive carried the originals during her time in Australia. When the time came for her voyage back to the UK, the name and number plates were removed, along with the whistles and safety valve bonnet, so they would not disappear in one of the many ports the ship called at en route. These valuable items travelled back to the UK by air, courtesy of Qantas.
Could the brass letters from the 1895-built Pendennis Castle's nameplates have found their way onto No 4079 nameplates?
There is speculation that the well-worn brass letters on the original nameplates have been recycled from the original Pendennis Castle nameplates of the Duke class locomotive built in 1895. Her nameplates were removed in 1923 to avoid confusion with the forthcoming Castle class locomotive and the brass letters could then have been removed from the backplate and riveted onto a new steel backplate for No 4079.
Please visit our website, or better still Didcot Railway Centre where this glorious machine safely resides.
Pendennis Castle leaving the shed yard on 29 April.
---
TUESDAY 26 APRIL
GWR Publications – The Literature of Locomotion
In previous blogs we have often remarked upon the work and output of the GWR's Publicity Department and even its nationalised BR (Western Region) successors. The Great Western Trust collection at Didcot holds a vast array of their books, posters, handbills, and even their give-away modestly sized pamphlets.
In this blog we focus upon the rather grandly entitled 'Literature of Locomotion' pamphlets which in themselves shine a light upon a very different age to ours of today, especially in the descriptive language used!
The actual series of such pamphlets appears, from our Collection, to have begun in 1925 under its then very proactive publicist General Manager, Sir Felix J C Pole (he was knighted in 1924). In fact it proved so effective, that the series ran annually up to 1939, but was not to survive WW2.
The cover of the 1933 season edition we illustrate, naturally exploits its then most famous engine No 6000 King George V complete with bell from the Baltimore & Ohio Railroad Centenary Exhibition in the USA! We also reproduce a publicity photograph of the same period showing the flagship locomotive No 6000 at the head of a Paddington to Bristol express near Wootton Bassett.
The 1933 season brochure is just 3 inches wide x 4½ inches high (Imperial units of course in 1933) but is multi-folded and when opened fully becomes 18 inches wide, and double sided. This gave it space to cover a very wide range of GWR books to suit all interests including MacDermot's Official History of the company; 'The King of Railway Locomotives' (No 6000 of course!); Castles, Cathedrals & Abbeys; Photogravure plates of GWR locomotives; the 1933 Holiday Haunts edition; and even Jigsaws. It finishes with a neat, 'Order form' to acquire any or all of them!
The illustrated cover of this pamphlet is worthy of studying its text, which is briefer than its 1929 predecessor a full transcript of which we include below!
"The title of this little book may seem paradoxical, as though accuracy has been sacrificed to alliteration.
The railways gave England her pre-eminence as a manufacturing country, though not necessarily the huge cities where the workers toil for fifty weeks without the tonic sweet air of the open country or sea-board. But they have certainly provided the opportunity of getting right away during the odd two weeks to a complete change of landscape and company.
Thus necessity has created the demand for a series of books, that we may learn something not only of the wide-spread counties which offer the variety and change we want, but also of the wonderful organisation that gets us there.
The literature of locomotion is none the less an art because it has utility – its needs have called to its service the most brilliant of our historians and writers; and their good work is presented in a form which is a credit to bibliography.
Its contents are the best: its presentation is of the best: and if you act on its suggestions you will agree that its value is beyond measure.
Whether or not you think the case has been over-stated, give our books a trial. After your holiday, you will know that no reading can provide such beneficent and immediate reward as 'The Literature of Locomotion'."
The style of publicity and the materials offered free to the public by railways today, is a very far cry from that pre-War period 1925-1939. That such items have survived to our time and can be studied by us, proves that the public of those times, valued the GWR's efforts. The Great Western Trust collection also contains countless books donated by those people and their offspring.
GWR publicity picture of of their flagship locomotive 6000, King George V taken during the early 1930s.
---
TUESDAY 19 APRIL
Walking Tours by Rail
In our 1st February Blog this year entitled 'Rambling and the GWR' we introduced the market-sensitive GWR Publicity Department's recognition in the 1930s of a new customer interest in Rambling. They produced their Rambles series of very informed booklets by H E Page, and of course a train service to get folk both there and back.
Today's Blog demonstrates that whilst the demand may have modified after railway nationalisation, serving such customers was clearly seen by BR Western Region as still worthy of accommodating.
From the Great Western Trust collection, we illustrate an appropriately April dated leaflet of 1960 for 'Day Return Tickets & Walking Tour Tickets from Paddington'. The difference between 'Rambling' and 'Walking Tours' may seem trivial, but in a way it was rather clever of BRWR to make that distinction. Rambling can of course be enjoyed by single, pairs or any sized group of like-minded persons, but targeting a 'Walking Tour', was pitched to those well organised and usually significantly larger numbers of grouped persons who had a tour leader amongst them, and a fully established day's walk programme. The highest number of passenger tickets sold was of course the prime objective!
That it cancels a June 1958 version, proves that this wasn't a service that came and went, but was a strong, committed fact in the BRWR schedules. The artist's sketched scenes on the leaflet may appear rather quaint to us, but were cheaper than printing monochrome photographs and probably caught the eye more readily? Anyway, the reverse of the leaflet exposes the potential rail routes on offer, and the intended district of the tours themselves. Surprisingly, it includes potential to return to Marylebone! The Trust collection includes a similar leaflet for Walking Tours from Birmingham stations.
Quite when BRWR finally withdrew this service, is currently unknown. Surely the cause was the ever-increasing ownership of private cars, which not only doomed the once dominant summer holiday rail service to the West Country and Wales, but also even London based day outings to its greener countryside.
---
TUESDAY 12 APRIL
A Day at the Races
Horse racing has been called 'the sport of kings' and it is hardly surprising that when the railway era of ever larger private transport companies evolved, with stations designed to transport horses of the 'upper classes' its influence would be strongly apparent.
The earliest pictorial poster of the GWR that has a definitive date, depicts a very busy image publicising the Great Western Railway's services to Ascot races in June 1897. Possibly less well known is that the first GWR express service that the company titled The Flying Dutchman was in fact named after a celebrated horse that won the Derby in 1849, and the St Leger and the Two Thousand Guineas stakes. A famed, very fast and successful racehorse of its time, was perfect for this GWR express!
With the Grand National having been attended by thousands of spectators last Saturday, we focus upon it, noting that our earliest GWR Excursion Handbill for the Grand National dates from 1883. The remarkable handbill of 1927 illustrated, is for special GWR trains run for Pickford's employees. That arrangement was repeated in 1928, so the Pickford's staff outing was clearly a popular annual event. Social history yet again rears its head as there were two trains, one for First Class composed mainly of restaurant cars, and one for 'others'! The rear page details the menus for the refreshments on the trains.
Pickford's were then part of the Carter Paterson Company, itself jointly owned by all Big Four railway companies.
The Grand National link with the GWR continues with locomotive No 178 Kirkland, built in April 1905 and named after the winner of the race on 31 March 1905. The owner of Kirkland was Frank Bibby, a director of the GWR.
The Great Western Trust has numerous items reflecting the GWR's links with horse racing, including posters for meetings at Chepstow, Colwall near Malvern and Windsor.
---
TUESDAY 5 APRIL
A Special Treat
In our previous Tuesday Treasures blogs we have mentioned the very special relationship youngsters had with steam engines and railways in general. Certainly the Great Western Trust collection has an abundance of related material, official and unofficial, demonstrating this. That the GWR recognised and exploited this to the full, and once the King Class locomotives had been entered into service, arranged very popular steam special trips to Swindon Works and then conducted tours of those works, which continued far into the nationalised BRWR era.
The GWR also extended a guarded welcome to steam enthusiasts even to their operational engine sheds, albeit under strict controls defined in their standard letters granting such access to those who wrote to the Chief Mechanical Engineer, enquiring for access to particular sheds.
Naturally, wartime restrictions curtailed such official sanctions, and even enthusiastic photographers could find themselves uncomfortably close to an armed soldier under particular moments of highest security!
One further feature of shed visits which we cover today in our two photographic illustrations, is the 'very special' private treat, probably for a boy's birthday or a special gesture from a family member, maybe an uncle in GWR employ at a local shed?
The photos, are a little unfocused and very sadly undated and with no comment on the persons nor location. What can be identified is the loco, No 5081 Lockheed Hudson of the Castle class, and that it has the WW2 black-out steel sheet replacing the cabside window. Is this WW2 or just after? The location is intriguing given the unknown photographer thankfully took two images, the second showing in the background to 5081 the nearby goods yard and the shed turntable. 5081 appears to have a fully coaled tender but is not in steam. Possibly it has been specially positioned for this group to admire?
The very best part of course we leave to last. Those splendid boys in their school uniforms and the man clearly happy to be in the scene with them. We can only guess that he was the shed foreman in his Sunday best, off duty, but still in charge, and able to indulge these youngster to a very special treat.
If any of our readers can offer a likely location, that would be appreciated. It will be a miracle indeed if someone recognises the people too!