We are very fortunate indeed here at Didcot Railway Centre with our vast collection of historic locomotives, artefacts and memorabilia that forms our world-famous museum telling the story of the Great Western Railway and its employees. For our volunteers and staff there are objects of great interest everywhere around the centre, each item unique to keeping the greatest railway company on the rails.
Our Tuesday Treasures blog is designed to share this vast and historically important collection so enjoy our deep dive into the rich history in our Museum and Archives.
Latest Blogs
---
TUESDAY 28 JUNE
A Special Arrangement
Today we explore the story surrounding and following a quite surprising Great Western Railway public train service notice that is one of the many items relating to Didcot and the railways in its district in our Great Western Trust collection.
We illustrate a very modest single sheet, printed by Burt & Sons of Porchester Road, Bayswater, London, dated July 2nd 1888, and issued under the authority of Henry Lambert, then GWR General Manager, it advertises the extraordinary lengths to which the GWR went in accommodating train services to a Rifle Contest at Churn on Thursday July 5th.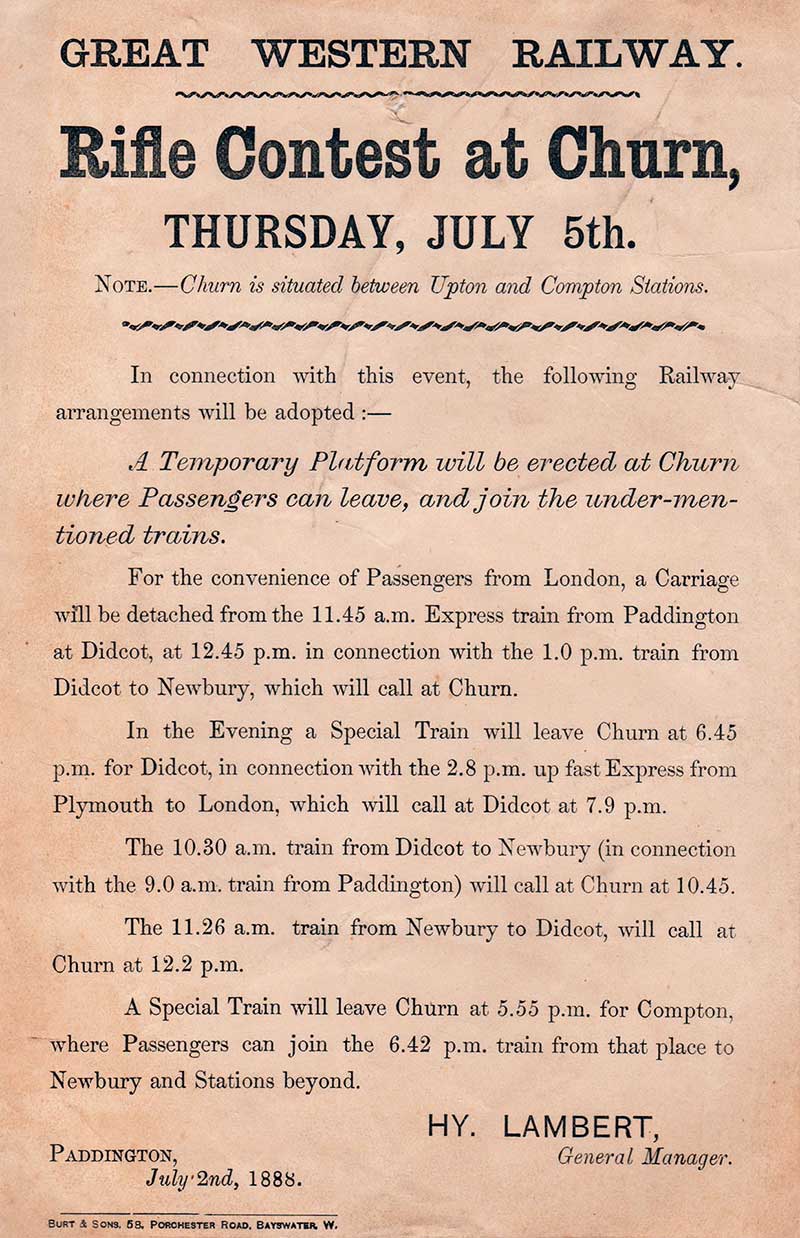 Beyond constructing a temporary platform on what was the Didcot, Newbury & Southampton Railway line between its Upton and Compton Stations, the notice includes many significant temporary train service alterations not least providing a through carriage connection on the 11.45am ex Paddington Express at Didcot at 12.45pm for attachment to the standard 1.0pm train to Newbury.
Such measures really stand out, and we now explore the justification.
Our researches are most gratefully assisted by a remarkably informative book The Railway Comes to Didcot - A History of the Town 1839-1918 by Brian Lingham, published by Suttons in 1992. Brian was both a local historian at Didcot and its librarian.
His book shines a welcome light on the now long forgotten pre WW1 era and country life of that period. Moreover, he goes on to extend the critically important social upheaval both locally to Didcot and indeed the whole country arising from WW1.
The location near Churn, was created for the National Rifle Association, the land was gifted by Lord Wantage, both a prominent member of the Association and crucially a GWR Director! However, the Association itself preferred Bisley for its National base. Nevertheless, from about 1889 the military held annual camps there and on the death of Lord Wantage in 1901, the Army took it over permanently!
Searching in the Great Western Railway Magazine, of which the Great Western Trust has a full set, we find a report in the November 1905 edition:
Autumn Cavalry Manoeuvres
A busy time was experienced at the temporary station at Churn near Newbury, in connection with the Autumn Cavalry Manoeuvres. The Household Brigade, the 1st and 2nd Cavalry brigades, with R. H. Artillery, Royal Engineers, Mounted Infantry, and Army Service Corps, were encamped on the Berkshire downs, the total number being about 5,000. For supplying these and their horses, special goods trains were run from Didcot each morning, while many varied consignments were also received. During the month a large number of passengers were dealt with, as well as the entire postal Telegraph service in connection with the camp. The station being practically in the camp, the staff were bombarded with enquiries from "early morn to dewy eve", but everything passed off satisfactorily. The camp broke up on September 22nd and 23rd, when several special troop trains were run en-route to Canterbury and Shorncliffe. The station was closed on October 9th, until the next camp is held at Churn.
That annual activity had many consequences. It demonstrated to the Army, the training attractions offered by the locality and that the GWR could provide excellent train connections for the men and equipment. It is highly likely that in the following years, the extended number of men fully trained, including in rifle shooting etc, significantly benefitted the Army upon its rapid deployment to France at the start of WW1. Even greater than all that, was the Army realising that Didcot itself had potential for a rail connected munitions and stores depot, eventually constructed in 1914-1915 where Didcot Power Station and the vast industrial estate of Milton now exists. The Trust collections hold key documents relating to its construction and long term operation by the GWR and BRWR, and Brian Lingham's book has much of interest to add on that topic too.
So a modest public notice, has a much bigger story to tell than at first sight. Apart from, that is, a Special Arrangement for a very important clientele for the GWR!
As a postscript the British Railways Western Region Magazine, of which the Trust has a full collection, printed this cover photograph on its February 1958 edition. The caption reads:
Fifty-five years young! Veteran City of Truro 3717 between Upton & Blewbury and Churn Halt. World speed record maker in 1904 (102.3 mph). After twenty-five years in York Railway Museum, back in service again, looking as good as new for a second career on railway enthusiasts' specials.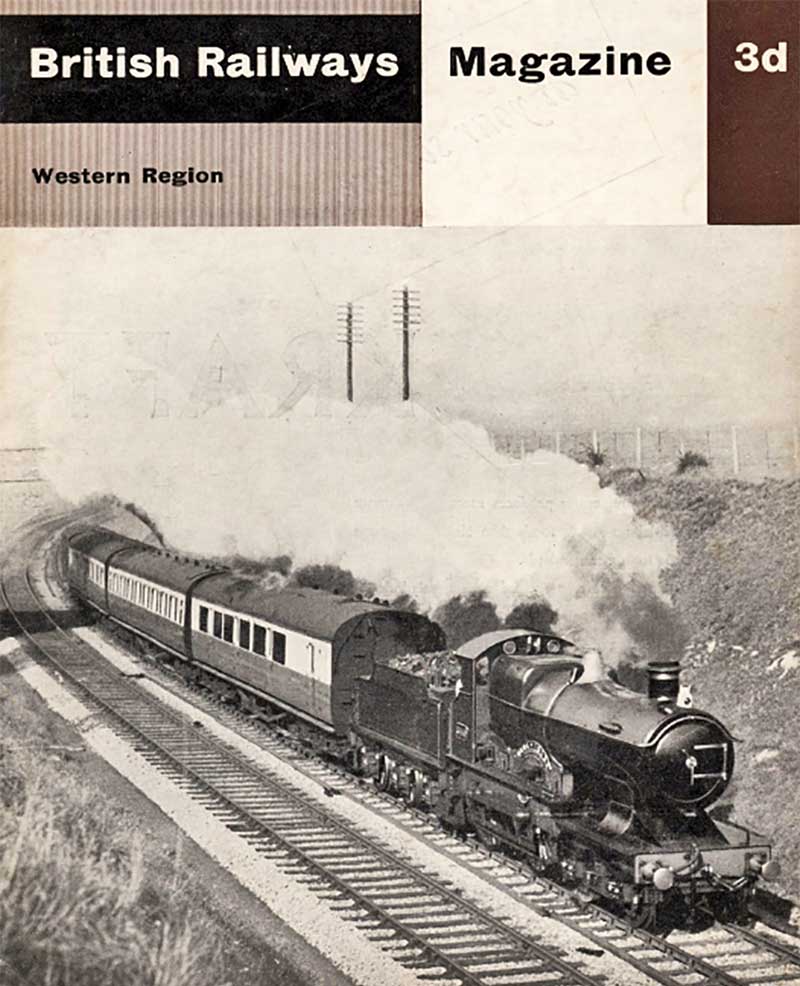 The photograph was taken by John Coiley, who worked at the time at the Harwell Atomic Energy Research Establishment, just a few miles from Churn. Dr Coiley went on to be the first Director of the National Railway Museum at York when it opened in 1975.
---
TUESDAY 21 JUNE
To Enjoy on the Journey – BR Style
We all know too well that a delight for the English is a smartly phrased criticism of a national organisation, which, however true at first, simply proves too popular to resist its constant use many years beyond its justification.
For BR at least, though many other criticisms will no doubt come to our audience's mind, the most favoured and still used one is that aimed at the BR sandwich!
Dry, tasteless and definitely curled at the edges, lamenting its life on the Station Refreshment Room counter under a plastic or glass domed cover, this was the popular image of BR take away food, which caused the BR management to urgently employ even the likes of Prue Leith to try to make it history.
Well, from our Great Western Trust archive collection, we proudly illustrate three images of a BR pamphlet of that era, which was their attempt to substantially change its packed meal image and offering.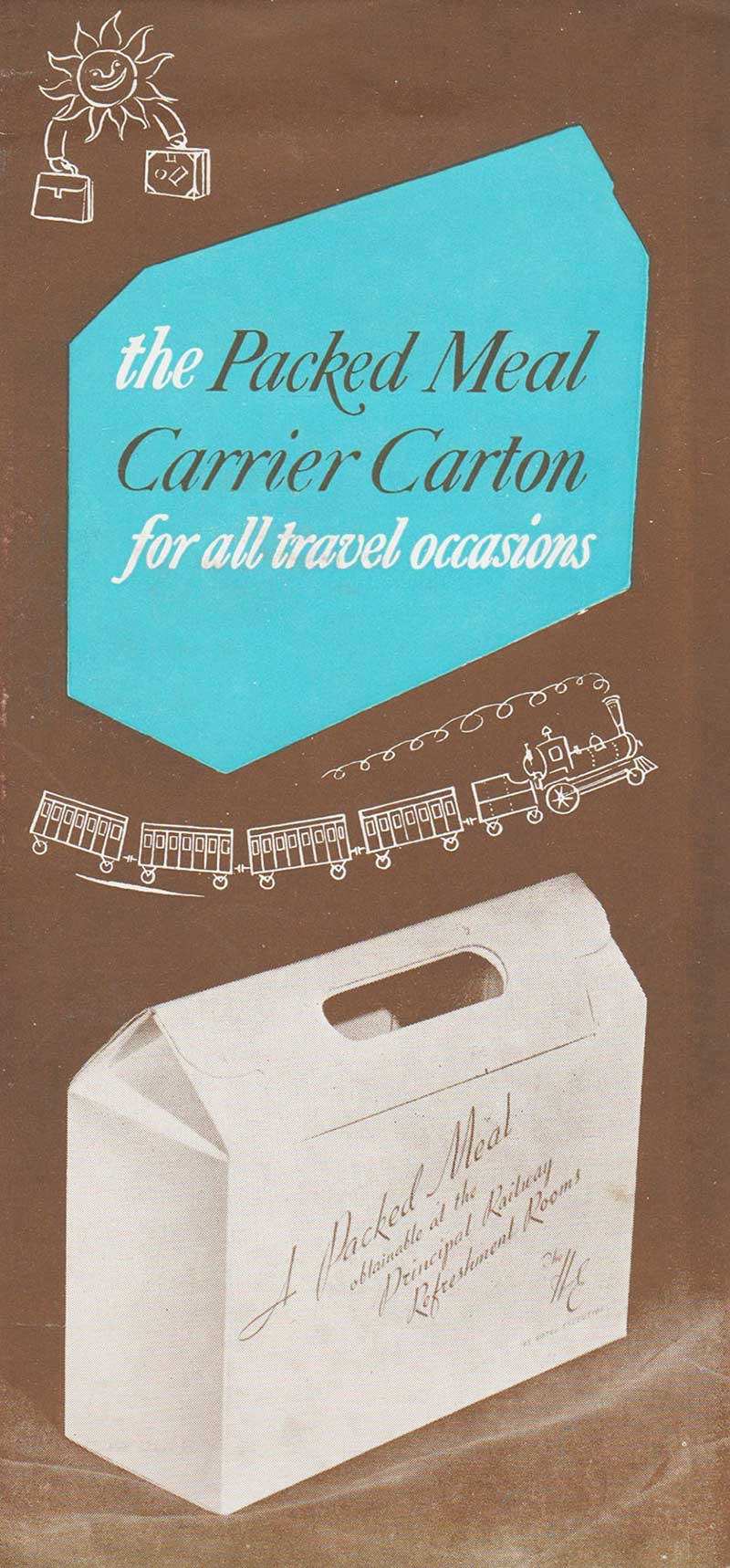 As steam engine and period train enthusiasts, we have to comment that whilst it was hardly the main subject of the pamphlet, surely BR could have directed the graphic designers to do rather better than their over simplistic sketch of a steam train?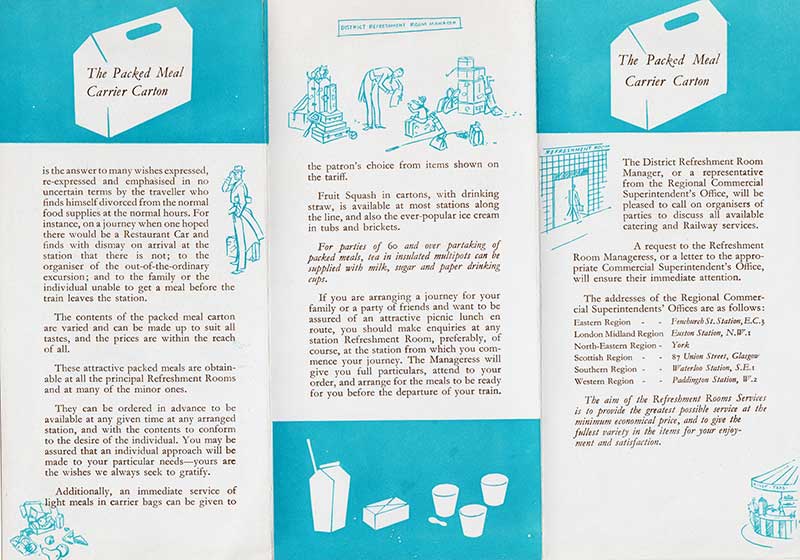 Oh well, grumble aside and we now turn to the main content. Our archive holds examples of the finely styled and crafted containers the GWR once produced for similar use (a future Blog will focus on them), but as yet, we have never found one of the kind shown on the pamphlet cover! This may well be a result of them being a 'throw away' item, as they would have suffered from staining etc from their purchased contents. It would be a nice discovery to find that an example does exist 'somewhere in England' though.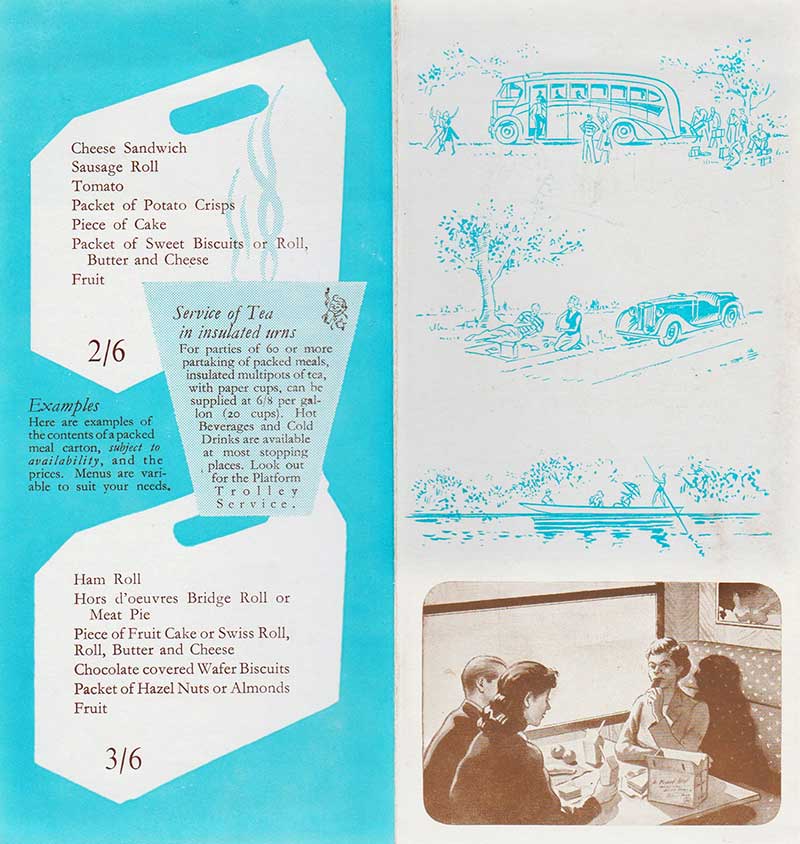 Quite how long this initiative lasted, and its degree of popularity is yet to be discovered. The pamphlet has been illustrated in full as its contents and prices are worthy of being fully appreciated.
Our final comment is to point out the helpfully inserted notice on the back section about 'Service of Tea from Insulated Urns'. In a far less Health and Safety and dare we say litigious age, there is no mention of the cautionary warning, 'this contains hot liquid' for those paper cups!
---
TUESDAY 14 JUNE
GWR Staff Social & Recreational Events – No 3
In our 28 July 2020 and our February 2022 Blogs, we covered both the GWR Staff Association Music Festival of 1939 and a programme for a production of The Gondoliers, a Gilbert & Sullivan Opera, by the Swindon (GWR) Mechanics Institution Amateur Dramatics Society on May 17 to 20 1905.
We explained that they were just examples from one of the most significant elements of the Great Western Trust Collection, our vast array of material and artefacts relating to the GWR (and then BRWR) staff recreational activities. We reflected that in our current times it was perhaps hard to imagine any large company supporting financially, let alone organising on the scale of the GWR, the breadth of activities and their year-on-year assured organisation. Well, our item today only goes to further that reflection.
It is a stunning silver medallion of striking design, in its own quality presentation box.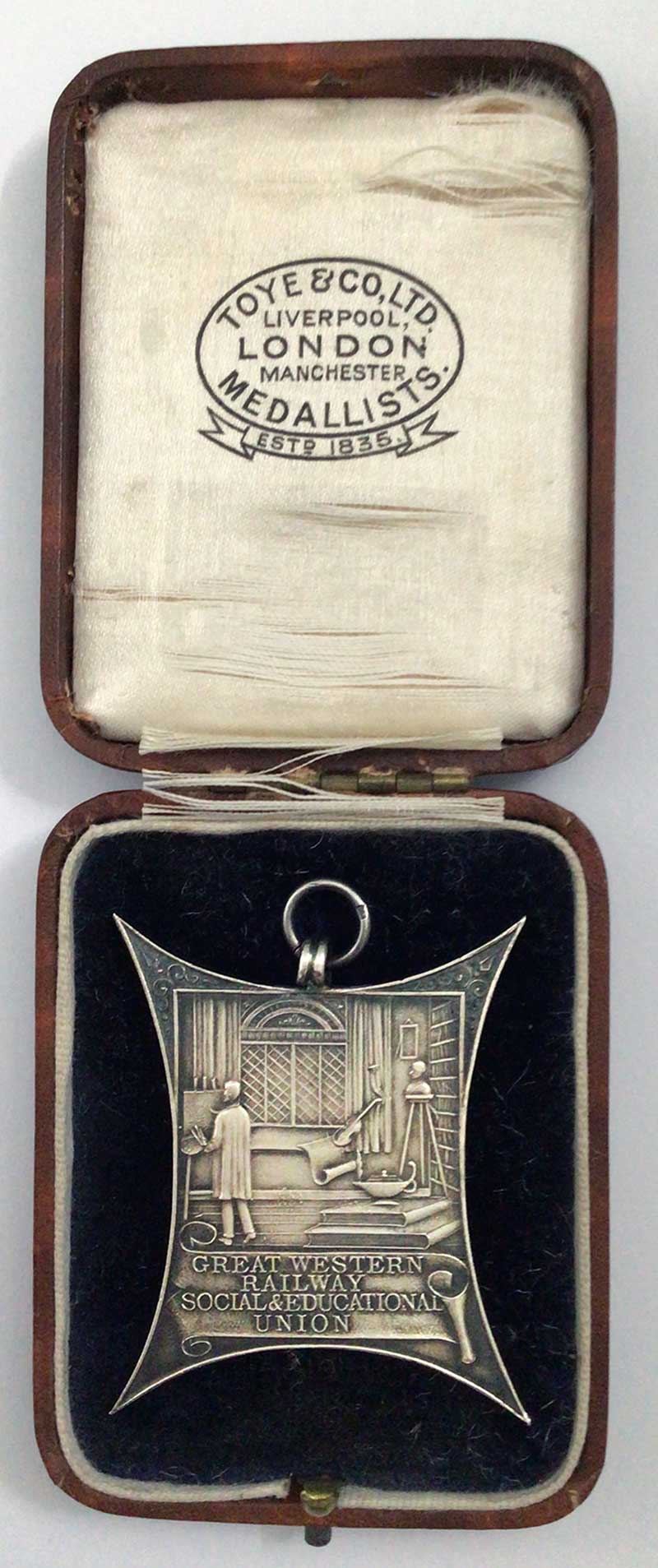 Awarded to Miss Eva Johnson, of Hirwaun, in 1929 by the GWR Social & Educational Union (which later became the GWR Staff Association) it was made for the GWR by Toye & Co Ltd Medallists, established no less than in 1835, the very year of the GWR founding Act of Parliament! Eva Johnson won her silver medal for a bedspread she exhibited in the Crochet and Knitting section of the 1929 Arts and Crafts exhibition.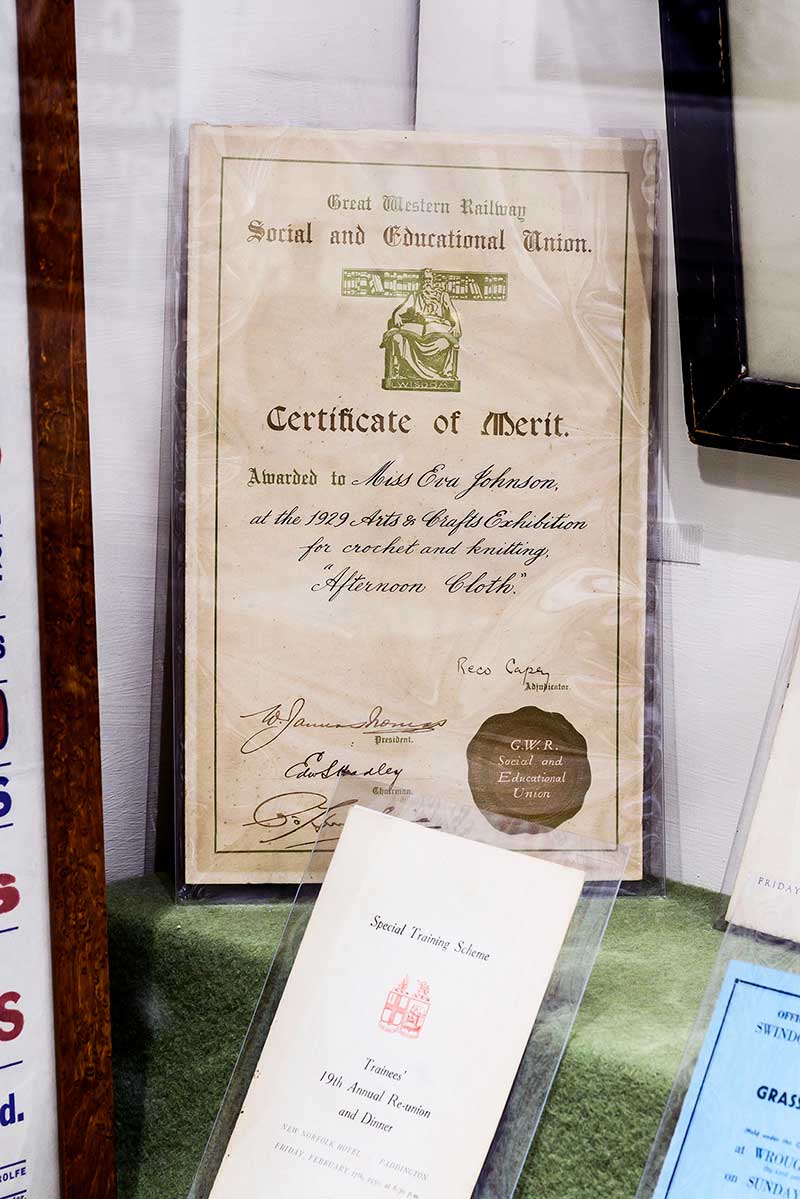 By wonderful coincidence, we also have the Certificate of Merit Awarded to Miss Eva Johnson in the Crochet and Knitting section at the same exhibition for an afternoon cloth. These items alone, prove the extent to which the GWR went to give due recognition of the regard they had for such voluntary engagement and personal effort of their staff in contributing to these annual events.
The high regard in which the exhibition was held is reflected in the renown of the adjudicators, who included Professor (later Sir) William Rothenstein, Principal of the Royal College of Art, and Reco Capey, Art Director of the cosmetics firm Yardley of London.
Almost certainly, the awards themselves would have been given to Eva Johnson by the GWR General Manager himself, and all results of the numerous competitive aspects of the S&EU Annual Event, were recorded with pride in the relevant edition of the GWR Magazine.
Of course at this long time gap from that 1929 event, we can only guess quite what an 'afternoon cloth' was used for, possibly a household, front room crocheted or embroidered table cloth or doily for tea and cakes when family or other visitors were guests?
Whatever the actual items created for this competition, the GWR awards themselves speak volumes on the social activities that were then an annual occasion, highly regarded and attended by its many staff members. And not a railway engine or train in sight (apart from model ones!)
---
TUESDAY 7 JUNE
GWR Commercial Advertising Initiatives
In our previous blogs we have often remarked upon the work and output of the GWR's Publicity Department and even its nationalised BR (Western Region) successor. The Great Western Trust collection at Didcot holds a vast array of their books, posters, handbills, and even their give-away modestly sized pamphlets, but today we explore yet another publicity related aspect of the GWR as a business enterprise.
Those who visit Didcot Railway Centre and enjoy the wonderfully restored GWR carriages, and those still recalling their own travel in the late GWR and BRWR era, will remember the interior layout of carriage compartments (yes before open format became the norm). Above the seating were usually a mirror (got to keep up appearances!) and a system map and either side of these, other rectangular framed sections for advertising of one kind or another. In the early GWR era those latter locations usually held sepia, colour tinted, or finally monochrome scenes of scenic or famous building locations served by the GWR. The photographs being of top quality having been produced by the GWR's own photographic team, the work of which itself deserves its own Blog.
In later, between the Wars years, the GWR realised that those spaces could be lucratively offered to commercial enterprises for their own publicity purposes. To give that business community advice on this new opportunity, naturally the GWR needed to produce an informative pamphlet which we illustrate here.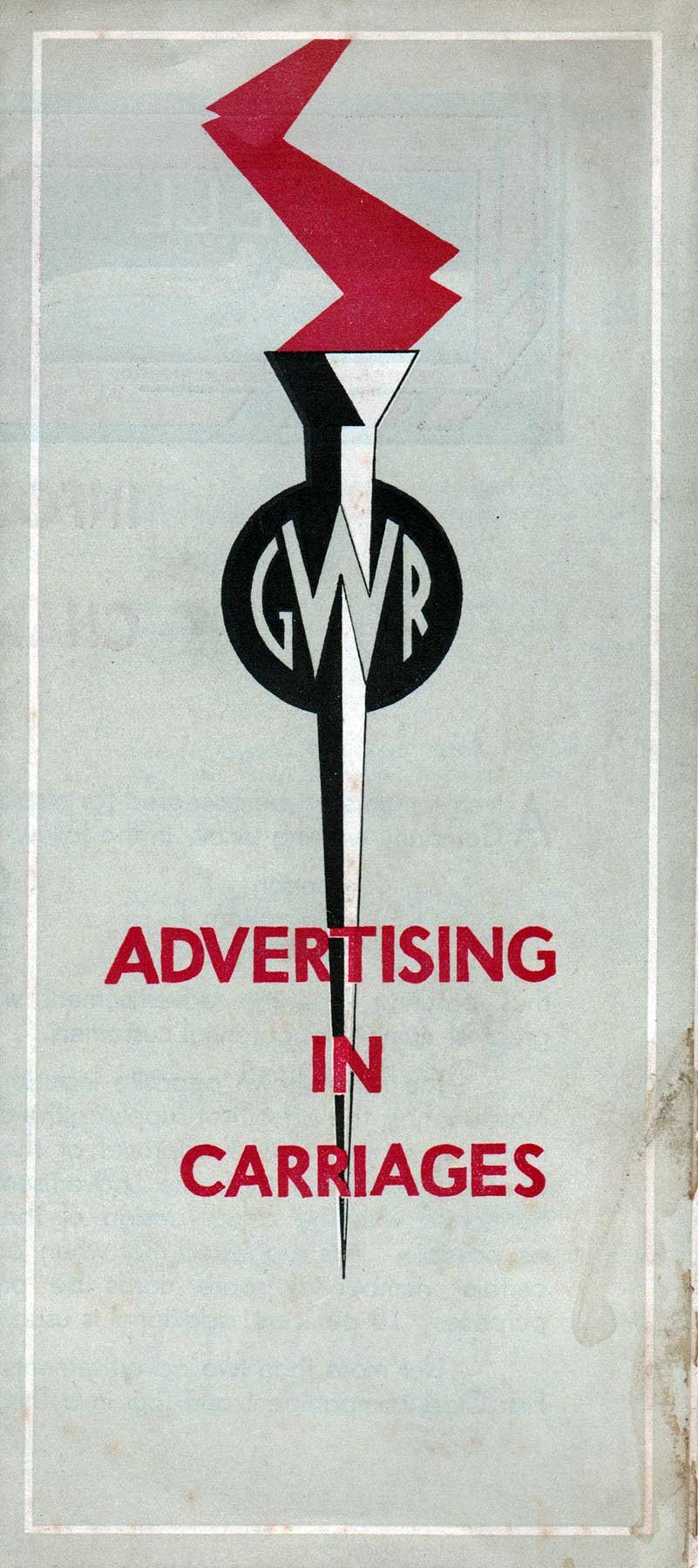 Our example came from the GWR Publicity Department's reference ledgers, which explains the slight staining on its cover from the glue they used.
The strikingly modern cover design of a flaming torch adorned by the company's modern cypher or logo 'GWR' as a roundel, is simple, eye-catching and effective. As the leaflet must have been printed between July 1929, when James Milne was appointed General Manager, and December 1932 when R H Nicholls retired, this is a very early use of the GWR roundel. The fully developed design of the GWR roundel was adopted in 1934, as announced in the GWR Magazine in September that year..
We include the rear cover, to show just how precise the GWR were in controlling the potential over-enthusiastic designs of the commercial companies who took up the offer. The pamphlet opens to provide even more information, shining otherwise unexpected primary GWR evidence of their trains.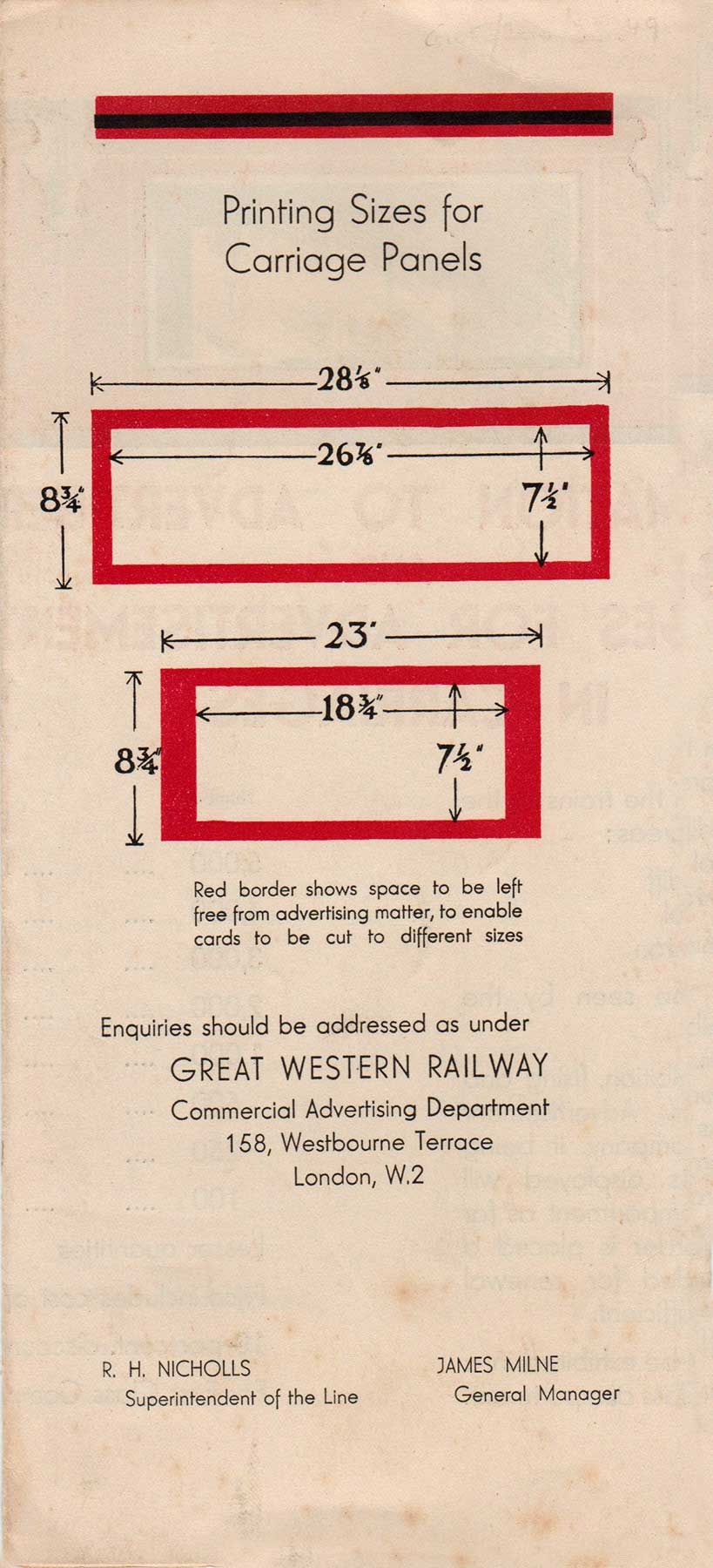 Not only are we advised of the relative fees, eg if 5,000 spaces or 'sites' were used, they would cost 10 old shillings (50p today plus vast inflation to compare!) per year, but if a three-year contract was agreed, then a 10% reduction applied. But if a first class compartment was the target, all prices increased by 10%!! These fees included the cost of GWR fixing the adverts. Clearly no outside contractor could be allowed to do the job!
What is really unique however is that to convince the commercial target audience, they had laboriously calculated the total number of sites for said adverts within all of their daily service trains, listed by district! The London district offered no less than 3,792 'sites', the Birmingham district the most at 6,696, whilst the Taunton district offered a mere 352.
The Trust collection has yet to acquire any original contracts that were created following this initiative, and we assume BRWR continued the scheme, but like so much of our work, we still have many unanswered questions about the GWR and BRWR operations! One that comes to mind, is how the GWR vetted the adverts themselves!