We are very fortunate indeed here at Didcot Railway Centre with our vast collection of historic locomotives, artefacts and memorabilia that forms our world-famous museum telling the story of the Great Western Railway and its employees. For our volunteers and staff there are objects of great interest everywhere around the centre, each item unique to keeping the greatest railway company on the rails.
Our Tuesday Treasures blog is designed to share this vast and historically important collection so enjoy our deep dive into the rich history in our Museum and Archives.
Latest Blogs
---
TUESDAY 16 AUGUST
Accidents Did Happen – No. 3
Our Blog readers, my recall two previous articles on this subject.
Today's Blog reflects rather a mystery to us. We illustrate from our Great Western Trust collection this official printed Notice to Enginemen and all concerned, sent from on high in the GWR hierarchy, from one C T Cox then Divisional Superintendent of the London Division.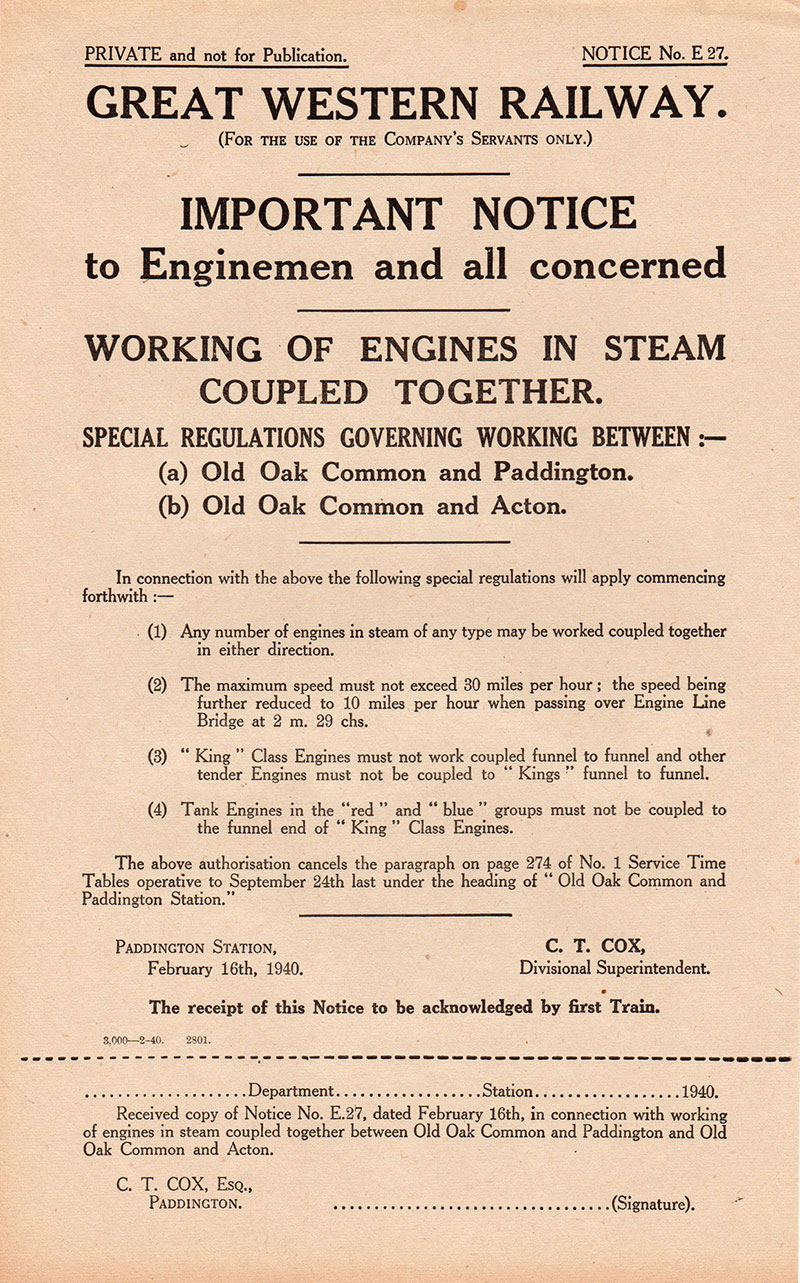 Issued under the title IMPORTANT NOTICE during wartime, on 10 February 1940, it imposes immediate (they used 'forthwith') implementation of four specific rules of coupling locomotives when sent from Old Oak Common (OOC) depot to Paddington (station) or Acton (goods yard).
That it was issued at all, and at that particular time, implies at least that an 'incident' or more so, had caused it to be created and then imposed with immediate effect. More intriguing are items (3) & (4) by which King class locos were not to be coupled funnel to funnel, or to any other locos including tank engines of a particular axle load (derived from the Red & Blue group branding)
The mystery lies in wondering why any pair of Kings would be sent to Paddington 'funnel to funnel' when surely they were to do so only to attach to a prepared train carriage formation.
Yes, the notice adds that it cancels a specific paragraph in the staff only Service Timetable No1 (covering the London Division) of 24 September 1939, but even so, how was such a funnel to funnel coupling ever sanctioned?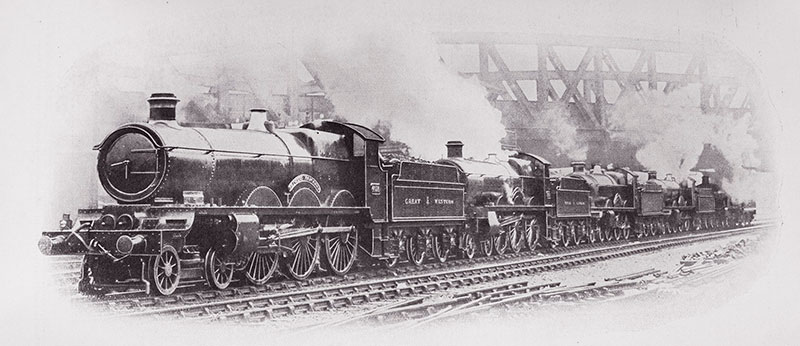 On Saturday 31 July 1926 the Cornish Riviera Limited ran in five portions and the five locomotives ran coupled together from Old Oak Common to Paddington to take over their trains
We can only speculate that the 'error' had come to painful light through a derailment, and had it occurred on the OOC to Paddington locomotive line, its operational impact would have been dire at any date, but during wartime absolutely critical. Could it have arisen when OOC turntables were unusable? Will we ever know the true story?
The GWS happily has our very own 6023 King Edward II to illustrate the massive axle load reality of these beasts, and maybe when coupled 'funnel to funnel' their combined dynamic load on the track created severe stresses in rail joints or on points (technically called 'turnouts'). We do not intend to conduct such a demonstration trial!
---
TUESDAY 9 AUGUST
Eighty seven years ago on 9 August 1935 the first 'Quick Lunch and Snack Bar' at any railway station in the country was opened by the GWR on Platform 1 at Paddington Station. The fully-licensed horse-shoe shaped bar had accommodation for twenty seven persons on tall green-topped chromium-plated stools. Under the counter were recesses for hats, gloves, newspapers, ladies' handbags and other small items. Speedy and skilful service was given by white coated chefs.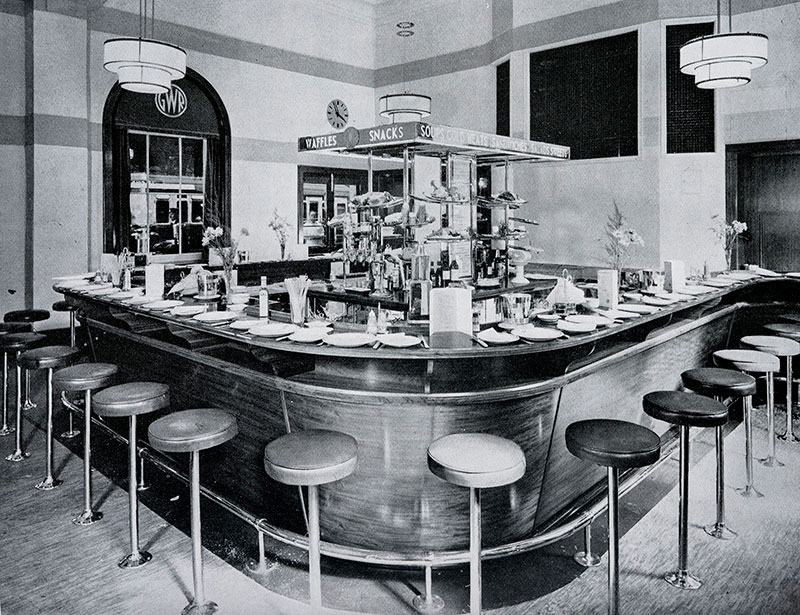 The menu was extensive and varied, there being over a hundred items both hot and cold from which to choose, including a cold buffet, salads, fish (including oysters in season), meats, poultry, waffles, soups and hors d'œuvre plus a wide range of sandwiches made in the presence of the customer. There was a 'Plymouth Hoe' meat sandwich and a selection of six meat or fish and salad sandwiches known as 'Paddington Three Deckers'. Cornish pasties and other regional specialities from locations served by the GWR were offered from time to time.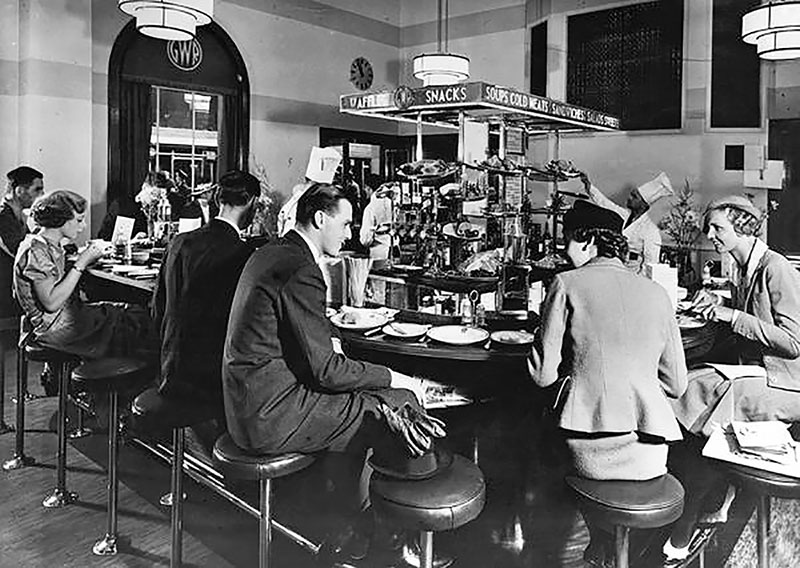 The service equipment was of the latest type and included a large centre show-case and stand, a modern hot-plate, a combined tea and coffee set, and a waffle-baker and toaster. An automatic electric refrigeration plant was also installed. The bar was open between 8 am and 10 pm on weekdays and from 7 pm to 10 pm on Sundays. All metalwork was either chrome or stainless steel and the walls were painted cream with fawn bands. The counter was made of walnut with a non-stain green top which matched the seat tops.
This information and the accompanying photographs come from the Great Western Railway Magazine which forms part of the Great Western Trust's core collection.
---
TUESDAY 2 AUGUST
Delivering the Goods – Part 2
In our earlier blogs we covered railway services beyond passenger traffic, such as moving home and transport of bulk liquids by rail. Today, we review a rare example of the staff initiatives created by the nationalised British Railways to promote more traffic.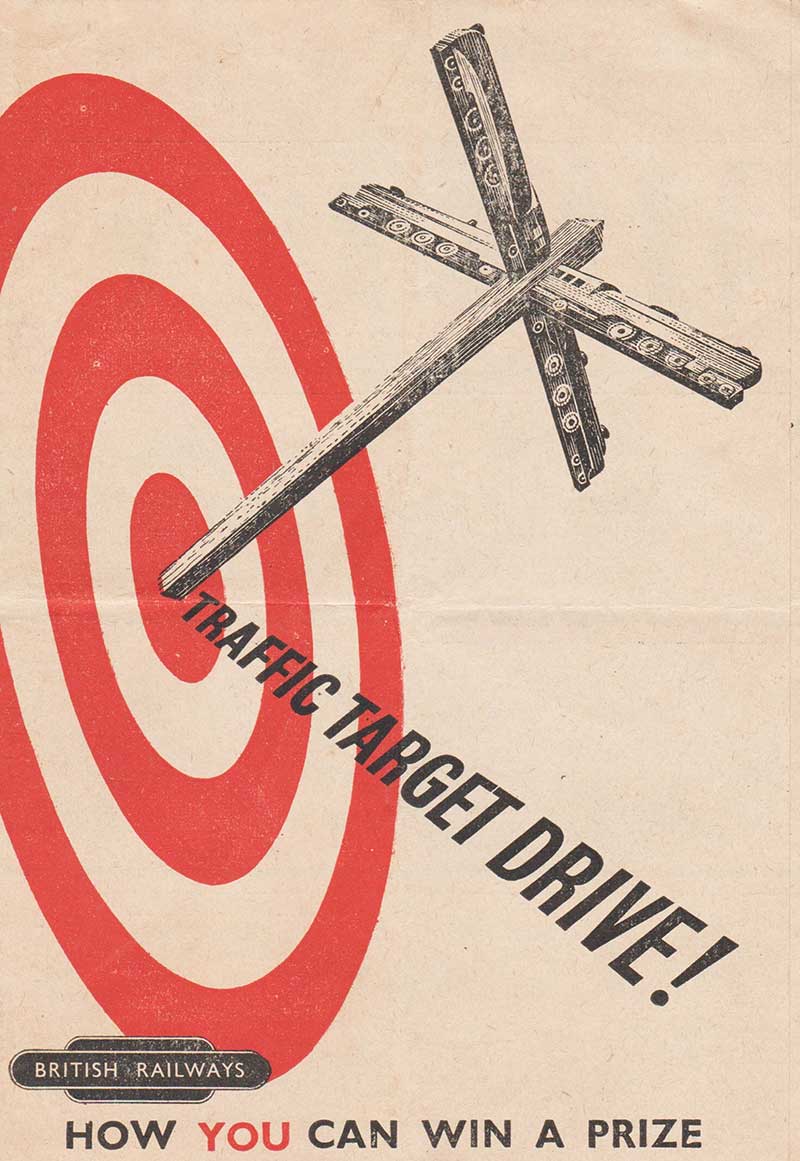 We illustrate from our Great Western Trust collection this rather fragile and rare surviving folded leaflet issued in 1951 to all the Traffic Staff, which department covered Regional, District, Station and individual staff involved in any way with delivering goods and parcels etc etc.
A striking mock arrow and bulls eye target draws attention to 'How YOU can win a prize'. The 4 locomotive direction post design was also used on other passenger wide publications, but the subject today is the content of this leaflet.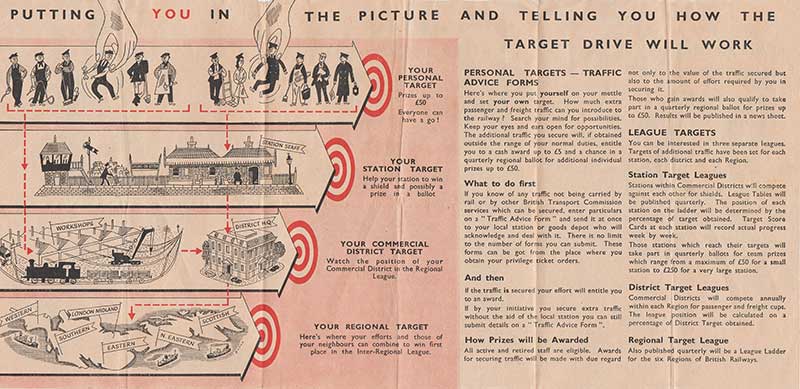 First we notice the key cause of this initiative, namely that in 1951 British Railways needed £10M more in traffic receipts. (Equivalent today of about £220M; Bank of England inflation calculator). So it's a prize scheme offering rewards to individuals of up to £50 (today's equivalent about £1,100) a station a shield and possibly a prize in a ballot; Commercial District tracked in a league; and Regional in an Inter-Regional League! Wow!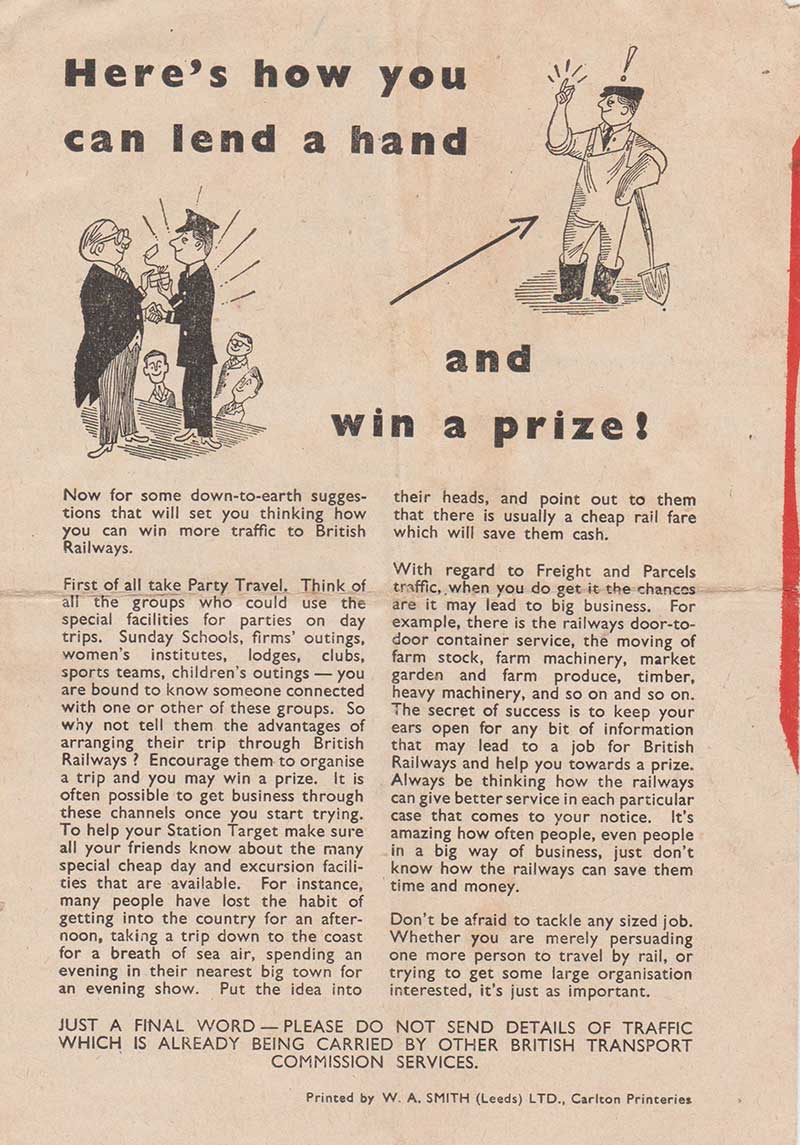 In fact those Regional Target League results were published quarterly in a League Ladder!!
The illustrations expose the very simple scenes created to boost the staff appreciation of the whole endeavour and their vital part within it.
To date, our collection has yet to find any of those awarded 'Station Shields' nor papers proving any Western Region staff gaining substantial cash prizes!
Overall however, this simple, remarkable leaflet, demonstrates how important goods traffic was to our railway system, and by that, sadly, today's shadow service, reflects how dramatically that traffic dwindled in the succeeding years as a proportion of overall receipts.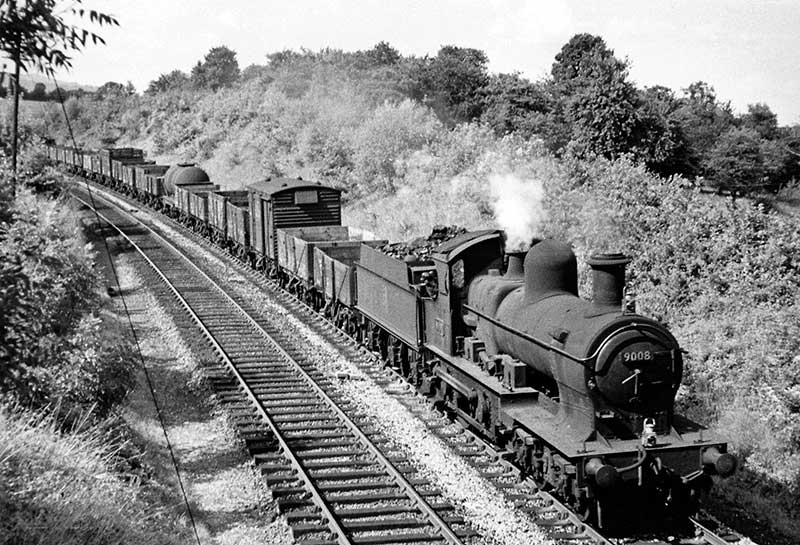 A typical goods train contemporary with the issue of the Traffic Target Drive leaflet. This southbound goods train on the Gloucester to South Wales main line near Awre was photographed by Ben Brooksbank on 9 August 1951. The Dukedog class 4-4-0 locomotive was constructed in February 1937 as No 3208, using the frames of a Bulldog class locomotive and a Duke class boiler. She was originally named 'Earl Bathurst' but the name was quickly transferred to Castle class 4-6-0 No 5051 (now preserved at Didcot). She was renumbered 9008 in July 1946 and withdrawn in July 1957
---
TUESDAY 26 JULY
Holidays by Train – Part 6
It being our current summer holiday season, we are following up on the Blog of last week with a look back at 1914. A watershed year as we know only too well, with its holiday season overshadowed and eventually abruptly cancelled by the declaration of War on 4th August.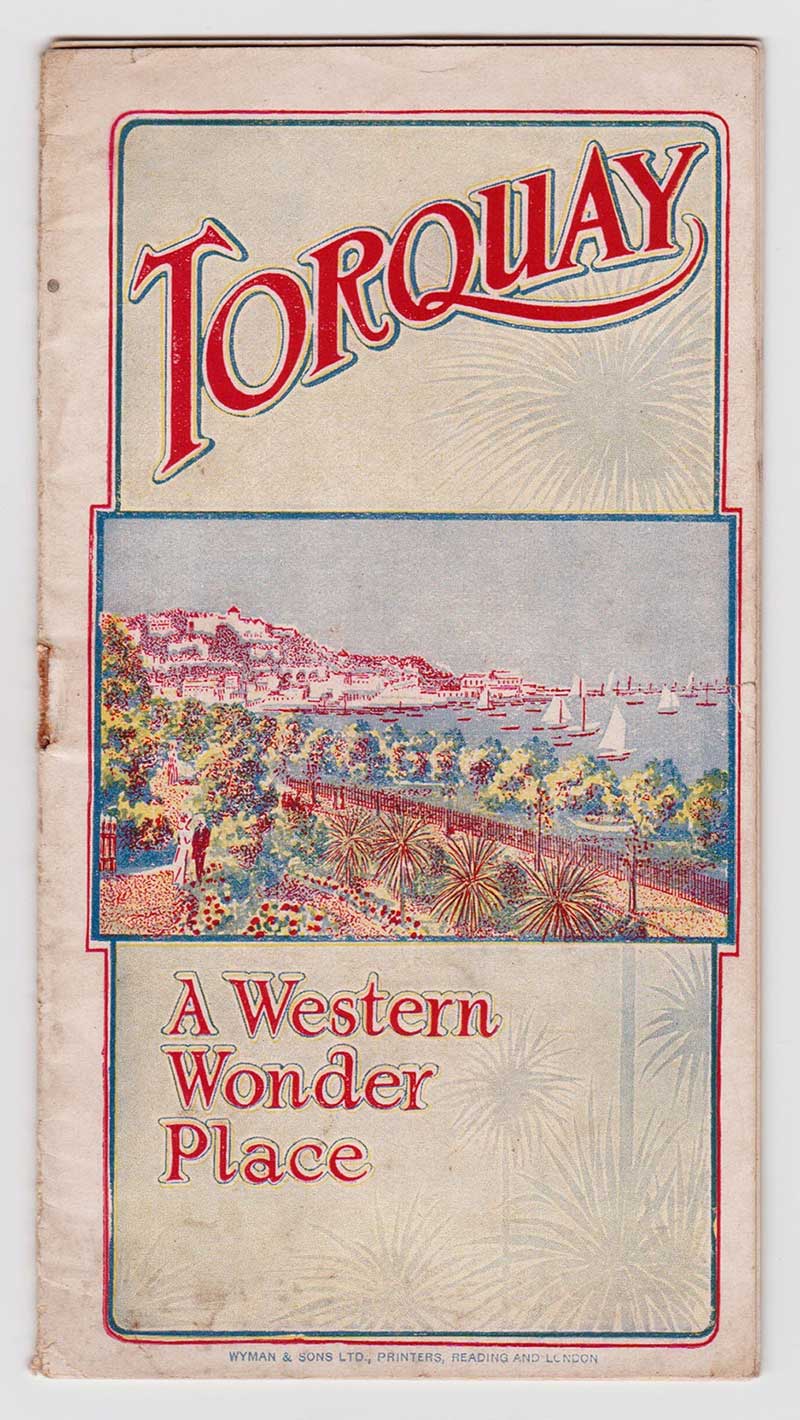 We illustrate the attractive cover of this rather more optimistic small booklet from our Great Western Trust Collection, with no less than 24 pages of text and pictures gushingly extolling the attractions of Torquay, with of course a section devoted to GWR Holiday Season Tickets & Fares from all over its system.
A feature of so much of the GWR's publications reflects the social context of their times, which are very starkly in contrast to ours, although frankly, the unchanging truth is that the social 'wealth gap' remains ever present!
This booklet of such substantial content, was clearly a very deliberate investment by the GWR in trying to counter a very anxious feeling amongst the population that maybe a holiday was far from the right thing to do. It was free issue that in its day, was of high quality and must have required considerable expert authorship and proof reading, even before being printed. Sadly it gives no detail on how many copies were produced, but being over 100 years old, our copy is a wonderful and rare survivor.
Torquay as a location is unreservedly praised, no less than even a quotation by the (we quote) 'captured despot' the Emperor Napoleon Bonaparte who, when viewing it from his captivity aboard the ship Bellerophon, said "I should delight to live there".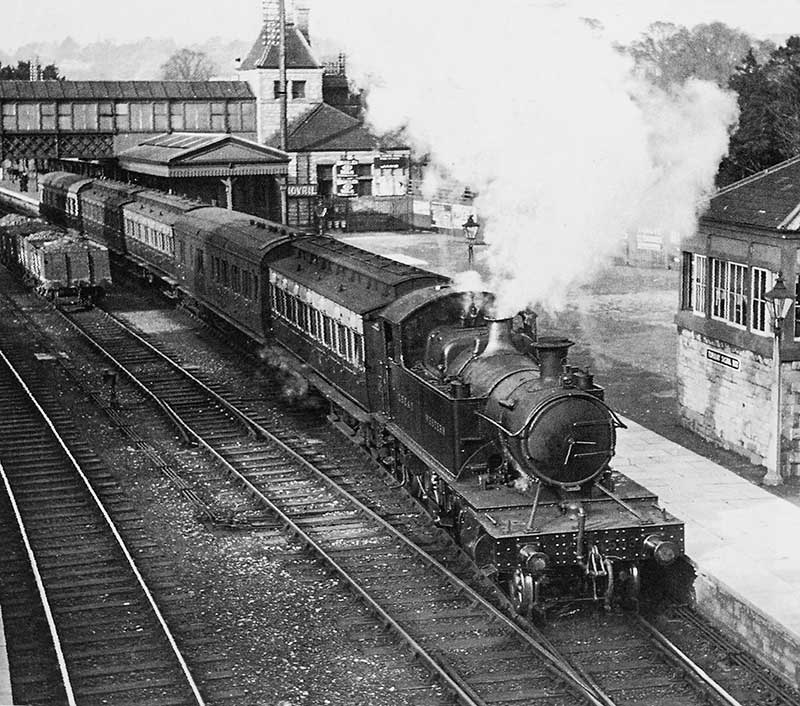 This photograph, by A C Roberts, shows Torquay railway station about 1925 with 2-6-2T locomotive No 4553 heading a local train towards Paignton.
With that amongst so many quotations of praise the text is set fair to continue throughout in that style, with one chapter entitled "Torquay; The Queen of Western Health and Holiday Resorts". All facilities including local Hunts, mixed bathing and that reserved for gentlemen only, Dancing including 'Cinderella Dances' (what were they we wonder?), Picture Palaces (our cinemas); Croquet etc etc are a mere selection of the wide amusements on offer.
Then we have adverts for the best of hotels of course!
However, lurking deep within the booklet fully reveals the social mores of those times, which are rather jarring to our eyes, but as we have stated in previous Blogs, our Collection reflects and records the facts of history, and we are not empowered to change it. Under the Chapter 'Amusements and Holiday Facilities at Torquay. What to Do; Where to Go' we read that "N..ger entertainments and other kinds of the 'commoner' beach shows find no favour in the eyes of those who are responsible for the social success of Torquay."
We leave that revelation for our readers to ponder. Whatever we feel, the shock, destruction and massive loss of life that the imminent World War brought upon all social classes is the greater dark storm cloud of its day. As we know, the 'upper classes' were profoundly affected with many long established families losing their blood lines and finally their mansions and estates to death duties.
---
TUESDAY 19 JULY
Holidays by Train – Part 5
Because the Great Western Railway was self-titled as 'The Nation's Holiday Line' we have already created five 'Holidays by Train' blogs based upon the GWR and indeed BRWR publicity material in the Great Western Trust Collection. With so much material, and now we are in our own high summer, here is another.
Although undated, it's certainly from 1934 onwards when the roundel motif (GWR) was the adopted publicity icon (today's Corporate Image) for the GWR.
This very modest leaflet illustrated, was trifold in design for ease of pocketing by the passing passenger who was at this time of year, thinking about the family holiday. Of course, it wouldn't appeal to anyone other than a car owner, but such an individual would have the financial resources to be worthy of the GWR attracting their attention to its travel service offer.
The three scanned images, have much to tell us. First its front and rear covers delivered the simple but intriguing message of details within. This alone was an essential for any publication!
Second, when opening it, the clever and again simple message appears to remind the reader (ie the car driver) that using the GWR service, he (yes almost certainly in that era, the male of the family) would avoid the restricted congested (no Motorways or dual carriageways then!) and uninteresting parts of the journey! Even motorways are boring for us, and of course travelling by train allows the whole family including Dad, to relax and view the passing scenery, which of course wouldn't be 'uninteresting'.
Third, it opens to the full offered services and travel rates and conditions.
We should add that well into the post war nationalised era, BRWR provided such a service.
Best get those holiday togs ready ourselves then!?
---
TUESDAY 12 JULY
British Locomotive Industry and the GWR
Naturally, the vast range of locomotives designed and built by the Great Western Railway remains the focus of enthusiast and railway history students. But, it is important to record and acknowledge the private industry that existed before the GWR set up Swindon Works, and which remained a profitable commercial entity throughout its history. Most importantly, exporting vast numbers of locomotives to the African countries of the then British Empire.
The GWR's first locomotives, were all constructed by such companies, and the consequent trials and tribulations that its first locomotive engineer, Daniel Gooch, experienced, from having no design and material standards across them all, prompted his then unique approach of establishing minimum design and material specifications for subsequent orders of locomotives from commercial suppliers.
The Great Western Trust collection has much historical material on that key era in GWR locomotive history, but today's blog moves our timeline forward to the very difficult trade depression years of the 1930s.
In that period, the GWR amongst its contemporary railway companies still had a need to replace age expired locomotives, many from the 1923 Grouping Scheme originally owned by South Wales companies, and to do so with, as already mentioned, the now absolute GWR policy of standardising upon their locomotives proven to be successful to maintain and operate! What better example than the ubiquitous and most prolific GWR locomotive, the Pannier Tank?
So under a government initiative, locomotives 5700-49, 6700-49, 7700-74, 7775-99, 8700-24, were all constructed by commercial manufacturers.
We highlight from our Great Western Trust collection, a memento of that scheme with the two images of a publicity postcard-sized advert of locomotive 6721, constructed by W G Bagnall Ltd of Stafford, showing its full photographic works grey GWR livery, but being 1930 it is pre the Roundel style. Bagnall built 25 locomotives in the 6700 to 6724 series, No 6721 was outshopped in September 1930. The 67XX locomotives were intended for shunting duties, and were therefore fitted with three-llnk couplings and steam brakes only. The locomotive was withdrawn in February 1959.
Perhaps the rather surprising revelation is the back of this postcard as it indicates that an interested customer could by using the Quote E 2381 reference, approach Bagnall's for the contract price for a similar engine! 2381 to 2405 were the Bagnall works numbers for the batch of 25 locomotives, so this must be how the reference number was arrived at.
We are unsighted on whether any such interest was shown, though in much later years we know that the National Coal Board gladly used ex GWR pannier tanks at various collieries. The deeper mystery is the extent to which the GWR might have gained some financial reward from such sales given its design rights on those locomotives.
With historical research, every new discovery leads to yet further unanswered questions!
---
TUESDAY 5 JULY
Arresting the Eye - the Power of the Poster
In the late 1950s British Railways introduced a new service where customers could hire packing cases of various sizes for sending goods by rail. They were made of aluminium or a combination of aluminium and wood and, as the name suggests, were fully collapsible. The customer was charged just for the weight of the goods and, once delivered the cases were folded flat and returned without charge, for further use. Collico Ltd, based in Barking, Essex, manufactured the cases which really were the precursors of the food delivery trays used in their thousands by today's supermarkets.
Speed was of the essence and in a British Railways (Western Region) General Instruction (Goods) Circular, staff are informed that: 'Delay is occurring in all phases of the working of Collico cases – important traders are complaining and in some cases are ceasing to use them because of poor turn-round. Will everyone concerned do all possible to speed transits by avoiding delays at forwarding and transfer points and ensuring that empty cases are returned promptly to hirers by Passenger Services – NOT BY FREIGHT SERVICES AS RETURNED EMPTIES.'
In 1969, National Carriers Ltd was formed from the Sundries Division of British Railways and NCL took over the Collico service. The need for speed remained just as important and the attached poster exhorted (entirely male) staff to do their utmost to expedite the handling of Collico cases. Hardly acceptable now but fifty years ago would doubtless have had the desired effect.
From 1967 British Rail Inter-City used a poster campaign with the headline 'See a friend this weekend' and the strapline 'Inter-City makes the going easy (and the coming back)' featuring a lady called Monica photographed with welcoming arms outstretched at a railway station.
The poster illustrated here, from the Great Western Trust collection, dates from 1975. It uses the headline 'Want to see a friend this weekend?&rsdquo; but does not feature Monica and we suspect it is a stock image from a photo library. The poster was printed with a blank panel at the bottom right, known as an 'empty belly' where the Weekend Return fares information has been overprinted in this version.
Such posters certainly 'arrest the eye' and the human form has been used to such effect for generations.
The Great Western Trust collection of posters spans more than one hundred and fifty years of railway advertising in its many and diverse forms and contains a wealth of social history.
Thanks to Matt Baker for the photographs from his large collection of Collico cases.