With a collection of locomotives dating from Victorian times to the 1960s, there's plenty to discover.
Latest Blogs
---
FRIDAY 24 JUNE
Control Freak?! - Part 1
I realised that one of the things that I have neglected for a while has been an instalment on our 'how it works' occasional series and as we have locomotives at Didcot Railway Centre where you can access the cab, I thought we could take a look at the controls in a Great Western steam engine cab and find out what they do. The controls on G.W.R. engines were pretty standardised by the 1920s. If you look in the cab of a Castle class express passenger engine or a Pannier tank shunting engine, there are a few differences, but not many. As the cab on display at the moment is that of No. 5900 Hinderton Hall, I'm going to take you on a virtual tour of this style cab. You will find layouts almost identical on No. 4079 Pendennis Castle and No. 5051 Earl Bathurst.
We are going to draw a line down the middle of the backhead or the rear section of the boiler. Whilst not 100% accurate, the vast majority of controls on the left are for the fireman and on the right are for the driver. We will look at the controls for the fireman this week. There are also controls on the tender too. These are all pretty much the province of the fireman as well. The large coal area and the water tank that surrounds it are self-explanatory as is the water gauge on the left as we look back.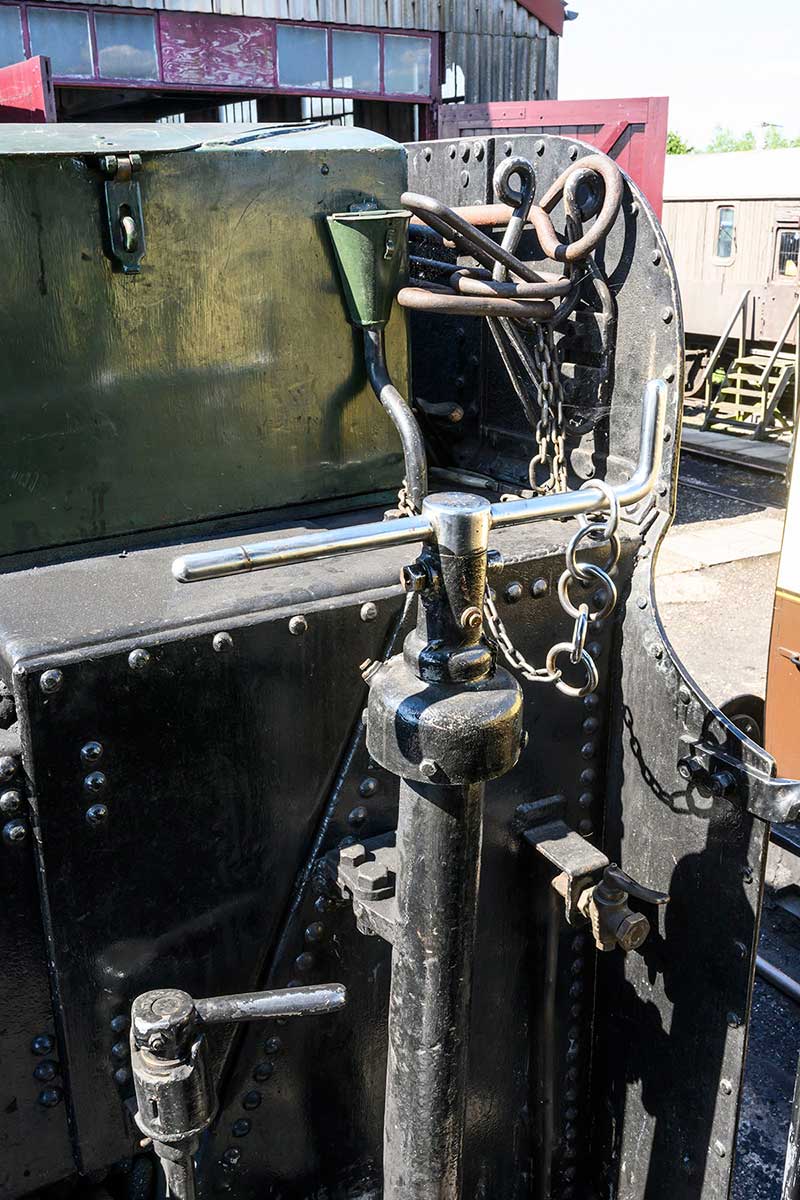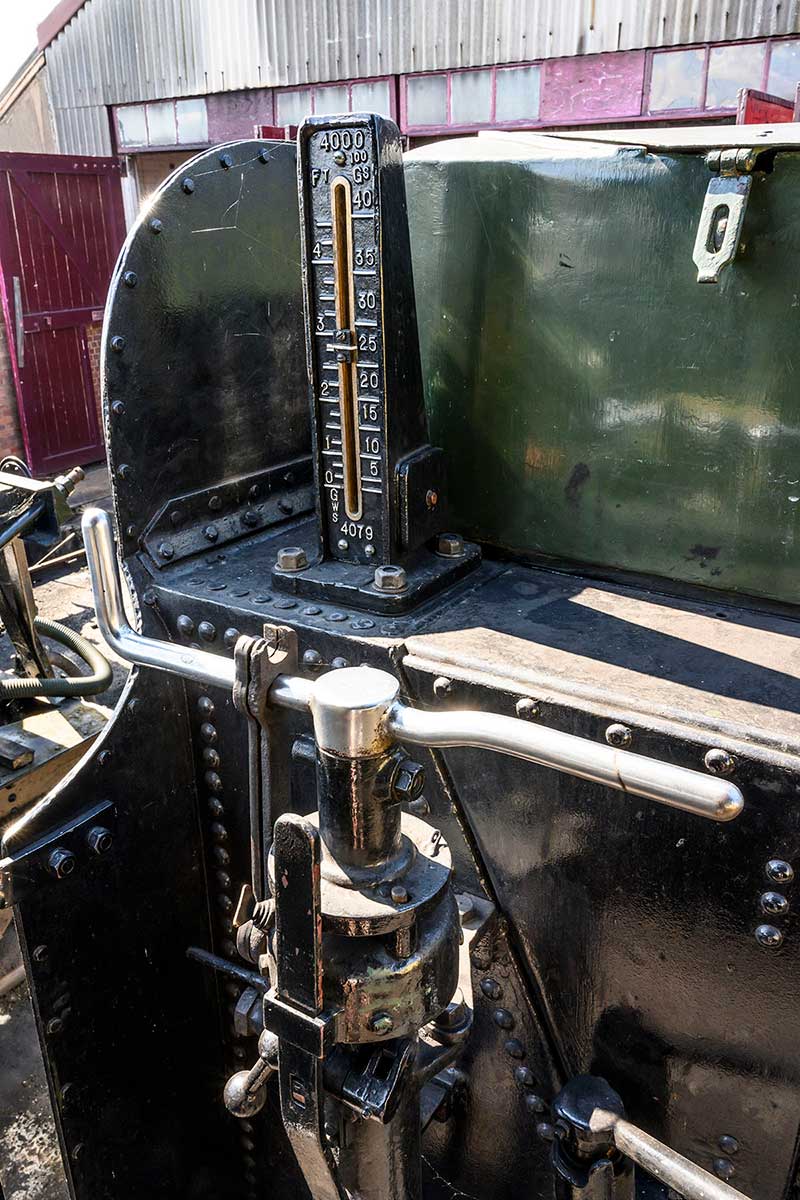 4079's handbrake and water scoop, with the gauge showing level of water in the tank behind it
There are two large handles on pedestals. The one on the right is the handbrake and there is a chain next to it. The chain is only put on the handle of the brake is on. It's a good visual indicator and reminder. On the tender engines, only the tender has a handbrake. The loco wheels are only braked when the engine is in steam. The other large handle is the water scoop. This winds down a mechanism that was used for picking up water from troughs that were strategically placed at points on the main line. This meant the engine could pick up water on the move – about 3,000 gallons in a 'scoop'! The two little handles are the water valves that turn the water on and allow it to flow in pipes towards the locomotive.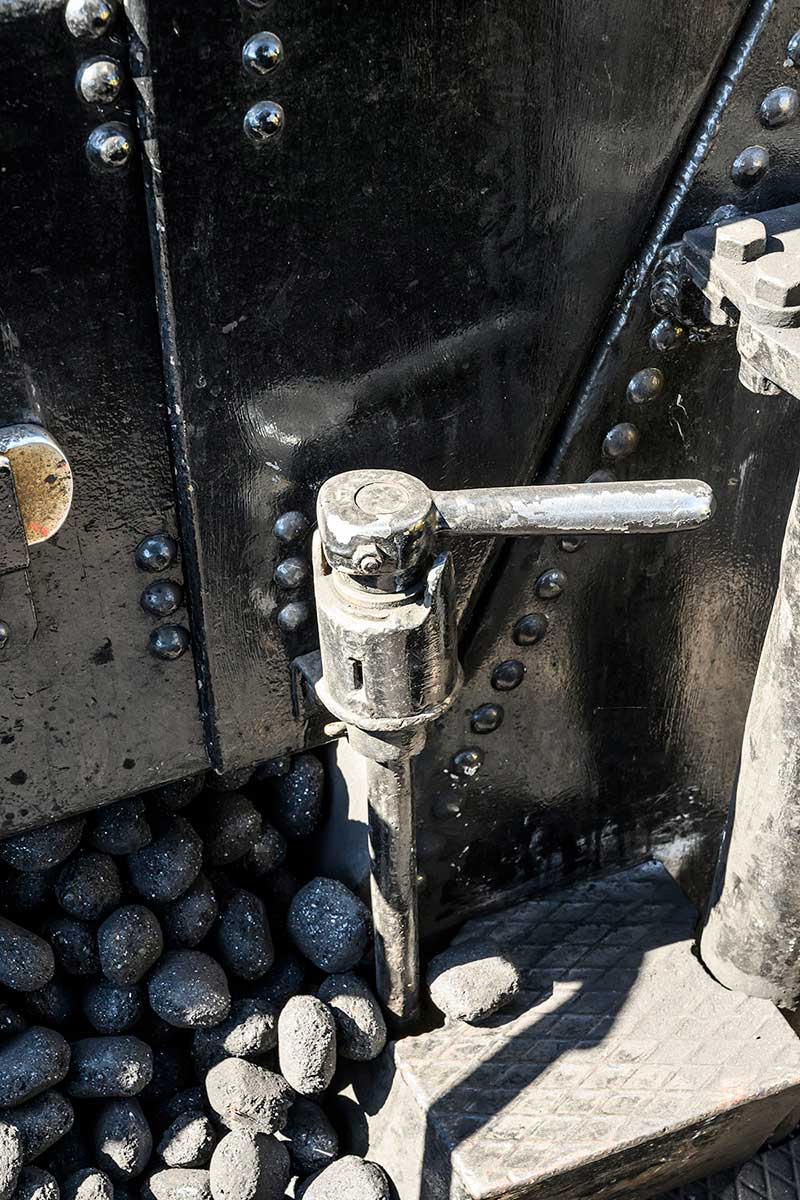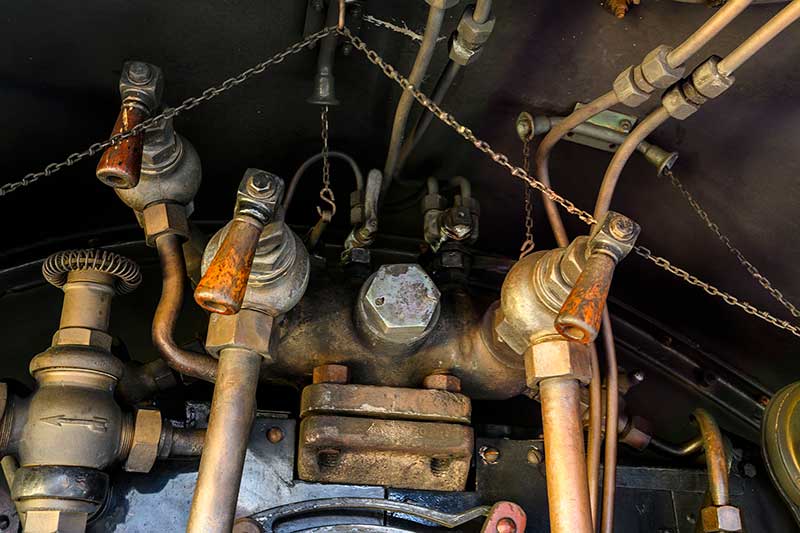 One of 4079's water valve handles and 4079's steam fountain, with the mason's valve on left
If we turn back to the locomotive, we can see that on top of the boiler, there is a large casting with all manner of taps and valves coming out of it. This is known as the fountain and it is where the steam for almost all of the auxiliary services on the engine. Most of the little valves are shut off cocks for the various systems. On the far left of the fountain, we start with what is known as the mason's valve. A tall brass casting with a wound wire handle. This is the pressure reducing valve for the steam heating for passenger coaches. The lagged pipe that leads down to the floor takes the low pressure steam to the train.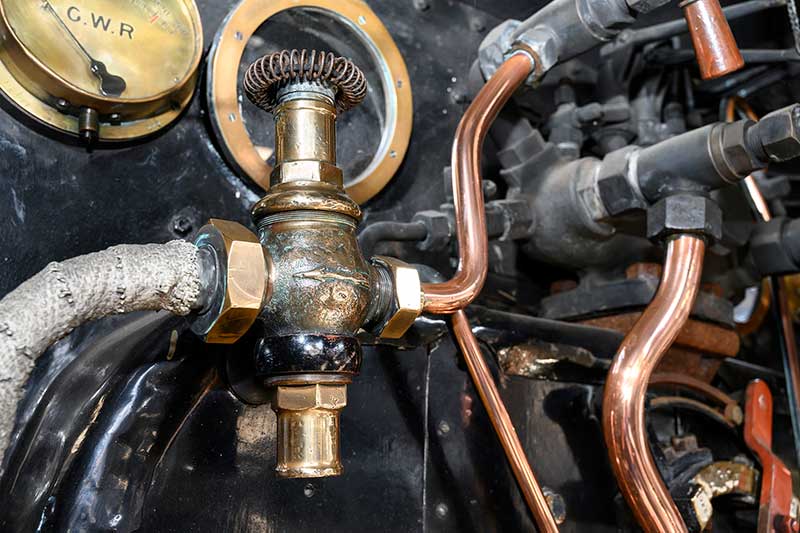 5322's mason's valve kept beautifully polished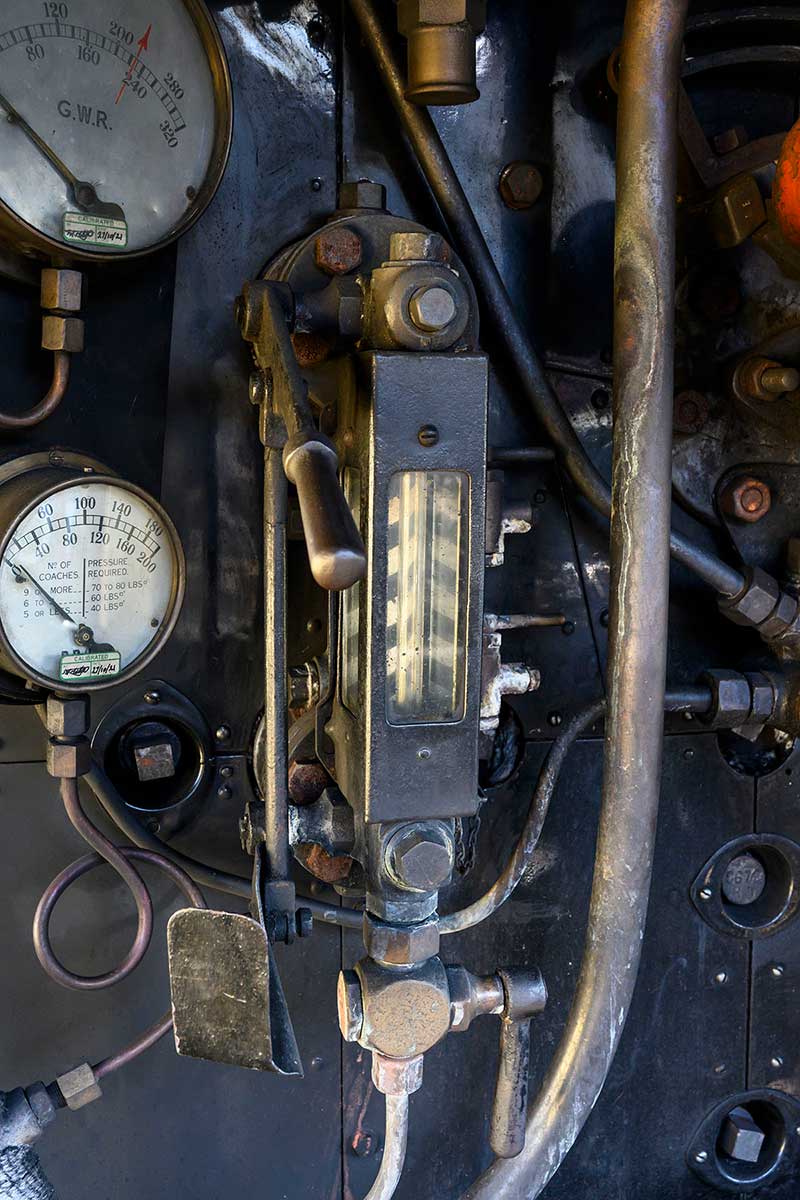 4079's gauge glass protector. The gauge on the left is for steam heat pressure to the train, controlled by the mason's valve.
On the front of the fountain are either two or three large spherical valves with large bore pipes leading down to the floor. These, in combination with the tender water valves, are the feeds to the injectors*. These get the water from the tender and past the boiler pressure into the boiler. How much water do you need to put in? Look no further than the gauge glass. This is the vertical glass tube in a glass box. The box – the gauge glass protector – has two functions. It provides protection for both the glass itself and the crew. It stops the glass tube from being broken by the crew accidentally and, if the gauge glass were to fail, it prevents the fast moving bits of glass from the resultant burst of steam from getting to the crew. There is a linkage on the side with a handle and this turns the gauge frame on and off. The little handle below it is the drain so you can empty it.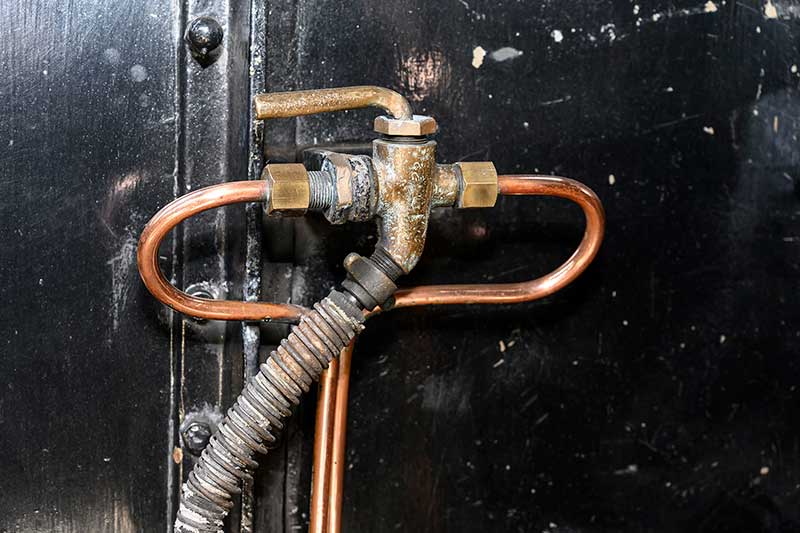 The pep pipe control on 5322.
All steam engines legally need two methods of reading the boiler water level. Most British locomotives have two gauge glasses, however, the Great Western Railway had to be different! The two large taps behind the gauge frame are called the test cocks. If you open them and water comes out, there is water there. If you open them and steam comes out, the water level is below that point. If it is below the level of the bottom one, you then put your injectors on as your boiler is very close to being too empty! Under the fireman's seat, is a small valve for the pep pipe. This is the hose that the fireman uses to hose down the cab to keep it clean and damp the coal to prevent dust**. The pep pipe operates when the fireman's side injector is turned on.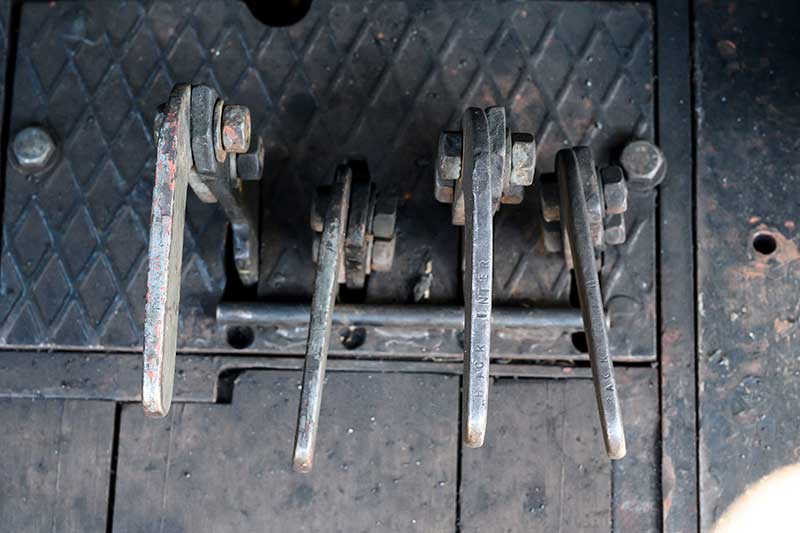 The four damper handles on 4079
In the floor, there are 4 handles. These operate flaps on the ash pan and are known as the damper doors. By operating these, you can control the airflow to the underside of the fire. There are four on GWR 4-6-0s as the lower section of the ash pan is split in half by the rear driving wheel axle. So the handles, left to right, are front front, front rear, rear front, rear rear. Confused? You will be! The not yet mentioned elephant in the room (cab?) is the fire hole door.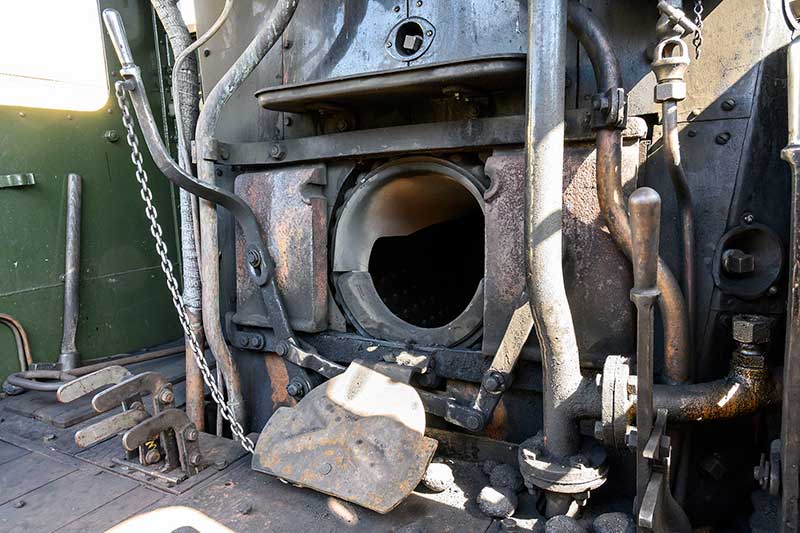 4079's firehole doors and flap. The damper handles can be seen on the left
There are two methods of closing it up. The first is the use of the large cast iron doors and the linkage and lever. This is quite heavy to operate so you will also notice that there is a steel flap on a hinge with a chain. This can be quickly and easily opened and closed by the firemen if they are working with the fire. Doors for longer periods shut, flap for brief. It basically helps the firemen conserve their energy.
And they do need their energy. The longest fireboxes on GWR locos are 11 to 12 feet in length. When firing, the fireman has to get the coal to exactly the right place. It's not just a case of fling it in! Holes in the fire draw cold air up the riveted joints and stays of the boiler. Being cold in one spot and hot in another causes the plates to twist and this can make leaks occur. Which annoys the boilersmiths and can be expensive… Oh, and if the engine is working hard, a big loco like a King or a Castle will consume fuel at the rate of up to 1 ton per hour. On that one shovel, in the right place, at the right time, on a footplate that will be bouncing around at anything up to (in steam days) 100mph+.
Whilst they are managing the water levels in the boiler and keeping the fire hole door fed, there is another job for the firemen. They need to use the windows. Strange as it may seem, the signals were on the left side of the cab and the driver was on the right. So, the fireman was an extra set of eyes for the driver too. They were a very skilled breed. They were also very busy… That's basically the fireman's controls. We need to take a look at the right side of the cab next week. Until then good people of the Internet…
*There's a previous blog for that!
**For some unknown reason, there is an idea going round by some that the coal is made wet to make it burn better. Do I have to point out why this is absolute nonsense?
---
FRIDAY 17 JUNE
The Great Western Royal Family - No Kings Allowed, Part 2
Welcome back to our Royal Round up part two – bringing to an end Going Loco's recognition of the Platinum Jubilee of Her Majesty Queen Elizabeth II. We ended abruptly in the Dean period as frankly the thing was getting a bit long so with no [royal] ceremony we shall pick up the succession where we left off!
One of William Dean's more famous creations after the singles was his Duke class of outside frame* 4-4-0s. These engines have a somewhat complex history through some being rebuilt into the Earl or Dukedog class or the Bulldog class, various renumberings, renamings, name removals and so on. These express passenger engines were built in five batches between 1895 and 1899. They were long lived too. While the first was withdrawn as early as 1929, the last hung on until 1951.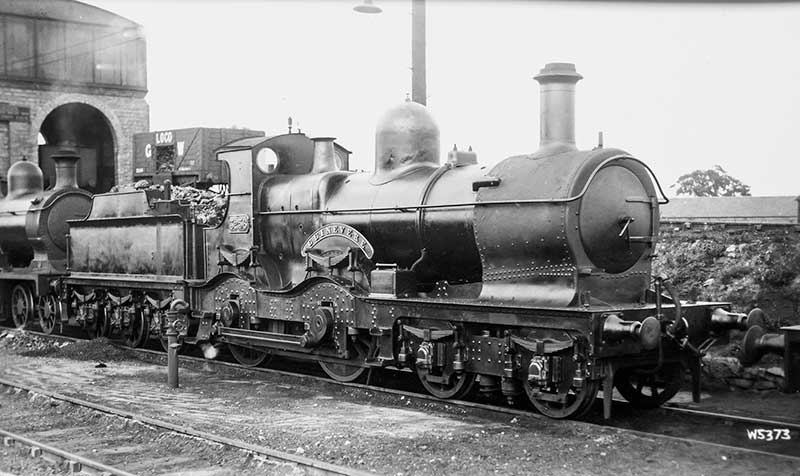 No. 3256 Guinevere (original number 3257).
As you might expect, the Dukes have a couple of royal connections. The first is that of a King and Queen of legend. Nos. 3256 Excalibur, 3257 Guinevere, 3258 King Arthur and 3273 Sir Lancelot. The class was originally known as the Pendennis Castle** class due to their association with the West Country (like King Arthur), but this was dropped early on.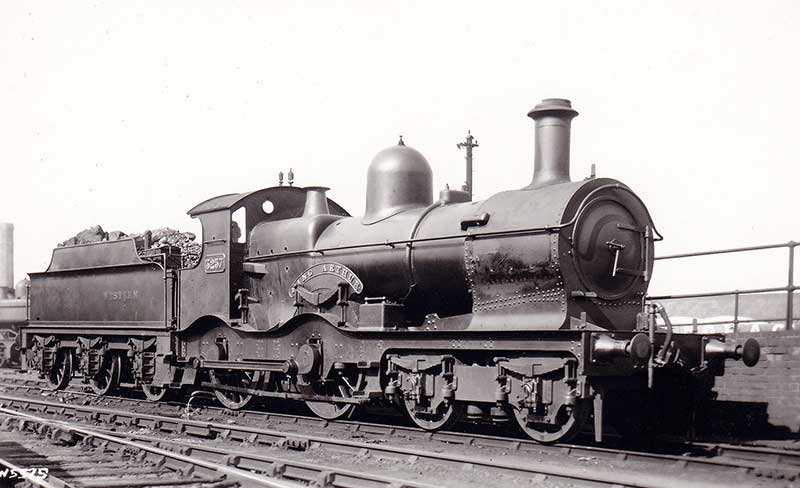 No. 3257 King Arthur (original number 3258).
King Arthur's court and his legends have no 'easy association' with actual historical figures but are important to the U.K. culturally so they warrant at least a mention.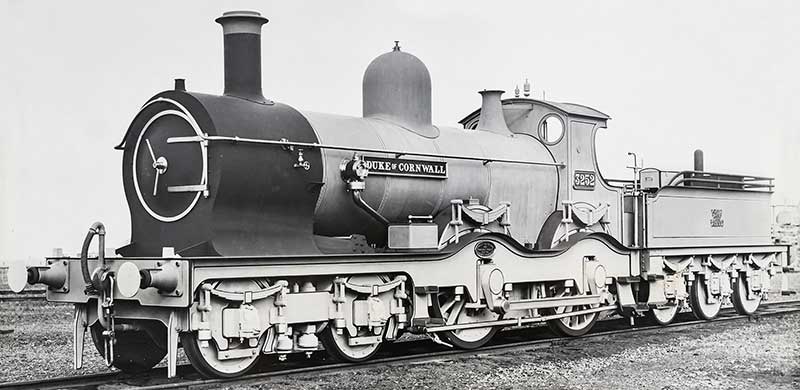 No. 3252 Duke of Cornwall.
The other is No. 3252 Duke of Cornwall. This peerage was created by royal charter in 1337 and is traditionally held by the oldest son of the reigning monarch. When the engine was constructed in 1895, the incumbent was the future King Edward VII and today of course is His Royal Highness Prince Charles.
The related Bulldog class of outside frame 4-4-0s had an actual King in their lineage. They too were passenger locomotives built between 1899 and 1910. Some of their ranks were new builds while others were rebuilds of the Duke class. Our engine is No. 3413 Edward VII. I probably don't need to introduce you to Queen Victoria's eldest again do I?!
There is also another link to the Arthurian Legend, No. 3364 Pendragon. In the stories, King Arthur's father is sometimes known as Uther Pendragon. The title is Welsh and roughly translated it means "Chief Warrior" but in reality means 'Chief Leader' or 'Commander in Chief'.
With that, the reign of Dean came to an end in 1902 to be replaced with George Jackson Churchward. Here we get to look at the celestial Star class which, despite the name, actually had more royal family names than star names. It's just that the stars got there first… We will take a look at the original G.W.R. 4-cylinder express passenger 4-6-0s later but suffice to say that they are not just an outstanding design of themselves but they are the grandparents of the great lineage of Castles and Kings.
This is going to be a long list so…
There were ten Kings before there were the official and separate King class. There were no regnal numbers attached to the names so it is a bit of a free for all really but as there aren't any numbers, I'm going to assume that they are the first British monarch to use that name.
No. 4021 King Edward

No. 4021 King Edward, prepared to haul the King's funeral train on 20 May 1910.
(17/18th June 1239 - 7 July 1307). Also known as 'Edward Long shanks' or 'The Hammer of the Scots'. Did a lot of war type stuff both here and on Crusade. Definitely a man of his time…
No. 4022 King William
(~1028 - 09/09/1087) William the Conqueror, pretty darn famous in the U.K. 1066 and all that.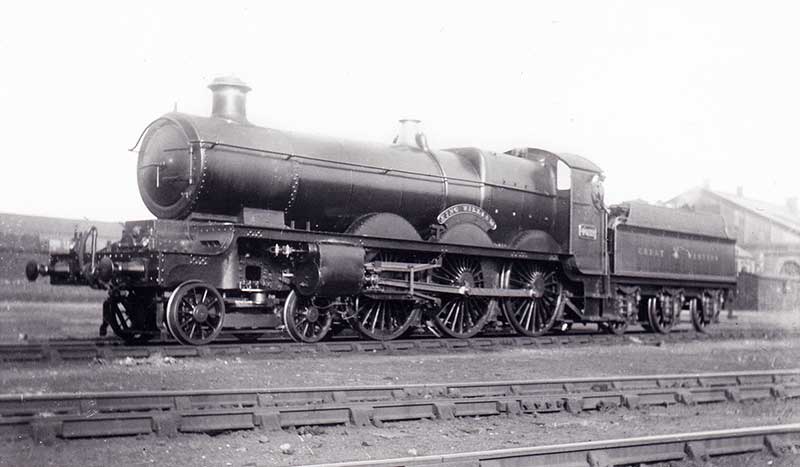 No. 4022 King William at Reading engine shed on 13 March 1926.
No. 4023 King George
(28/05/1660 –11/06/1727) First British monarch of the House of Hanover.
No. 4024 King James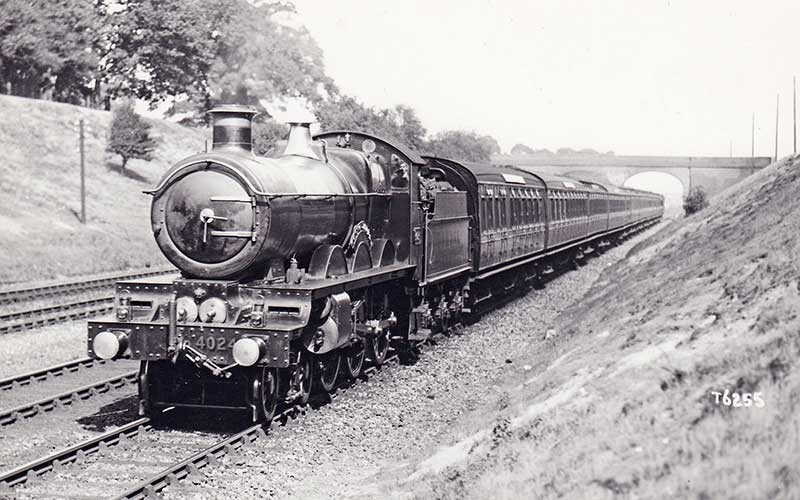 No. 4024 King James.
(19/06/1566 - 27/03/1625) Actually James VI of Scotland before becoming James I of the whole British Isles in 1603.
No. 4025 King Charles
(19/11/1600 - 27/03/1649) Ended up falling foul of a major separation in the country. That of his head from his body…
No. 4026 King Richard
(08/11/1157 - 06/04/1199) Another famous warrior King - 'Richard the Lionheart'. He was so keen on the U.K. that he probably spent less than six months here once crowned. Lots of Crusading to do clearly…
No. 4027 King Henry
(~1068 - 01/12/1135) Fourth son of William the Conqueror. Also buried on a stop on the G.W.R. at the now ruined Reading Abbey.

No. 4028 King John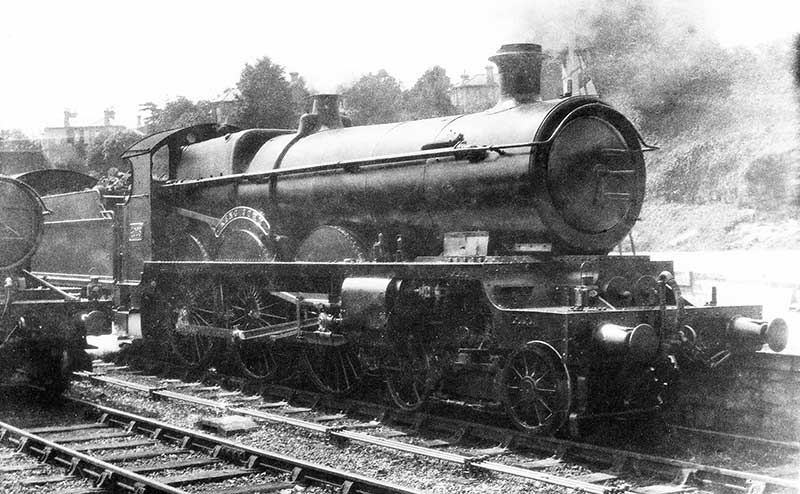 No. 4028 King John at Torquay c.1922.
(24/11/1166 - 19/10/1216) Not well liked. Still, his Barons that made him sign Magna Carta and that started off the British Constitution and is the cornerstone of the English system of liberty and justice that is one of our greatest gifts to the world.
No. 4029 King Stephen
(1092 or 1096 – 25/10/1154) His reign was marked by a charming little period known as 'The Anarchy'. A civil war and not a Sex Pistols song…
No. 4030 King Harold
(? - 17/03/1040) Nope, not the battle of Hastings chap. This is the son of King Cnut, Harold Harefoot. Yes, you read that right. He was a bit nippy on his feet apparently…
The 'Kings' were all renamed to various different country's Monarchs and as we fell out with those countries, the names were either changed or removed completely. Of better staying power were the 'Queens'. I'll gloss over the ones we've met already otherwise this will turn into a novel(!).
No. 4031 Queen Mary
Queen to King George V.
No. 4032 Queen Alexandra
Queen to Edward VII
No. 4033 Queen Victoria
HOW many G.W.R. engines were named after this woman?!
No. 4034 Queen Adelaide
(13/08/1792 - 02/12/1849) Adelaide of Saxe-Meiningen, Queen to King William VI and the lady that the city in Australia is named after.
No. 4035 Queen Charlotte
(19/05/1744 - 17/11/1818) Queen to George III - the 'Mad King' who is the longest serving male monarch of the U.K. Only Victoria and Elizabeth II have served us longer.
No 4036 Queen Elizabeth
(07/09/1533 - 24/03/1603) Gloriana, Good Queen Bess, The Faerie Queen, The Virgin Queen. Queen to Drake, Shakespeare, Marlowe and Raleigh. Last of the House of Tudor. Another of the almost legendary figures in British history.
No. 4037 Queen Philippa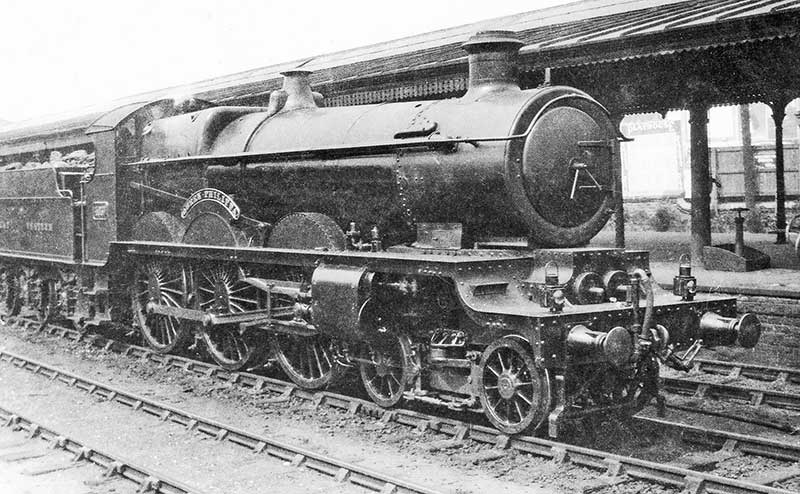 No. 4037 Queen Philippa at Cardiff c.1922.
(24/06/1310 or 1315 - 15/08/1369) Philippa of Hainault. Wife and Queen to King Edward III and acted as his regent while he was away fighting the hundred year's war. She was an astute politician and advised Edward III on many issues.
No. 4038 Queen Berengaria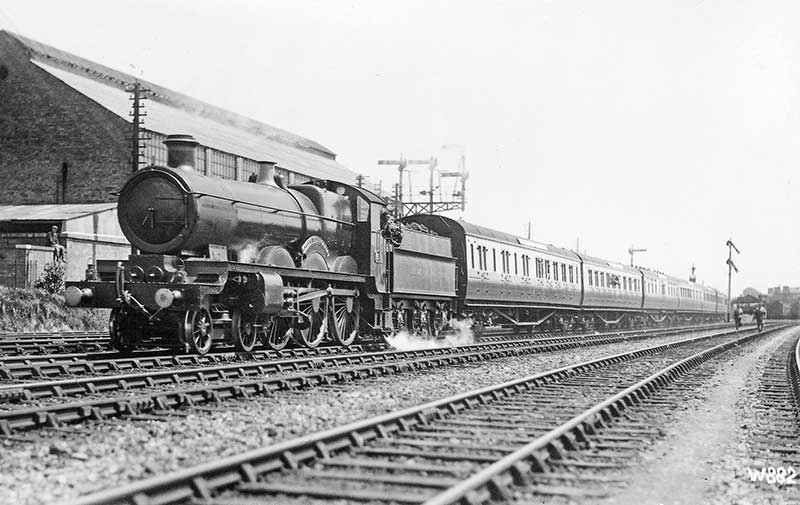 No. 4038 Queen Berengaria.
(c.1165 - 1170 -23/12/1230) Berengaria of Navarre. Queen to Edward I and sadly not much about her is known for sure…
No. 4039 Queen Matilda
(~07/02/1102 - 10/09/1167) Also known as Empress Maude. Was never actually Queen of England but was one of the claimants to the throne during the afore mentioned Anarchy.
No. 4040 Queen Boadicea
(~30A.D. - 60 or 61 A.D.) Her actual name can be translated and pronounced all sorts of ways but she was a Queen of the British Iceni tribe who lead a massively destructive but ultimately doomed rebellion against the Imperial Roman forces then invading Britain. She has found a place in British culture as a folk hero so she is surrounded by much myth and legend.
And as of that wasn't enough, we now get to the 20 Princes and Princesses. I said there were a lot…
No. 4041 Prince of Wales
As this engine was built in 1913, this makes the name that of the then Prince of Wales, the future King Edward VIII / Duke of Windsor.
No. 4042 Prince Albert
No, not Queen Victoria's other half. At the time the loco was built, this was the name that King George VI was going by.
No. 4043 Prince Henry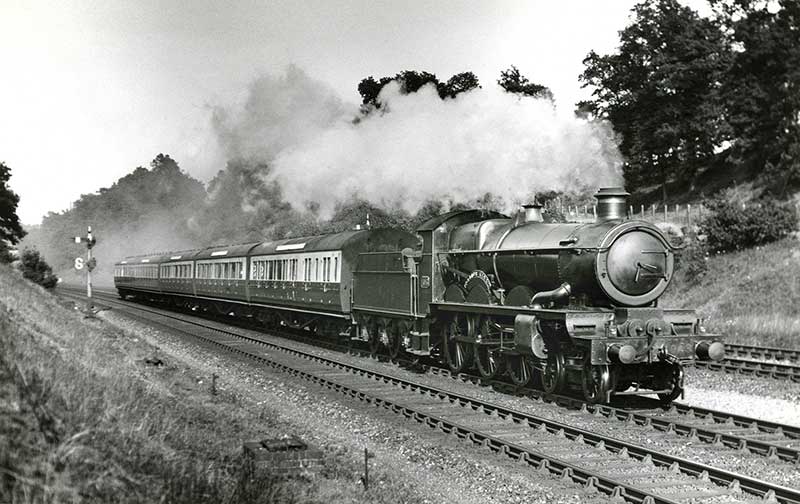 No. 4043 Prince Henry.
(31/03/1900 - 10/06/1974) Henry William Frederick Albert. 4th child of King George V and Queen Mary. He was the Duke of Gloucester and also served as Governor - General of Australia.
No. 4044 Prince George
(20/12/1902 - 25/08/1942) George Edward Alexander Edmund. Another of King George V / Queen Mary's children. He was killed in an air crash while on active duty with the R.A.F. making him the first royal to die as a result of military service in 450 years.
No. 4045 Prince John
(12/07/1905 - 18/01/1919) John Charles Francis. The youngest son of King George V and Queen Mary. He suffered from severe epilepsy and sadly passed away from a seizure at just 13 years of age.
No. 4046 Princess Mary
(25/04/1897 - 28/03/1965) Victoria Alexandra Alice Mary, Princess Royal and Countess of Harewood. The only daughter of King George V and Queen Mary. Known for her charitable work, particularly in the First World War which went towards the support of servicemen and their families.
No. 4047 Princess Louise
(20/02/1867 - 04/01/1931) Louise Victoria Alexandra Dagmar, Princess Royal and Duchess of Fife. Daughter of King Edward VII and sister to King George V. She was a shy character and led a largely private life.
No. 4048 Princess Victoria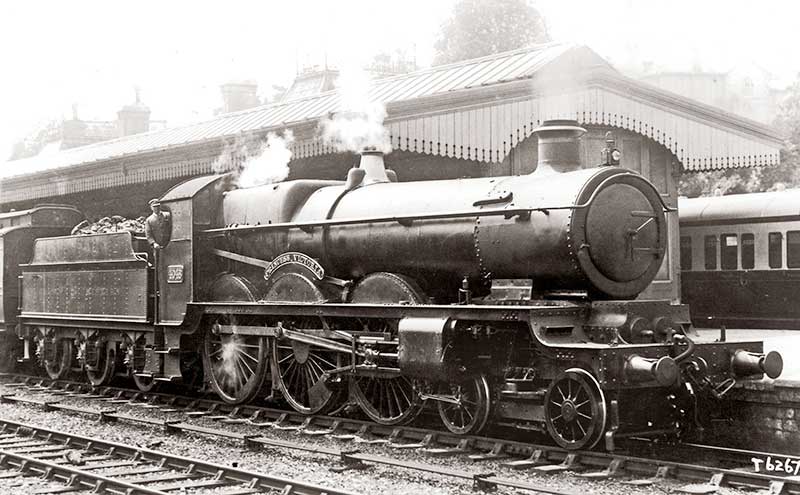 No. 4048 Princess Victoria.
(06/07/1868 - 03/12/1935) Victoria Alexandra Olga Mary. George V's youngest sister.
No. 4049 Princess Maude
(26/11/1869 - 20/11/1938) Maude Charlotte Mary Victoria or Maude of Wales. The youngest daughter of King Edward VII. She married King Haakon VII of Norway, becoming his Queen when he was crowned in 1906.
No. 4050 Princess Alice
(25/02/1883 - 03/01/1981) Alice Mary Victoria Augusta Pauline or Princess Alice, Countess of Athlone. She was the last surviving granddaughter of Queen Victoria and was married to Lord Athlone, who served as Governor General of Canada.
No. 4051 Princess Helena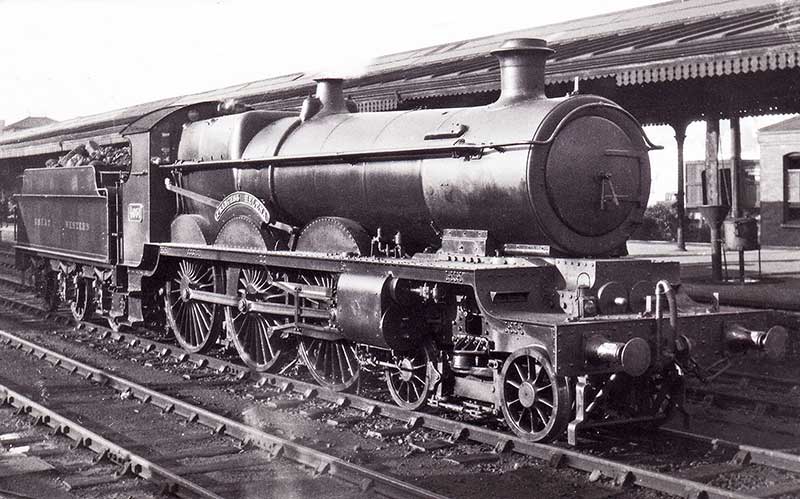 No. 4051 Princess Helena at Cardiff c. 1922.
(25/05/1846 - 09/06/1923) Helena Augusta Victoria. later Princess Christian of Schleswig-Holstein. 5th Child of Victoria and Albert. She was an active patron to charities and was also a founder member of the British Red Cross. She married Prince Frederick Christian Charles Augustus of Schleswig-Holstein.
No. 4052 Princess Beatrice
(14/04/1857 - 26/10/1944) Beatrice Mary Victoria Feodore, later Princess Henry of Battenburg. She was the youngest child of Victoria and Albert and the last of their children to die – a full 66 years after the first passed away.
No. 4053 Princess Alexandra
(17/05/1891 - 26/02/1959) Princess Alexandra, Duchess of Fife, née Lady Alexandra Victoria Alberta Edwina Louise Duff, later Princess Arthur of Connaught. She was the eldest surviving child of Edward VII. She became a nurse in WWI, stationed rather appropriately for us at St. Mary's Hospital, Paddington!
No. 4054 Princess Charlotte
(24/07/1860 - 01/10/1919) Princess Viktoria Elisabeth Auguste Charlotte of Prussia was the eldest granddaughter of Victoria and Albert. She became the Duchess of Saxe - Meiningen when she married the duchy's last ruler Bernhardt III.
No. 4055 Princess Sophia
(14/06/1870 - 13/01/1932) Sophie Doretha Ulrike Alice, Sophia of Prussia was a granddaughter of Victoria and Albert and was the Queen to King Constantine I of Greece.
No. 4056 Princess Margaret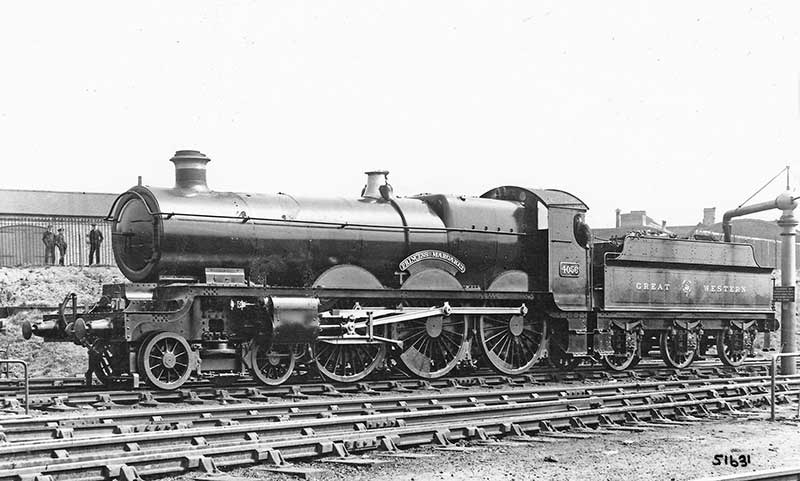 No. 4056 Princess Margaret.
(15/01/1882 - 01/05/1920) Princess Margaret Victoria Charlotte Augusta Norah of Connaught was another granddaughter of Victoria and Albert who became a Crown Princess of Sweden and first wife to King Gustafson VI Adolf. She died 30 years before her husband ascended to the throne, so she was never Queen.
No. 4057 Princess Elizabeth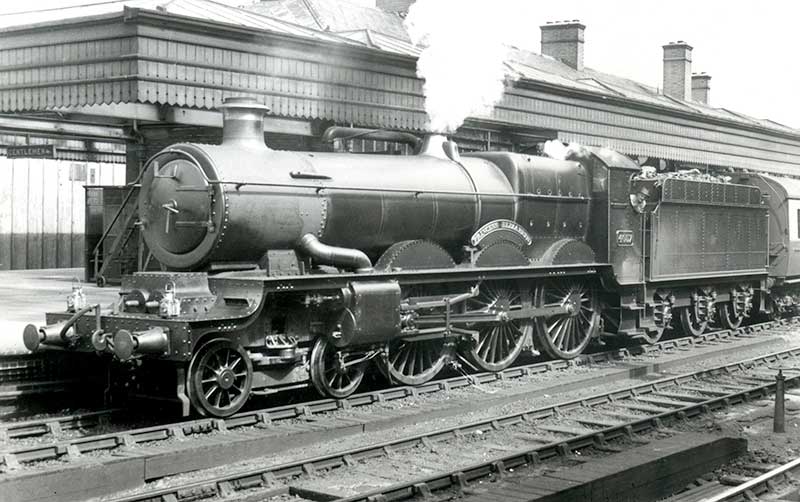 No. 4057 Princess Elizabeth.
(01/11/1864 - 18/07/1918) Princess Elizabeth of Hesse and by Rhine, later Grand Duchess Elizabeth Feodorovna of Russia. She was a granddaughter of Victoria and Albert and is the great aunt of Queen Elizabeth II. She was murdered as part of the Russian revolution during WWI.
No. 4058 Princess Augusta
(19/07/1822 - 05/12/1916) Princess Augusta of Cambridge was a granddaughter of King George III and through marriage, became the Grand Duchess of Mecklenburg-Strelitz. She lived until the grand old age of 94 and was described by some as being 'kantakerous'!
No. 4059 Princess Patricia
(17/03/1886 - 12/01/1974) Princess Victoria Patricia Helena Elizabeth of Connaught. She was a granddaughter of Victoria and Albert and married Admiral Sir Alexander Ramsey, a Royal Navy commander of some distinction from WWI.
No. 4060 Princess Eugenie
(24/10/1887 - 15/04/1969) Victoria Eugenie Julia Ena of Battenberg. She was the Queen of Spain, being married to King Alfonso XIII in 1906 and, yes to finish off, another granddaughter of Victoria and Albert!
That's enough of that! I have trawled the history books for non-train facts aplenty. It is fascinating to see how the royal houses of Europe were intertwined and just what a huge impact that Queen Victoria and Albert had on our history. I find the context of the names that the G.W.R. chose fascinating. They were clearly keen to cement their association with the House of Saxe-Coburg and Gotha (from 1917 the House of Windsor). They were the first railway company to transport a reigning British monarch (Victoria) and their station in Windsor was a royal gateway to London and the rest of the country after all…
*Outside frame refers to the way that the structure that the wheels, boiler motion and cab is mounted on is arranged. If you look at the pictures of locomotives like the Dukes, you will see that the frames of the engine sit outside the wheels, the bearings are in this section and then any connecting rods are outside of that. It's a traditional way of building steam engines that die out around the beginning of the 20th Century.
**Duke No. 3253 Pendennis Castle. This engine lost its name when our Pendennis Castle (No. 4079) was built in 1924. The letters on the original No. 4079 nameplates – now held in our museum – are those from the 1895 original. The G.W.R. never wasted anything!
---
FRIDAY 10 JUNE
The Pioneer's Progress - Part 6
Well, I WILL finish the Royal Round Up next time, but when Phil comes along with another great update on No 1466, you can't say no – am I right?! With the latest from 1466 Headquarters, here is the news from our roving reporter…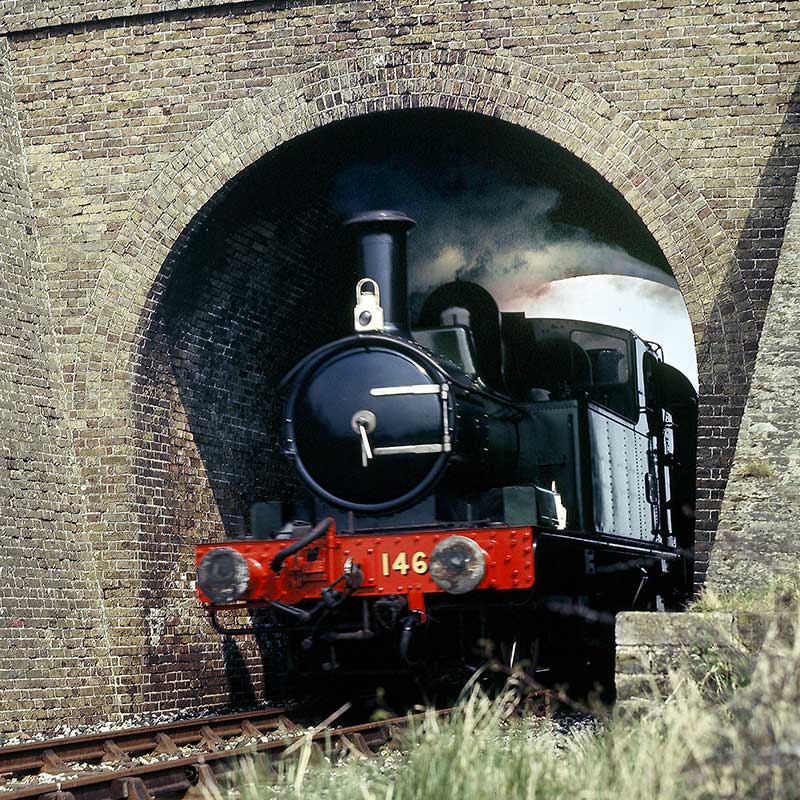 54 years ago, 1466 running on the Cholsey to Wallingford branch line in April 1968
Thanks Drew! It's been a very busy time recently and even with the previously mentioned copper conundrum, we are progressing forwards with the project very well. Orders have been placed with South Devon Railway Engineering (SDRE) to have a new copper tubeplate and door plate manufactured for the inner firebox, so we are currently somewhat in a bit of a waiting game… In the meantime, Ryan and his team at the West Somerset Railway have made great headway on the boiler of 1466 since my last update. So much so that, after copious amounts of time spent drilling and riveting, the boiler has finally taken back its true form once again and looks superb!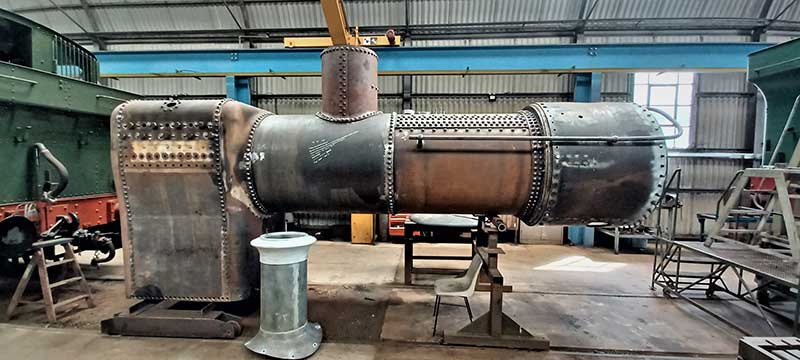 The boiler taken back to its natural form
With the riveting escapade complete and work on the boiler somewhat slowed until the new copper inner firebox components arrive, we have turned to fabricating and assembling the new smokebox and its associated parts. New smokebox? Well, due to the old smokebox of 1466 being very well worn (and quite holey!) it made sense to renew essentially everything. A new barrel has been fabricated along with a new sacrificial plate, inner and outer door pressing and front door-ring pressing which were made by SDRE. This will give a good lifespan and shouldn't need any remedial work to it, in the near to medium future.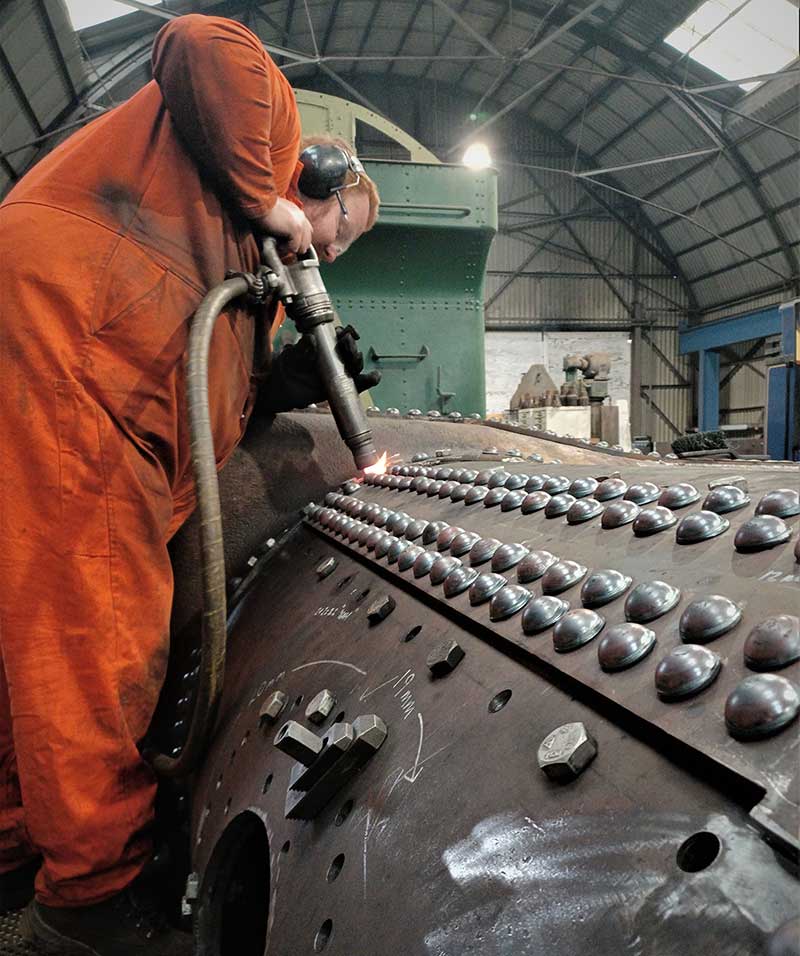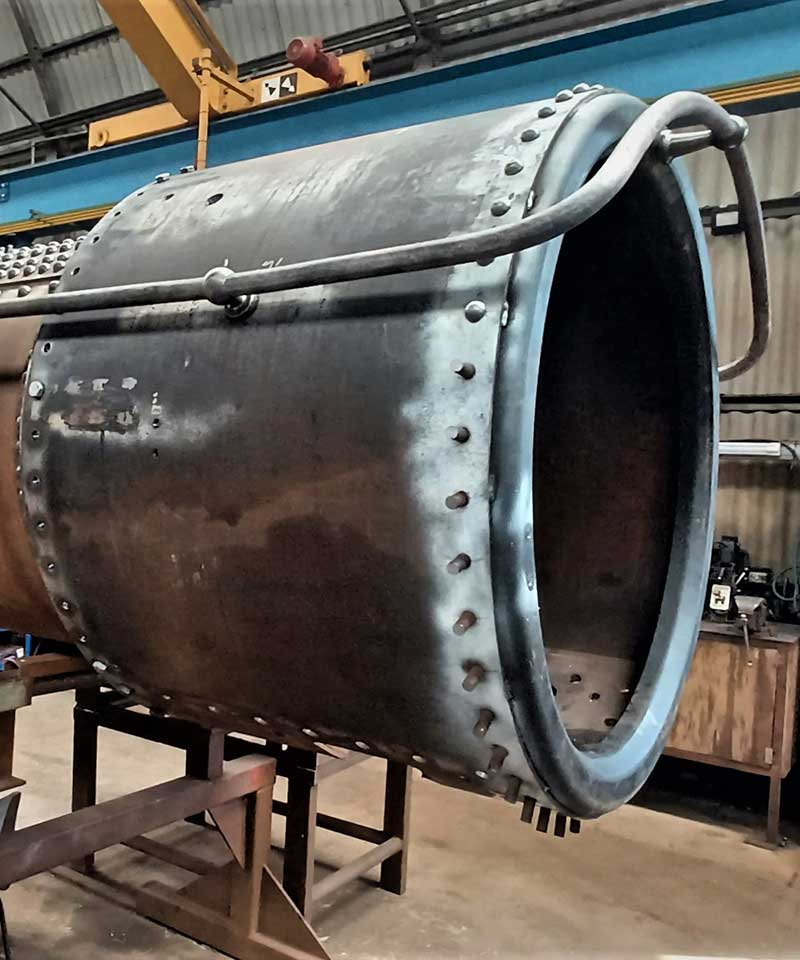 Ryan hitting down white hot rivets which secure the boiler barrel's doubling plate and the new smokebox and its handrails taking shape. Both Photo's: Phil Morrell.
There has also been a smorgasbord of other odds and ends on the go; Ryan and his team have been working on machining the new blast-pipe and top casting. Time was taken to clean up the locomotive's chimney, by using a very fine sand blasting. Considering the chimney's age and use over the many years of service, it's in remarkably good condition. Due to a small area on the steel firebox crown being found to have significant wastage, a new piece of platework, 17"x17" in size, was sourced, introduced and welded in situ – it's quite a common occurrence, as the affected area is just below where the whistle sits. A result of water being expelled (and the UK's notorious rain for that matter…) and finding its way through the cladding and lagging, thus laying on the crown sheet, has caused the platework to deteriorate and waste-away over the years. To end with, the final seal-welding by our contractor Ian Massey has started and will continue over the next few months.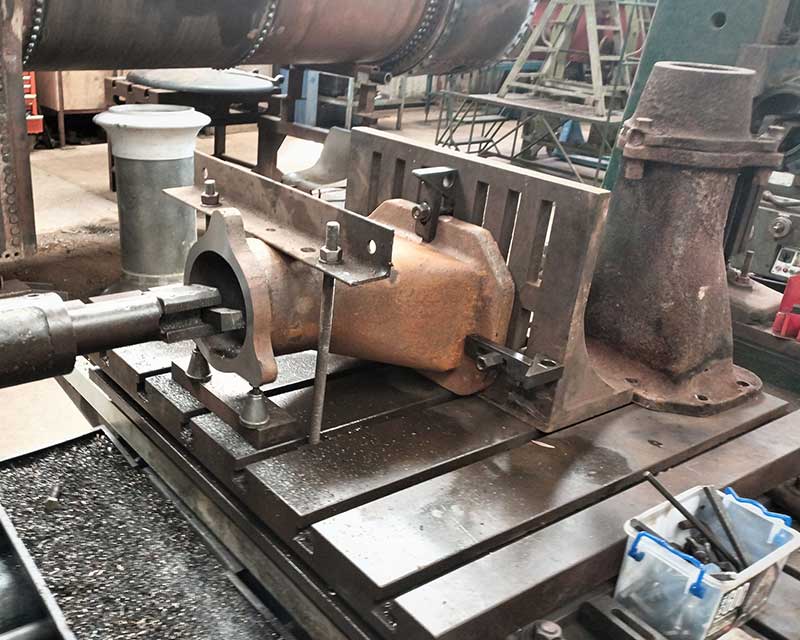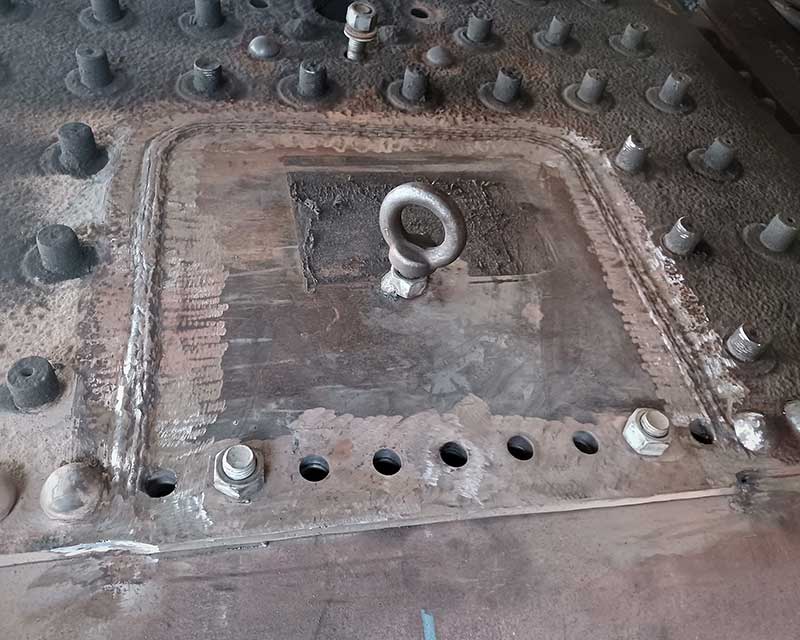 Machining the blast pipe (the old one can be seen behind) and a successful patch repair to the crown with a new 17 x 17 inch plate inserted. Both Photo's: Phil Morrell
So, what next? Well until the copper firebox components arrive (current eta of 6-8weeks) and once the current work is complete, the highlights after that we'll be turning to are the overhaul of the following systems:
The regulator pipe, steam collector and its associated parts.
The steam dome lid will be re-faced and the steam dome itself will also be re-studded.
We will also take this time to manufacture a new ashpan for the locomotive.
As well as all that, there will be fair amount of other work happening where various items and parts will be receiving attention, so do keep tuned! It's fair to say, work is progressing fairly rapidly on our little pioneer and there's still plenty more to come!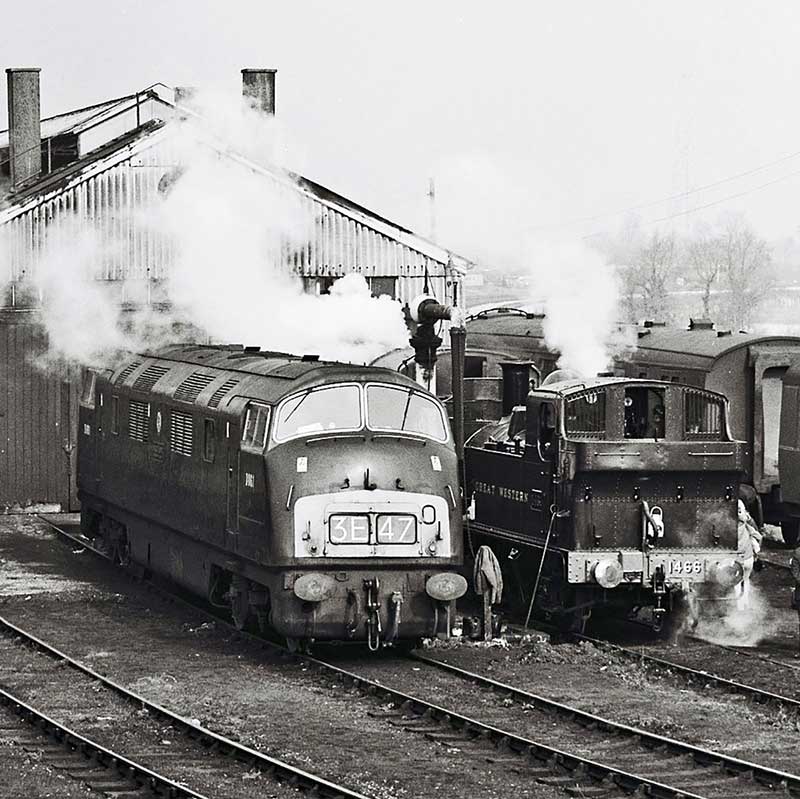 54 years ago, 1466 during a test steaming at Didcot engine shed in March 1968, alongside Warship class diesel-hydraulic No 861 Vigilant.
On a final note, I'd just like to thank everyone who has seen these blogs and the GW Echo updates and has been kind enough to donate to the project – it's truly and greatly appreciated. Any donations small, medium or large are always gratefully received. In a restoration such as this, every £1 counts and can make such a difference to enable us to finish her overhaul. If you would like to donate to this wonderful pioneering locomotive, please following the link and instructions below.
Until next time folks!
Cheers Phil! I can't wait to see this little beauty back where she belongs at Didcot, entertaining one and all. Having served as a Captain on the front lines of steam locomotive restoration, it gets to the point where you think to yourself 'there CAN'T be anything else that I don't know about that needs doing can there?' Quite often, there is, but with the kind of tenacity that Phil and his team have shown, I get the feeling that the time whereby the answer to that question is 'no' isn't that far off.
---
FRIDAY 3 JUNE
The Great Western Royal Family - No Kings Allowed, Part 1
In a furtherance of our Going Loco royal celebrations of Her Majesty Queen Elizabeth II's Platinum Jubilee, Photo Frank came up with the great idea of tracking the royal family, with assistance from the photos in the Great Western Trust's collection of the Great Western locomotive fleet. With one twist. The 6000 or King class are not allowed. That would make it all too easy now wouldn't it?!
A long time ago, in Daniel Gooch's Swindon, not that far away ....
The earliest royal names I can find* are associated with two of the Prince Class 2-2-2 express passenger locomotives. Being that the class was built between 1846 and 1847, they were broad gauge machines. The two we are interested in today are Prince, built in 1846 and Queen built in 1847.
Given that this was the golden era of the Victorian age, it comes as no surprise that they are named after Queen Victoria (born 1819, reigned 1837-1901) and Prince Albert of Saxe-Coburg-Gotha, The Prince Consort (1819-1861). From about 1865 both the Prince class machines and the Firefly class were absorbed to become part of the Priam class. Which means a good look at our replica Fire Fly will serve to illustrate them perfectly! They were relatively successful for such early engines, being in service until 1870.
In the broad gauge Iron Duke class 4-2-2s we find Lord of the Isles, a title used by nobles in Scotland going back to the 12th century. It has been adopted by the British royal family and the current incumbent is His Royal Highness, Prince Charles (b1948). This photograph shows the locomotive decorated for the return of the Brigade of Guards from the Crimean War in 1856.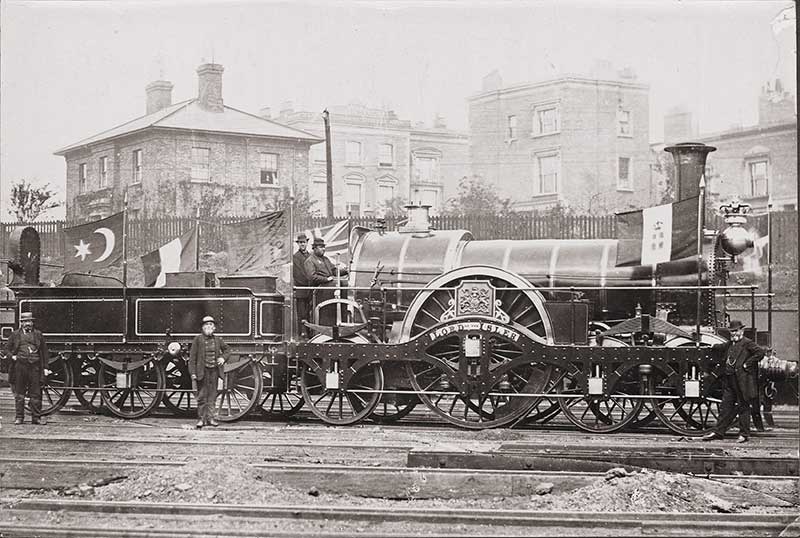 Given the fact that broad gauge engines built for the GWR were not bestowed with numbers, it is surprising to note that there was another engine named after Queen Victoria. Not confusing at all! In fact, the class were known as the Victoria class.
These were 2-4-0 express passenger engines and were a bit more modern, being built between 1856 and 1864. They were all named after heads of state of the era such as Abdul Medjid (the then ruler of Turkey) and Leopold (Leopold I of Belgium) or famous engineers such as Brunel, Trevithick and Watt.
Victoria herself has an interesting tale as her driver lost control on approach to Weymouth station on 26 August 1862. As a result, she smashed through the buffers and ended up sat in the street outside just short of the Somerset Hotel, with the commotion breaking up a game of cards! The incident gave rise to a local song with the refrain 'Victoria in the gin-shop'.
The locomotive lasted until 1879 and the last Victoria class machine was scrapped in 1881.
Although we have to wait until nearly the end of his tenure at Swindon, Joseph Armstrong makes sure that the Royal Family were not forgotten at the scrapping of the Prince Class and gives us a whole host of royal names in the Queen Class! Well, I've clearly got my work cut out for me here, haven't I?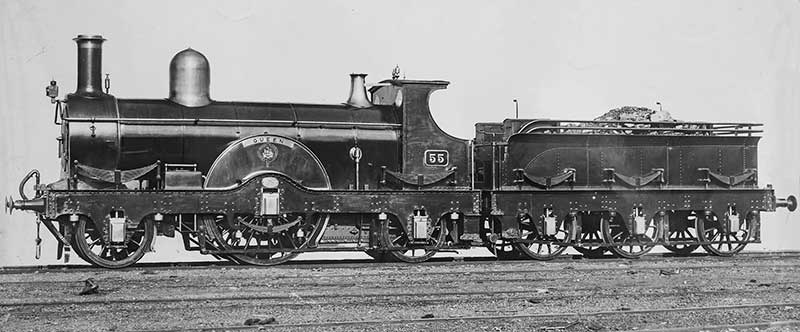 The prototype, No 55 Queen (Queen Victoria again) was built as an experimental machine in 1873. She was a 2-2-2 again, with driving wheels of 7' diameter. The engine proved successful and a further 20 were built from 1875. Only half of them received names and the ones important to us are:
No 1118 Prince Christian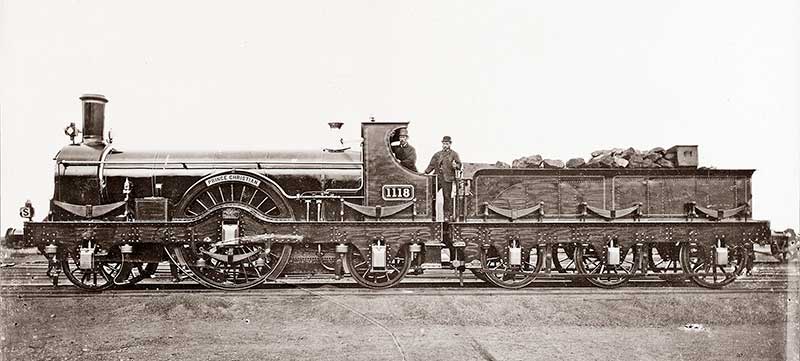 Prince Frederick Christian Charles Augustus of Schleswig-Holstein (1831-1917) was Danish born but a member of the German royal family. He became part of the British royal family due to his marriage to Princess Helena, fifth child of Victoria and Albert.
No 1119 Princess of Wales
Born as Alexandra of Denmark (1844-1925) The wife and Queen of future monarch, King Edward VII.
No 1128 Duke of York
The son of the Prince of Wales and Alexandra of Denmark, George Frederick Ernest Albert (1865-1936), known to history later as King George V.
No 1129 Princess May
The informal name of Mary of Teck (1867-1953) daughter of Francis, Duke of Teck (1837-1900) and Princess Mary Adelaide of Cambridge (1833-1897), Granddaughter of King George III (born 1738, reigned 1760-1820). She married the future King George V in 1893 to be later crowned as Queen Mary.
No 1132 Prince of Wales
The future King Edward VII (born 1841, reigned 1901-1910), made Prince of Wales in 1841 and crowned in 1901.
The Queen class were continually updated throughout their lives and received updated boilers, cabs and the like as technology improved. They were still working – albeit on secondary routes – until the last one was withdrawn in 1914. Some of them gained a total millage in excess of 1 million, which was quite the record for the time.
We now reach the tenure of William Dean at Swindon and the first two Royals here are oddballs. No 9 was originally built in 1881 as an experimental 4-2-4 tank engine but was an unmitigated disaster***. She was rebuilt to a 2-2-2 tender loco with strange outside Stephenson valve gear in 1884. She was rebuilt again to be very similar to the Queen class and then was named Victoria in honour of you know who.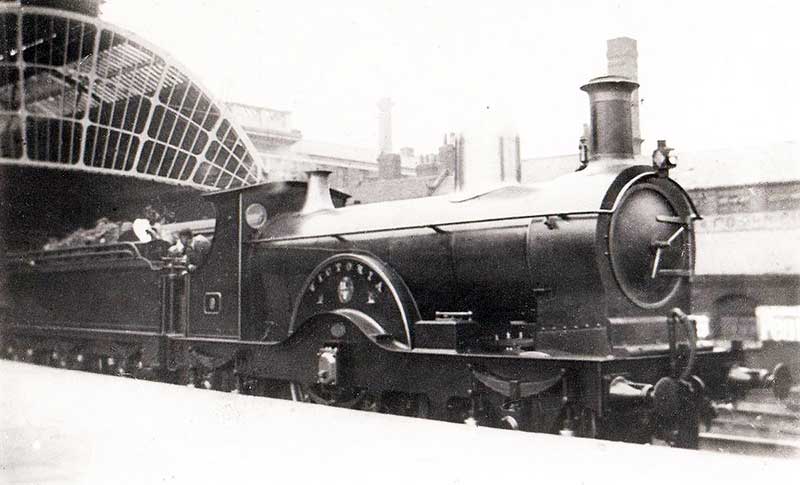 The next experimental engine was No 10 and this was built as a 2-2-2 from the outset and followed the same path as No 9. When finally rebuilt to an almost Queen class, she was named Royal Albert. Again, you know who this is ....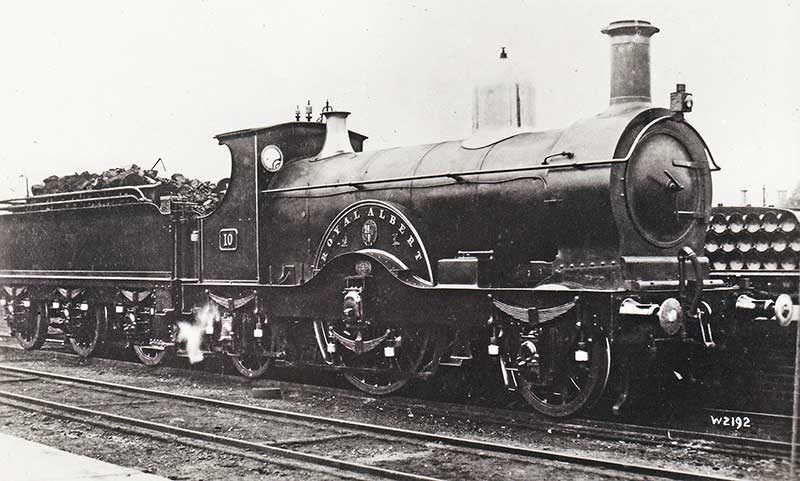 Apart from the famous Dean Goods 0-6-0 freight locos, William is best remembered for his Dean Single class of express passenger locomotives. There were 80 built in total but the first 30 were built as 2-2-2s of the 3001 class. These engines were found to be too heavy at the front end. A derailment caused by this happened in 1893. The solution, to give them a front bogie, resulted in one of the most beautiful locomotives of the Victorian era. The 3031 or Achilles class. They proved to be fleet of foot and were THE express passenger locomotive of its day. Their day was fairly short however, and by the early 20th century despite some rebuilding and a few other proposals, the last was withdrawn in 1914.
There are LOTS of royals in here, so here we go!
No 3004 Black Prince
The earliest Royal so far today – the Black Prince was Prince Edward (1330-1376), son of King Edward III (born 1312, reigned 1327-1377).
No 3040 Empress of India

Queen Victoria again! This title was bestowed on Queen Victoria in 1876. The reason was partly because her daughter Victoria, the Princess Royal (No 3073 below), had married in 1858 the future German Emperor and would in time become an Empress, outranking her mother who was merely a Queen. The title Empress of India put Queen Victoria on an equal footing with her daughter!
No 3046 Lord of the Isles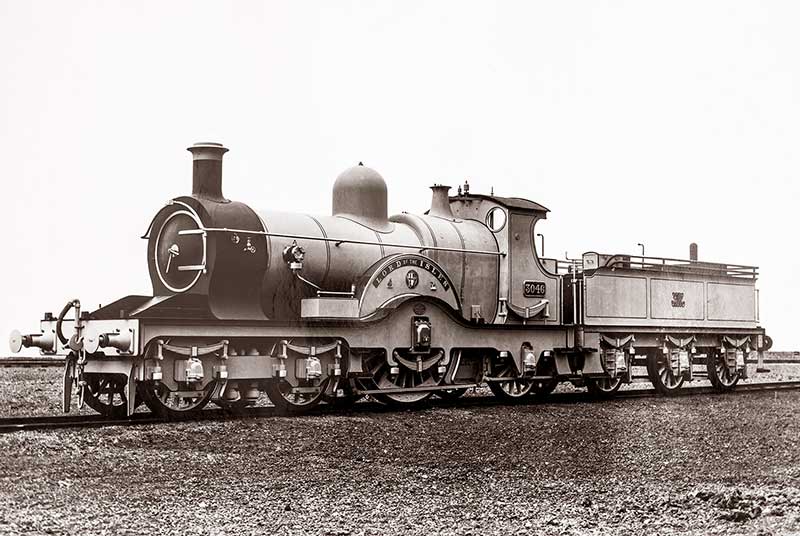 A second locomotive carrying that title. At the time No 3046 was built in January 1895, the broad gauge Lord of the Isles was still in existence, having been preserved at Swindon Works. The loco was offered to museums, but no willing takers so she was broken up in 1906. No 3046 did not last much longer, being withdrawn in October 1908.
No 3050 Royal Sovereign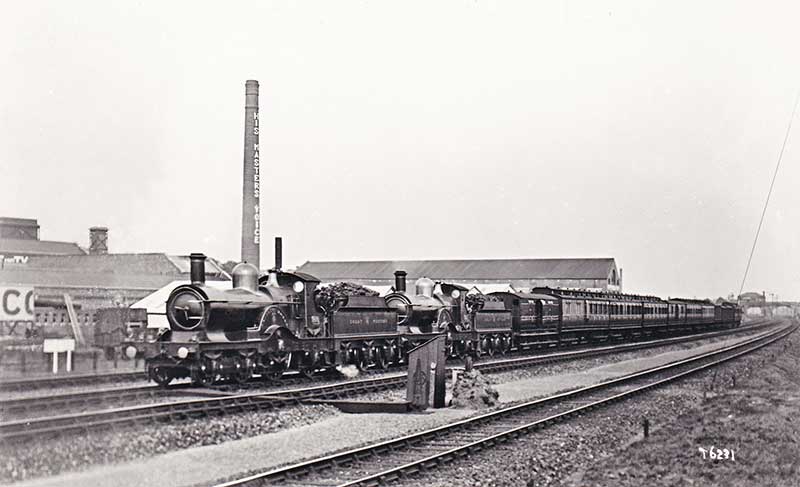 Queen Victoria again, again! Two in the same class .... This photograph shows Royal Sovereign double-heading with Princess Beatrice (see below) on a westbound train passing the His Master's Voice factory at Hayes, about 1908.
No 3062 Albert Edward
The future King Edward VII.
No 3063 Duke of York
The future King George V.
No 3064 Duke of Edinburgh
The second son of Victoria and Albert, Alfred Ernest Albert (1844-1900), Duke of Saxe-Coburg-Gotha.
No 3065 Duke of Connaught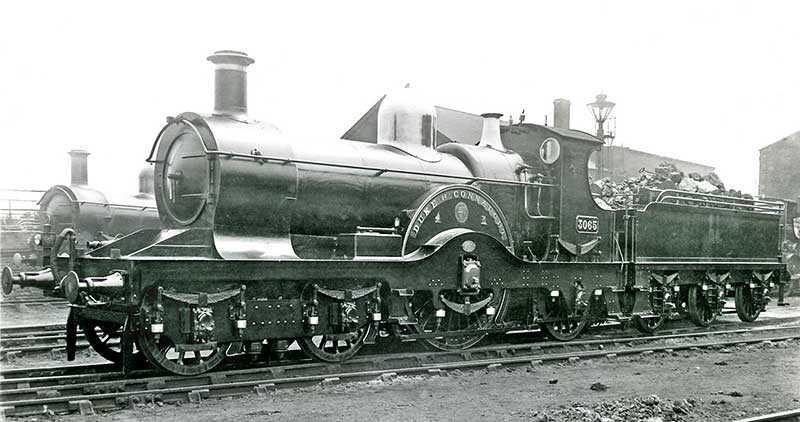 Prince Arthur, Duke of Connaught and Strathearn (1850-1942), seventh child of Victoria and Albert.
No 3066 Duchess of Albany
Princess Helen of Waldeck and Pyrmont, later Duchess of Albany (1861-1922), wife of Prince Leopold (1853-1884), eighth child of Victoria and Albert.
No 3067 Duchess of Teck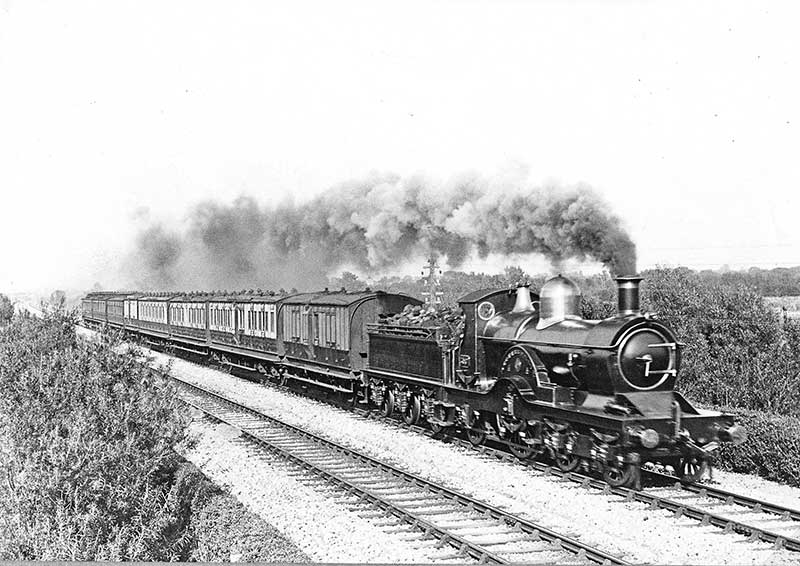 Mary of Teck, the future Queen Mary of King George V. This photograph shows No 3067 at the head of a local train, the first five vehicles of which appear to be London & North Western Railway stock followed by three GWR coaches.
No 3069 Earl of Chester
Another title of the future King Edward VII. Two for him too!
No 3073 Princess Royal
Victoria Adelaide Mary Louisa (1840-1901), eldest daughter of Victoria and Albert.
No 3074 Princess Helena
Helena Augusta Victoria (1846-1923), fifth child of Victoria and Albert.
No 3075 Princess Louise
Louise, Princess Royal and Duchess of Fife or Louise Victoria Alexandra Dagmar (1867-1931) was the third child and eldest daughter of Edward VII.
No 3076 Princess Beatrice
Beatrice Mary Victoria Feodore (1857-1944), later Princess Henry of Battenberg, was the youngest child of Victoria and Albert.
No 3077 Princess May
Queen Mary again.
This has been a great excuse for us to see some wonderful classes of locos that would never have been otherwise mentioned in Going Loco, so I make no apology for the heavy duty nerd stuff contained within! We still have a little way to go so we shall finish this one off next week. Happy holiday everyone!
*If you know better, please let us know!
**There are several blogs dealing with the broad gauge, find them in the Going Loco Archive.
***See Going Loco from Friday 22nd October 2021 Oh, The Horror!.
---
FRIDAY 27 May
A Right Royal Round Up!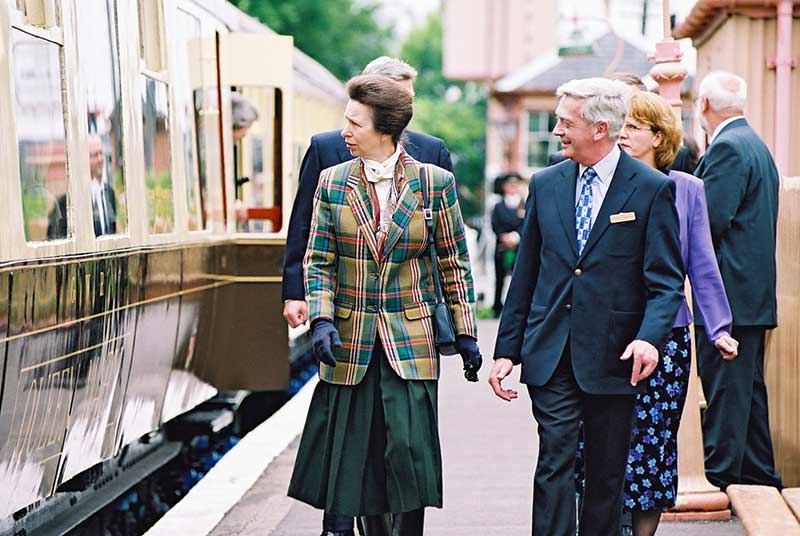 Princess Anne walks past the Super Saloon named after her great grandmother, Queen Mary, during her visit on 27 May 2003 to launch the Special Saloon Car 9002.
Given the fact that today is the anniversary of Princess Anne's visit in 2003, and we are closing in on the Platinum Jubilee of Her Majesty Queen Elizabeth II and our weekend of celebrations at Didcot Railway Centre, there are lots of little royal names throughout the collection. I thought we should go through a Who's Who and a Where's Where of royal connections!
No 1 Bonnie Prince Charlie
0-4-0 Saddle Tank shunting loco, built 1949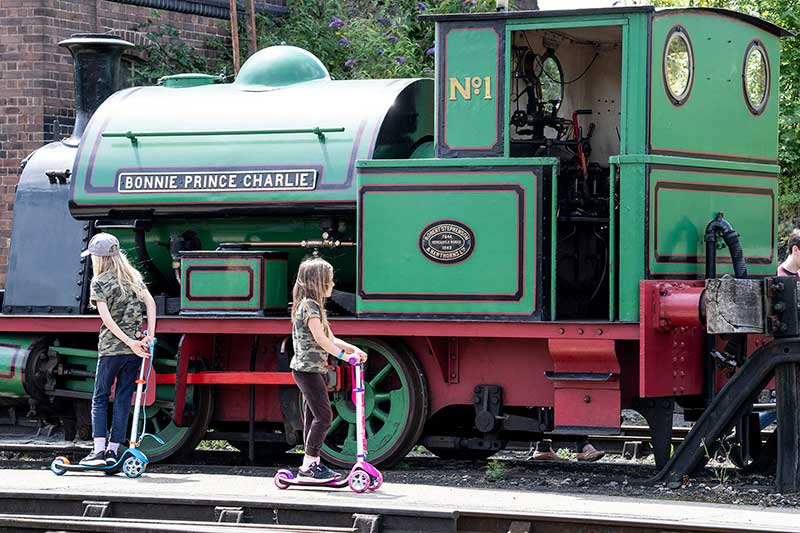 Young admirers in 2020 with the Young Pretender, Bonnie Prince Charlie
Charles Edward Stuart or, as he is known to history, Bonnie Prince Charlie (1720 - 1788). He was a member of the Stuart dynasty of Kings of England and Scotland. He was a major player in the Jacobite rebellion which in 1745 started in Glenfinnan and ended their march into England as far south as Derby. The rebellion was defeated at the battle of Culloden in 1746 causing Charles to flee from Scotland and live out the rest of his days on the continent. His life is now an enduring symbol of the 'heroic failure'.
No 2409 King George
0-6-0 15" Hunslet industrial locomotive, built 1942
Ok, not sure WHICH King George this is, but it could be:
King George I (born 1660, reigned 1714-1727)
King George II (born1683, reigned 1727-1760)
King George III (born1738, reigned 1760-1820)
King George IV (born 1762, reigned 1820-1830)
King George V (born 1865, reigned 1910-1936)
King George VI (born 1895, reigned 1936-1952)
Take your pick...
No 2999 Lady of Legend
4-6-0 Saint class express passenger Locomotive, completed 2019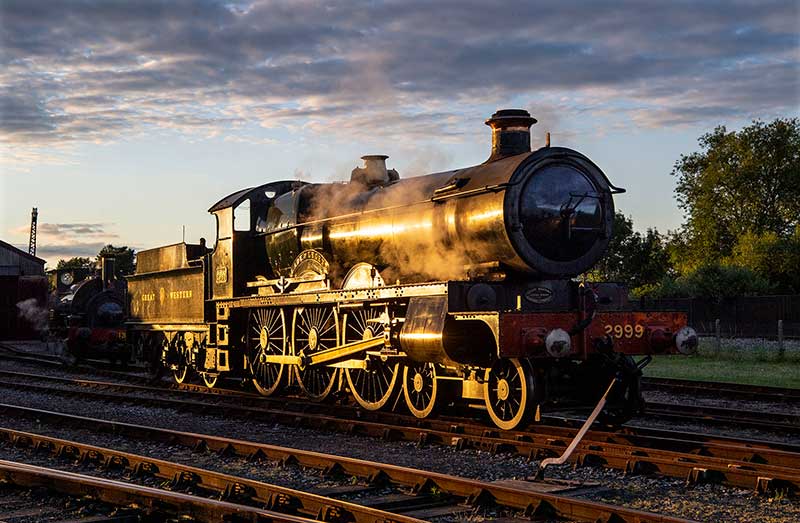 Lady of Legend during a Timeline Events photo charter on 10 July 2021
This is a bit tenuous but one of the names suggested for No 2999 was Lady Diana after Diana, Princess of Wales (1961-1997).
No 4079 Pendennis Castle
4-6-0 Castle class express passenger locomotive, built 1924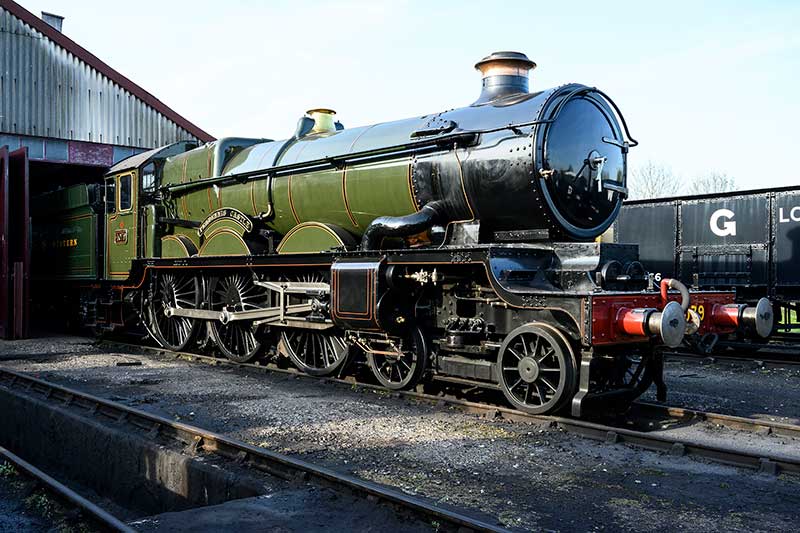 Pendennis Castle on 16 April 2022
Pendennis Castle (the building) was built between 1540-1542 under the orders of King Henry VIII (born 1491, reigned 1509-1547). It is situated near Falmouth in Cornwall. Its purpose was to deter invasion from France and the Holy Roman Empire during the Reformation and was expanded and improved to fend off the Spanish threat towards the end of the century.
It became a Royalist stronghold in the English Civil War and was laid siege by Parliamentary forces in 1646. It survived to be rebuilt by Charles II (born 1630, reigned 1660-1685) after the Restoration of the Monarchy and continued to see service through the Napoleonic conflict and even WWII. It was stood down from military service in 1956 and became property of English Heritage in 1984. It's open to the public so have a ride behind our Castle then visit theirs!
No 5051 Drysllwyn Castle
4-6-0 Castle class express passenger locomotive, built 1936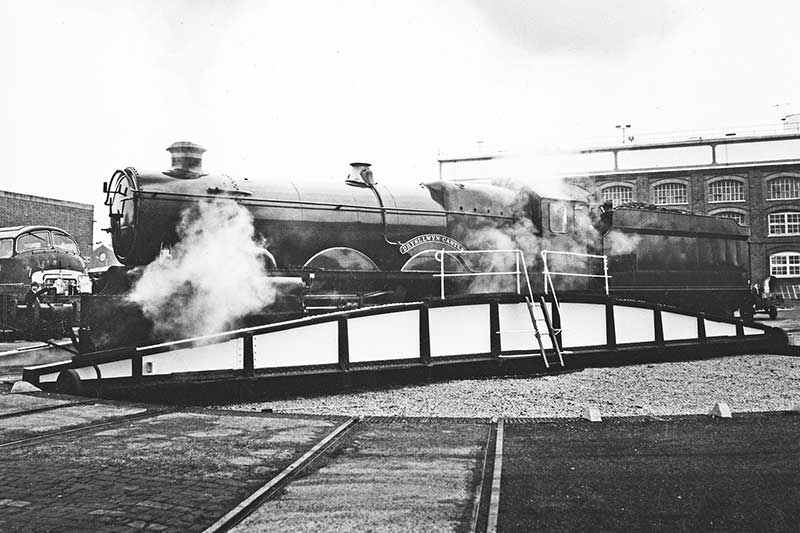 Drysllwyn Castle on the turntable at Swindon Works during a visit to the Weigh House in January 1980
This is a special place in the cultural heritage of Wales. It was built at some time in the 1220s by a prince of the Welsh Kingdom of Deheubarth in response to the English military incursions of the time. Welsh Lord Rhys ap Maredudd (c1250-1292) continued to improve the defences until he turned on the ruling English and the castle was laid siege to in 1287. The forces of King Edward I (born 1239, reigned 1272-1307) captured it after three weeks and following a long series of subsequent engagements, Rhys was captured and executed in 1292.
Another Welsh revolt, this one led by Owain Glyndŵr (c1359-c1415), saw the castle back in Welsh hands in 1403 but the English recaptured it soon afterwards and decommissioned it. The main buildings burnt down not long after and the castle is now a ruin perched high on a rocky hill, halfway between Llandeilo and Carmarthen, overlooking the Towy Valley.
No 6023 King Edward II
4-6-0 King class express passenger locomotive, built 1930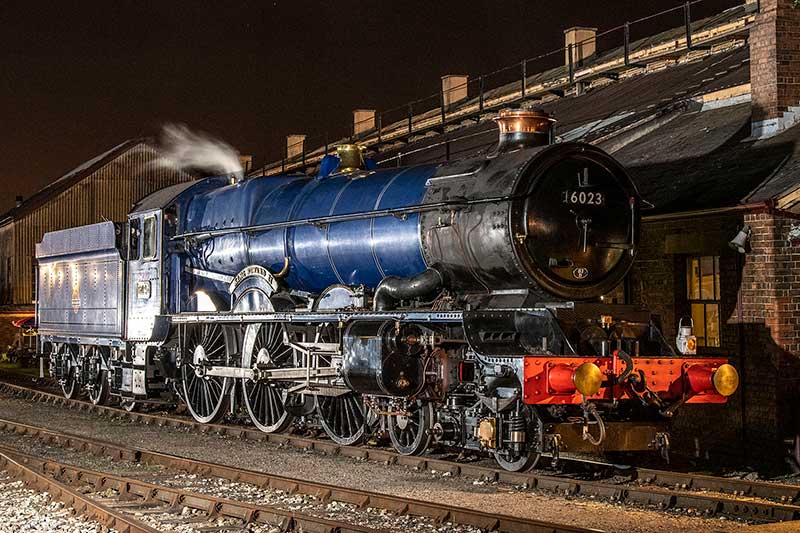 King Edward II during a Timeline Events photo charter on 12 September 2020
An actual specific English royal for this one! However, King Edward II (born 1284, reigned 1307-1327), is not one of our more celebrated monarchs. He is remembered by history for a whole host of poor decisions including but not limited to:
The preferential treatment of his favourite, Piers Gaveston, 1st Earl of Cornwall (1284-1312).
A series of running disagreements with his barons.
Taking the advice of the Machiavellian Despenser family.
A military defeat at the battle of Bannockburn in 1314.
A national famine.
The thorough upsetting of his wife, Isabella of France (c1295-1358 and known as the She-Wolf of France*).
Being generally very unpleasant and being basically incompetent in the role which fate and genetics had lined up for him.
In his favour, King Edward II founded Oriel College, University of Oxford. It is appropriate, therefore, that the locomotive lives in Didcot just down the line from the university city.
Edward II ended up dying in Berkeley Castle (GWR Castle class No 4085) in 1327 due to being probably murdered in a particularly nasty fashion.
Still, the engine itself is an amazing thing to have in the collection...
No 814
Diagram L23 Travelling Post Office coach, built 1940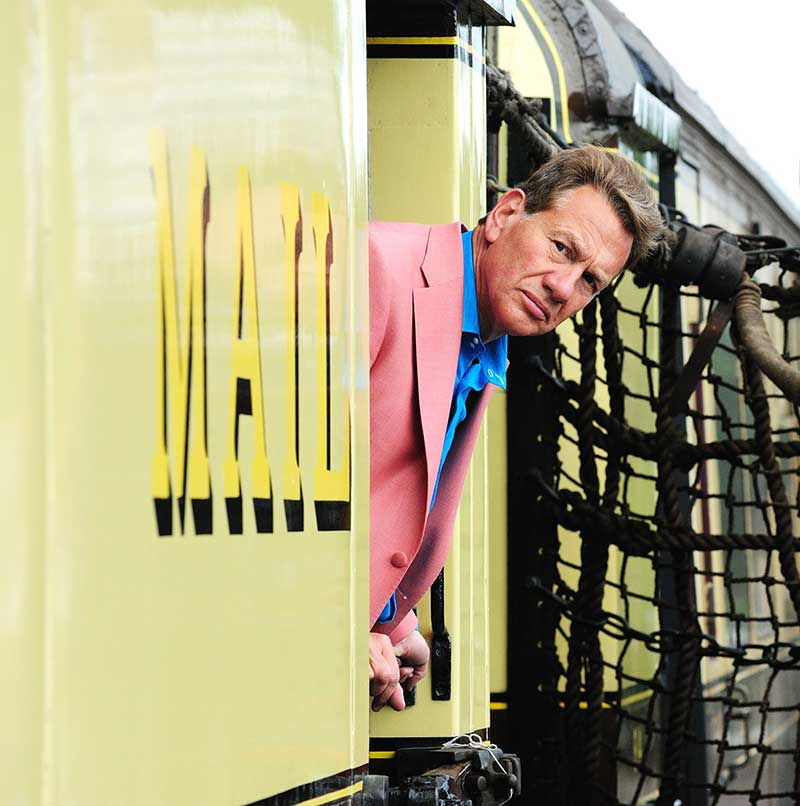 Michael Portillo on TPO coach No. 814 during filming of one of his Great Railway Journeys in May 2011
Well – ROYAL Mail? I might be stretching this a bit but frankly, it spent its working life transporting miniature portraits of monarchs around on envelopes.
I thought it was clever...
No 7372
Hawksworth Brake Composite coach, built 1948
An actual royal connection this time – not just a name. No 7372 was one of the last passenger coaches built by the GWR and was part of the BR Western Region Royal train. As such, its interior remained in pristine condition and was not renovated like so many of its sister vehicles. It is a composite – having first and third class compartments and they have flame maple and quartered oak panelling respectively.
No 9002
Collett Special Saloon, built 1940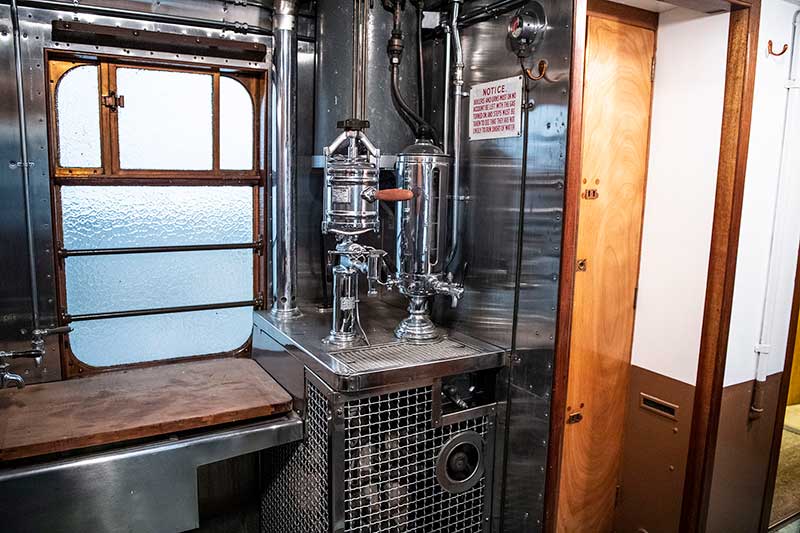 The magnificently restored Special Saloon Car No. 9002 is packed with delights. This is the coffee machine which has produced many a Royal and VIP cuppa since 1940
Like No 7372, No 9002 is an actual royal train vehicle, having served on this and other VIP workings for its whole life. It's worthy of a Going Loco of its own as it is an amazing piece of craftsmanship both as built originally, refitted at Swindon in 1950 and restored by our fantastic Carriage and Wagon Department.
No 9112 Queen Mary
Collett Super Saloon, built 1932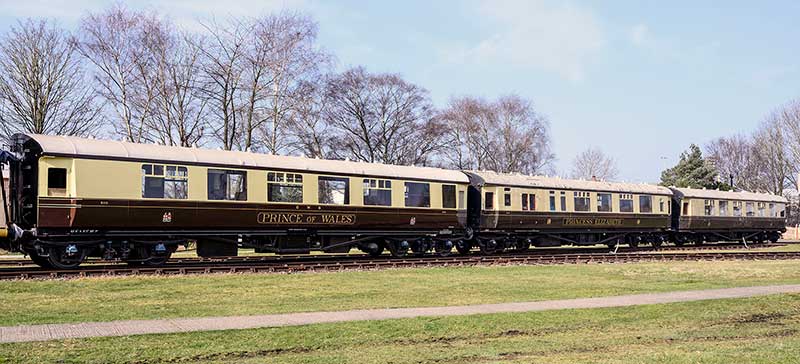 A Royal Flush of Super Saloons, No 9113 Prince of Wales, No 9118 Princess Elizabeth and No 9112 Queen Mary. The opportunity was taken to couple the three together when No 9113 was taken out of the carriage shed to be turned while being lettered in March 2022
We have done a Going Loco on these sumptuously appointed vehicles** so, let's look at the royals! Queen Mary or Mary of Teck (1867-1953) was Queen to King George V (1865-1936). Although she was raised in the UK, the Teck part of her name is due to her family being descended from German nobles. She was due to marry Prince Albert Victor (1864-1892) who was the son of the then Prince of Wales.*** Sadly, he passed away from an influenza pandemic before this could happen. She became engaged to his only surviving brother, George, in 1893.
She was Queen through WWI and supported George V through ill health and political upheaval until his death in 1936. Her son became Edward VIII (1894-1972) who abdicated shortly afterwards, leaving George VI (born 1895, reigned 1936-1952) to reign instead through WWII. She served as Queen Mother to him and the nation and passed away in 1953, seeing her granddaughter, Elizabeth II (b1926) become queen, but not living long enough to see her coronation.
No 9113 Prince of Wales
Collett Super Saloon, built 1932
This is title of the heir apparent in the Royal Family at the time. The Prince of Wales at the time No 9113 was built, became one of the more controversial figures in recent royal history, becoming King Edward VIII. He is remembered as such for two reasons.
Firstly, he is the shortest reigning British monarch due to his abdication, just under a year after his father's death in 1936. This was due to his desire to marry an American divorcee – Wallis Simpson. Not the done thing for the then Supreme Governor of the Church of England. He was styled as Edward, Duke of Windsor after this point.
The other controversy surrounding him is his touring of Nazi Germany prior to WWII and his relationships with the regime's political elites - including Adolf Hitler (1889 - 1945). This is a complex subject and well outside the scope of Going Loco however... In 1940 he was moved from his home in France to become the Governor of the Bahamas and it is here that he saw out the war. He returned to France at the end of the conflict and finally passed away in 1972, still married to the love of his life.
No 9118 Princess Elizabeth
Collett Super Saloon, built 1932
This is the daughter of King George VI and Queen Elizabeth, The Queen Mother (1900-2002). Yes, that's right the then Princess Elizabeth in the Royal Court of 1932 is none other than our current Queen Elizabeth II! This coach was named after her when she was just six years old. I probably don't need to tell you who Queen Elizabeth II is but she became Queen in 1952 and is still on the throne in 2022.
To say that she has reigned over an incredible period of change and advancement for our nation is an understatement of immense proportions. 70 years on the throne makes her the longest serving British monarch and the longest serving female head of state of all time. It is a truly remarkable record and one that brings this royal round up full circle I think!
Join us on the long Jubilee Weekend when we have our own royals and castles on display. You can find out about the celebrations, and pre-book tickets below:
See you there!
*Did the nickname not give it away that upsetting her was a really BAD idea?!
**Luxurious Saloons? Super!, posted on 11 June 2021. Explore this and the rest of the Going Loco Archive
***Later King Edward VII (born 1841, reigned 1901-1910) and Queen Alexandra (1844-1925).
---
FRIDAY 20 MAY
GWR Steam on the Road?
You know how I said I'd have to get my virtual pen out and write something myself last week? Well...
Photo Frank came up with the fabulous idea about tying into the upcoming Didcot Transport Rally. "Why don't you write something about the fantastic range of Road locomotives that the GWR had?" said Frank. "Great idea", says I, "except for two minor issues". "Firstly, I have no reference material about GWR road locomotives and secondly, I know nothing about GWR road locomotives at all..." "Ahhhh" said Frank "leave it with me." And so I did.
With the Transport Rally this weekend (Sunday 22 May) organised by the Thames Valley and Great Western Omnibus Trust in conjunction with Didcot Railway Centre, we thought it would be an opportunity to look at some GWR road motors, in particular those powered by steam for heavy haulage.
We looked in the GW Trust archive of road motors at Didcot, which contains a massive collection in papers, drawings and photos, thanks to key donations from the late John Cummings and Mr Verner-Jeffreys; the latter was the last head of the GWR Road Motors Department. Note: the GWR always described its road vehicles as Road Motors to distinguish them from Rail Motors.
The first two photos are of a vehicle, U 308, built by the Yorkshire Patent Steam Wagon Co of Leeds about 1905. The novel double-ended transverse-mounted boiler was used to avoid problems on steep hills. With a horizontal boiler mounted fore and aft, skill is required to keep the inner firebox crown covered with water when descending a steep hill.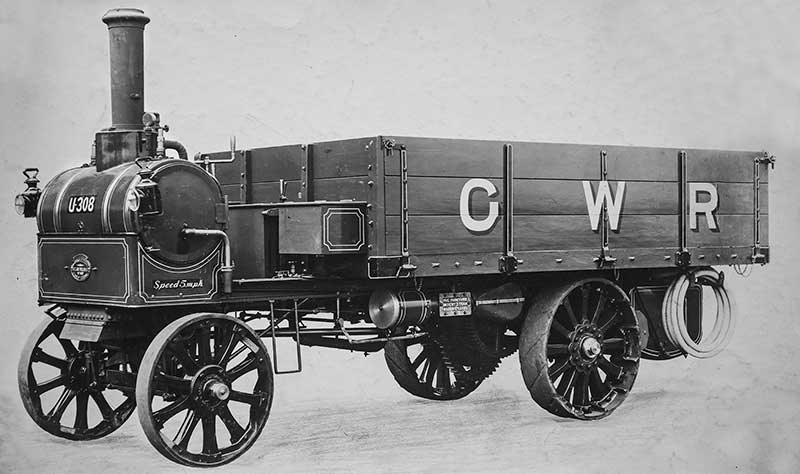 Yorkshire Patent Steam Wagon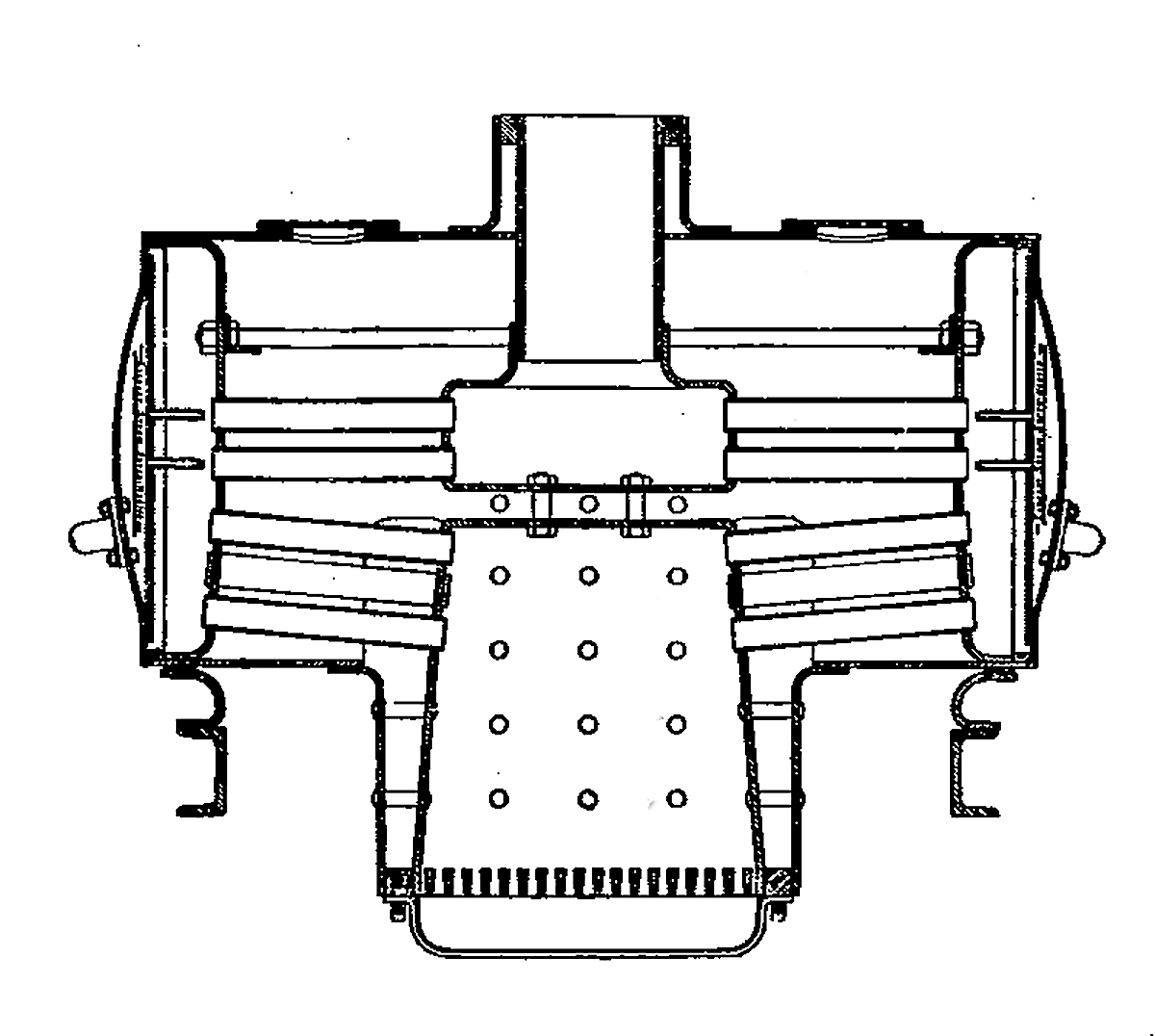 The Diagram of Yorkshire Patent boiler
Yorkshire Patent boiler, mounted side on, internally resembles a Fairlie boiler with a central firebox and multiple fire-tubes to each end. In the Yorkshire though, a second bank of fire-tubes above returns the hot gases to a central smokebox and a single chimney, as shown on this diagram.
The third photo shows the wagon with trailer working at Henwick, near Worcester.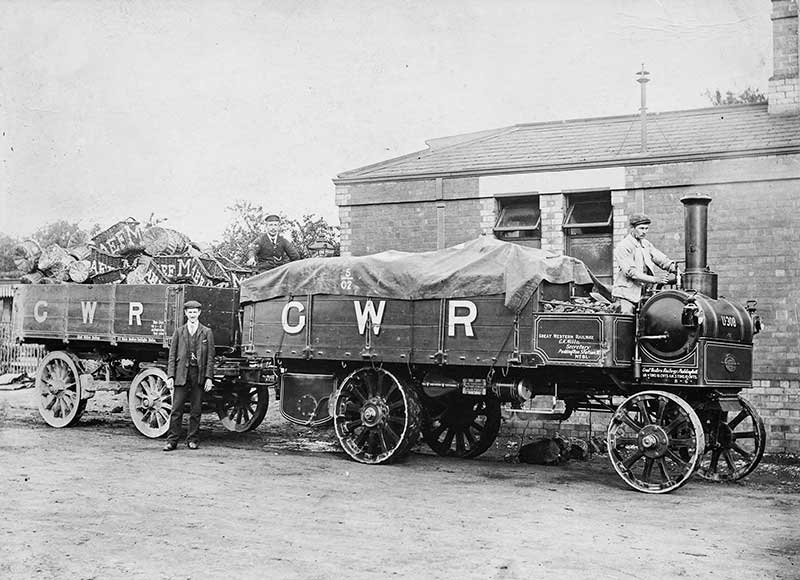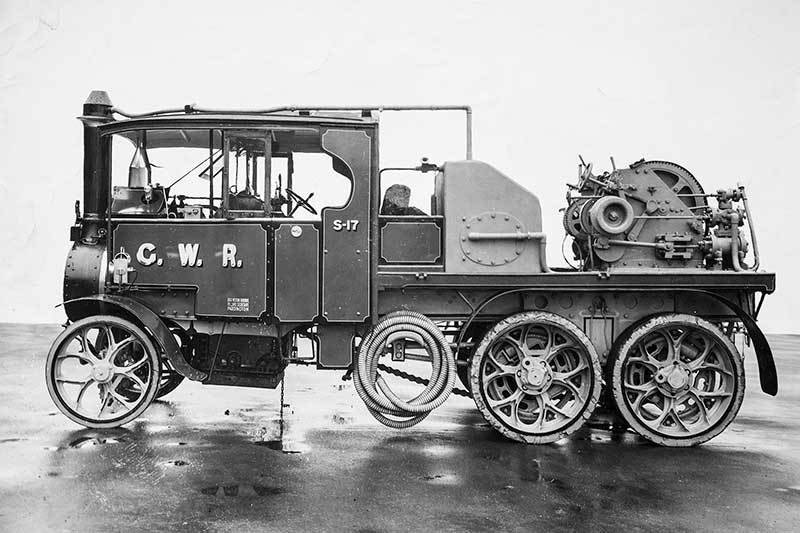 S-17 shown side-on in the photograph was fitted with a winch. The photograph is dated March 1933 and written on the back, rather ominously, is 'obsolete'.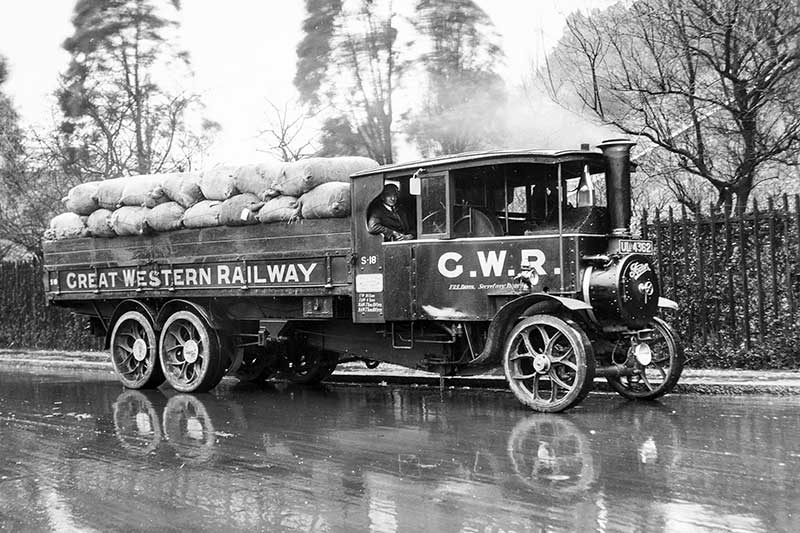 S-18 was fitted with a dropside load bed and is seen here loaded with sacks of grain at Exeter on 6 December 1929. If you are fortunate enough to be a member of the Great Western Society you will already have seen this photo on the back cover of the Echo.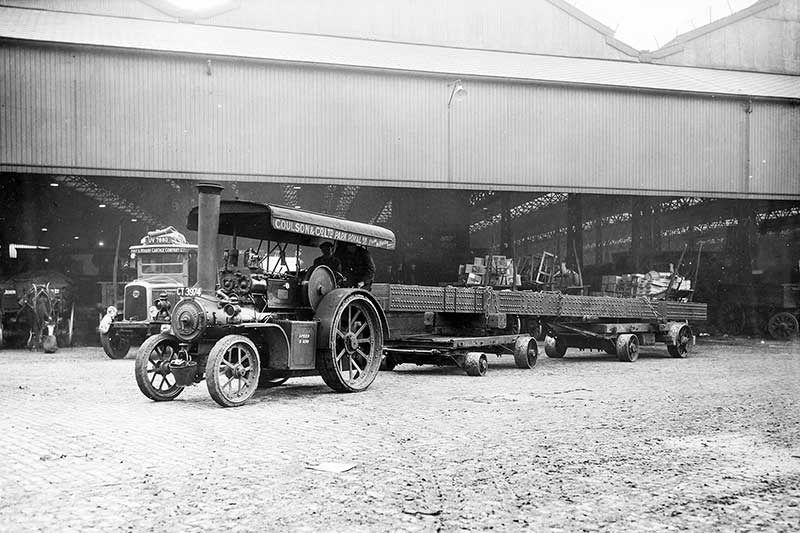 The final photograph is not of a GWR vehicle, but a scene at Paddington Goods depot with a traction engine owned by Coulson & Co Ltd of Park Royal towing a large girder mounted on two primitive four-wheel trailers. The traction engine was built by William Foster & Co of Lincoln.
We hope you all enjoy yourselves at Sunday's Transport Rally.
Thanks Frank! That's an interesting take on Going Loco. It also leads neatly into our Transport Rally at Didcot on Sunday 22 May. We have a whole host of vehicles both cars and commercial vehicles, and other attractions at the park in the Ladygrove Estate. There are a number of extra attractions on at the Railway Centre too.
Which leads me to an interesting thought - perhaps we are now Road Going Loco?
---
FRIDAY 13 MAY
Blast Sharpeners, Jumper Tops and Illegal Jimmies.
Well, there's a title! Before you stop reading, considering your blogger to have finally taken a dive off the sanity deep end and gone completely barking*, let's take a look into the strange world of draughting. That is the steam flow of exhaust from a steam locomotive. This is a bumper issue with contributions from two great guest writers so grab the beverage of your choice, take to the comfy chair and have a look into some seriously esoteric stuff! This first fascinating section was prepared by our drawing archivist Kevin, so, without further ado, we have our first report 'From the Drawing Archive'...
The other Thursday was a particularly tough day of drawing scanning for me and 'er indoors. We've reached roll T81 in the grand scheme of re-scanning all the drawings to high res, but four drawings were no more than jigsaw puzzles. They needed best part of a 30 metre roll of archive repair tape and some tense moments, even though the new scanner is designed for delicate drawings.
However, T81 is an interesting roll full of early smokebox blastpipe drawings covering a subject not too many will know about, namely, 'Blast Sharpening'.
Blast Sharpening??… say what?? Well here goes.
GWR locos are well known for their rather loud exhaust when working hard due to the necessity of pulling air up through their narrow deep fireboxes, as opposed to the shallower wider fireboxes of other companies. This 'working heavier' exhaust blast dragging air through the fire can have detrimental effects such as jumping the coal all over the place and pulling holes in the fire bed, especially if the fire is too thin, thus letting in too much cooling air. The solution??
Preservation crews on GWR engines will know about 'Jumper Blastpipe Tops' (see 46504 below).
As an engine is worked harder, the exhaust 'blasting' up the chimney gets stronger and without the jumper top, the increased draw would start to tear the fire apart. Under these circumstances the jumper top lifts, opening the top of the blastpipe to a wider diameter, thus reducing the fierceness of the exhaust blast and hence the draw on the fire. Note, the date of the drawing is May 1912.
5322's smoke box with Jumper Blast Pipe top.
Now, let us rewind to the days before the jumper top, which is what some of the drawings in roll T81 are all about.
Drawings 9901 from 1892 above and 12418 from 1895 below, show a fireman operated version of the blastpipe top. A Handle on the fireman's side of the cab was pulled or pushed, which operated a rod within the handrail along the side of the boiler, to a crank through the smokebox side, to a pivot that hinged open or closed the blast pipe top.
This blastpipe top is a slightly smaller diameter than the blast pipe itself. It's probably best described as a manual version of the later Jumper Top! When pulled into the closed position, the top flips down, the diameter is smaller thus 'sharpening' the exhaust blast and drawing more air through the fire. When working hard, push the handle, the top flips up reducing the exhaust blast.
Drawing 34173 above shows the later 1907 version, now called BLAST SHARPENING GEAR, fitted to Stars, Lots 161, 168 & 173, but also The Great Bear 111 of Lot 171. They were also fitted to a variety of other engine classes, some that would eventually make it into the realm of preservation. But, as far as I'm aware, this manual version was superseded by the later jumper top, certainly by the Collett era, so none of the manual type actually made it into preservation. Have a look at some of the earlier pre-jumper top photos below. Look out for the crank just behind or below the handrail on the smoke box side.
Lot 102 of 1896 Duke class 'TREVITHICK' (GW Trust)
Now you know where to look, here's an even earlier photo.
Dean single Lot 84 – 3005 built as a 2-2-2 (later converted to 4-2-2 in 1894). Again, look just above the lubricators on the smoke box side and you can just see the blast sharpening crank. (GW Trust).
Lastly, 2915 Saint Bartholomew, Old Oak Common round house.(GW Trust).
Russell's GWR Locomotives Vol 2 ** has four photos where you can see the blast sharpening gear on the firemen's smoke box side just under the handrail ,… if you have the book, see if you can find them.
Now then, if you spot something on the driver's side of the smokebox in old photos, it's not Blast Sharpening gear. That's Superheater Dampening Gear! Say what (again!) That's probably another article in itself. Once more, something long lost and done away with. As for me and 'er indoors, it's back to Didcot for scanning roll T82, which is the much more mundane 'Boiler Details', or if you prefer, butt plates, that join the rolled boiler barrels.
Cheers & stay safe.
Thanks Kevin! We have also had a short reminiscence from another previous friend of Going Loco, footplate man extraordinaire, Mr Ted Abear who has graced us with a few words on his experiences in similar areas too. These are ALWAYS worth listening to. So, with even less ado that the previous sample...
"Most of the locos I worked on had jumper tops on blastpipes. I had heard from the old boys that in the old days if the loco was not steaming well some drivers had a gadget called a "Jimmy"*** that they had made and it screwed across the top of the blast pipe to sharpen the blast. When preparing a loco you (Fireman) checked the smoke-box ensuring baffle plates were secure and no blows in steam pipes, also blastpipe jumper top was loose not stuck. The only locos I knew and worked on [with this style fitting] were the 9700 Class Pannier Tank Condensers (or Tunnel Motors as we knew them)."
"We had them on the Smithfield jobs. They had a lever in the corner Firemans side which was secured by a pin. This was for a baffle plate to drop across the blastpipe when on Undergorund lines to divert steam in smokebox back into water tank which eventually made water hot hence the water pump fitted on side of the smoke box to put hot water into boiler. I never had the pleasure of using these.
My first trip to Smithfield I was told not to bother trying to use them as they were not used very often and there was the likelihood of the baffle going in and you can't get it back off again. Also the water pump was nor regularily used and might not work, so they were left alone."
Horses mouth, check! Nice one Ted and thanks to both you and Kevin. I guess I'll have to get my virtual pen out again next week but this has been a pleasure to let others have a drive in this fine old engine we call Going Loco. See you next time!
*Steam engine exhaust note joke - intentional...
** A Pictorial Record of Great Western Engines Volume Two: Churchward, Collett & Hawksworth Locomotives. Here's the cheat,… look at the very first picture in the Preface, just above the driver's head on the smoke box side is a lubricator, look just to the left of it under the handrail. Also on pages 37 (both photos) & page 64, 4-4-0 County.
***Amazingly, one of these devices is preserved in the National Collection. It was presented to photographer Kenneth Leach by Top Link Old Oak Common Driver H. Jermey on his retirement circa 1960. They describe it as follows:
"[An] illegal device for fixing across blast-pipe cone to split the exhaust which makes an engine steam better. Iron square bar with 2 points bent to right-angles with screw adjuster. For Great Western Railway Churchward Jumper top blast pipe."
We also have this wonderful photo of Driver Harry Jermey on the right with Fireman Jack Rose on the left next to their Castle Class steed, No. 5066 Sir Felix Pole. Jermey earned the nickname 'Rommel' because of the style of goggles he wore when driving!
---
FRIDAY 6 MAY
Oil Be All Right!
In this age of great uncertainty of supply of coal through various problems ranging from deep international crisis to national government's shortsightedness, the quest for the eco-friendly alternative has certainly intensified. I am personally sure that there will be a solution of this nature in the future, but that we also need to allow the scientists the time to develop and test it. I'll climb down off my soap box... Steam in the past has been powered on a number of alternatives to coal, so let's take a look.
No 3951 Ashwicke Hall after conversion to an oil burner in April 1947.
The very early steam engines were powered by coke. This is a fuel produced by roasting or heating coal in an oxygen free environment. The idea here is that it gets rid of many of the impurities associated with burning coal. The reason for its use back in the dim and distant past of the railways was that it was effectively a smokeless fuel. A very early piece of environmental legislation demanded that steam locomotives 'consume their own smoke'. This only really became possible much later on with the introduction of the brick arch. The arch makes the hot gases and combustible stuff in them travel much further than straight up and out, giving it more time to burn. This enabled the lower grades of coal to be burnt but didn't preclude the smoke from a poorly performing or poorly fired locomotive!
A Swindon drawing from the GWS archive of brickwork modifications to the firebox of a 28XX class steam locomotive.
Wood – in use today as a modern renewable fuel in several forms – was also common in certain parts of the world. The early railways of the United States saw a lot of wood burning steam engines. They have great forests on that continent so it was one of those 'no brainer' type decisions to try it. Whilst it works – you CAN fire engines on wood – it has a massive drawback. It's the amount of energy you can get out of it. The wood they were using could release around 3,200 British Thermal Units (BTU) per pound, but even average coal can give off 10 - 14,000 BTU per pound.
Refuelling oil burning 2-8-0 No 4801.
You had to REALLY stack that tender to go the same distance as your coal burning brethren. Lots of other variations on this theme have been tried successfully. They are usually waste products from an industrial process. The most famous being the little steam engines used in the production of sugar beet. The fine particulates of this fuel can be still alight as they exit the chimney, giving a real fireworks type show. Not a great idea in dry brush though it has to be said.
When the GWR emerged from the dark days of the Second World War, it did so with renewed optimism. It was not in the best state financially but there were other railways FAR worse off than them. They began to look forward. For the medium and long term they started to look at new forms of traction. The gas turbine locomotives Nos 18000 and 18100* were ordered and much talk was given to electrification in other areas. In the short term, their dependence on coal came under scrutiny.
The reason for this was simple – economics. Before the war the fuel needs for the GWR were met by the superior South Wales steam coal. This is an energy rich fuel, with around 14,000 BTU per pound. During and after the war, access to this fuel became harder and harder. The government had restricted access to it and labelled it for export only. This left the engines to consume coal of an inferior quality. This put the fuel consumption up. If you then make this fuel more expensive, things get tricky. In 1939, average coal consumption and cost was 44.21 pounds at 4.44d (1.85p) per mile. In 1944 this went to 55.18 pounds at 11.88d (4.95p) per mile. Then, in 1947, one of the worst winters our nation has suffered in recent history hit. A coal crisis had ensued.
The oil fuelling depot at Swindon.
The GWR consulted with the Anglo-Iranian Oil Company and Swindon converted several locomotives from coal to oil burning from 1945. Oil is even more energy rich than best steam coal – 18,000 BTU per pound. They started with 28XX class 2-8-0 freight locomotives but eventually expanded to Hall and Castle class 4-6-0s and a single 2-6-0.
The oil was a heavy fuel oil and was really thick. It needed heating with steam pipes inside the tank to get it to flow easily. Handy that there were all these steam engines around when you think about it... Putting it on board the engines was relatively easy, the coal space of the tender had a tank fitted to it. The firebox of the engine however was a bit different. The lower firebox was lined with refractory brick. The same stuff that is in storage heaters and that we make the brick arch from in our coal burners. The oil burners then went inside. The fire hole door was different in that it wasn't regularly opened and so just had an inspection hole flap.
Oil firing was a great boom to the crews. No more shovelling tons of coal for a start! It also meant that the fire hole door was not being constantly opened and closed. This going from pitch black to blazing fire and back had a marked effect on the crew's night vision. Not good when you are looking for signals – something the fireman could now do far more of so there was a theoretical gain in safety margins too. Ash wasn't produced and neither was clinker. This meant the fire was at the same efficiency at the beginning and the end of the day. Also, imagine the joys of those crews upon returning to shed – no emptying the ash pan out at the end of the day!
The fireman at the controls of an oil-fired locomotive. This drawing was in Next Station, a book published by the GWR in 1947 to describe its plans for the future.
Speaking of ash, the amount of dust produced and floating around went way down. The footplate became a much cleaner place, coal dust from the tender was a thing of the past. Most noticeable when tender engines went backwards. Not a pleasant experience with dusty coal... The controllability of this system of heating water was far easier. Putting coal in a firebox and getting it to burn at the right temperature at the right time is a genuine art but oil firing was endlessly and instantly controllable and heat was there on demand. It actually made it more difficult to excuse lifting the safety valves and wasting water through them so there may have been an economy there too.
There was so much interest in the scheme that the government funded the conversion of 1,200 locomotives on all railway companies to help offset the coal shortages. A technically excellent solution, which made working lives better and had the backing of the government. So why are there no preserved GWR oil burners? The programme had got to a total of 93 engines across the UK and 36 of them were GWR machines. In 1948, the railways had been nationalised and this formed the nascent British Railways. When they looked at it from a governmental funding perspective, the penny dropped. Where were they going to get the finance to pay for all this fuel?
A diagram from Oil-Fired Steam Locomotives, a handbook for enginemen published by the GWR at Swindon in May 1947.
A post WWII UK wasn't in the best health financially so it isn't surprising that the oil burners were returned to coal firing in just 9 months. The UK to this day still has vast reserves of coal. It's one of the major factors in us becoming the seat of the industrial revolution and with the scarcity of foreign exchange for a fuel we couldn't produce ourselves, oil firing just wasn't on the cards. So is there nothing left of this bold experiment? Not quite. If you look opposite our preserved lifting shop at Didcot, you will see two single storey flat-roofed grey brick buildings and some saddle-shaped constructions. These are the remains of fuel oil storage tanks and pump houses that were being built at Didcot before the programme was cancelled. I have to say that I have personal thanks for this as one of the buildings is used as a mess room and hot tea served in there over the winter months has kept many a locomotive restorer on track.
Pun intended.
So there!
*There's a blog for that! Look at 'The Turbine Twins', August 2021.
---
FRIDAY 29 APRIL
The Halls of the Mighty – Part 3: The Next Generation*
The final part of the Hall Class story is also that of the last Chief Mechanical Engineer (CME) of the GWR – Mr Frederick Hawksworth. A man not well remembered due to his unfortunate sandwiching between the Second World War and the nationalisation of the railways in the UK.
F W Hawksworth in his office at Swindon.
We really haven't had much to do with Hawksworth in Going Loco as the majority of our fleet has its origins with his predecessors, Collett and Churchward. He was born in Swindon on 10 February 1884 and joined the GWR in 1898, aged just 15. He became an apprentice draughtsman in 1905 under Churchward. When Churchward retired in 1921, Collett became his successor and the strict seniority rules of the railway at the time meant that William Stanier became his deputy and Hawksworth, his chief draughtsman.
A British Railways official photograph from 1950 of No 7920 Coney Hall, with the Hawksworth welded tank tender.
Stanier was headhunted by the London, Midland and Scottish Railway in 1932 to become their CME, causing Hawksworth to become Collett's deputy. Collett himself was never particularly comfortable in the role – especially after his wife Ethelwyn died in 1923 – and his somewhat pacifist tendencies meant that his retirement in 1941 wasn't a surprise. Hawksworth was restricted by the circumstances described earlier and a wartime Swindon works was busy building war materiel as well has putting out utilitarian locomotives such as Collett's Halls. Instead of great innovation, he had to settle for streamlining production and he started with the 49XX class.
Banbury-based No 7905 Fowey Hall showing off at Eastleigh on a cross country service in 1961. The loco looks very spick and span and survived for a further three years before withdrawal. The first two coaches of the train are of LNER origin. Photograph by Mike Peart.
The first thing he did was to simplify the front end of the locomotive. Up to this point, the GWR 2-cylinder 4-6-0s had a front end that went like this. The front buffer beam and all the locomotive forward of the cylinders was a separate structure, based around what was known as the extension frames. The cylinders and the saddle upon which the smokebox sat were two huge iron castings. The extension frames were bolted to the front and the main frames of the locomotive started behind the cylinder block. This was common to a vast number of different G.W.R. classes.
No 6970 Whaddon Hall in another official photograph from 1950, and coupled to the earlier design riveted tank tender.
What Hawksworth did was to continue the main frames from the front buffer beam to the far end of the cab. The cylinder castings were greatly reduced in size and simply bolted to the outside of the frames. The steam and exhaust passages that were in the old casting were replaced with pipes under the smokebox. The saddle that held the smokebox was incorporated into the stretchers that held the frames apart. The complex Swindon - de Glehn bar-framed front bogie was replaced by a simpler plate framed version as well. The boiler was updated too – this time a three-row superheater in a combined Molesco header / regulator valve was developed. This was in response to the increasingly poor coal being received at the sheds. More superheating surface means you get more energy out of the coal you have burnt.
No 6998 departing from Oxford on 3 January 1966.
The biggest external difference that Hawksworth caused was his tender design. He noted that riveting a tender tank was a laborious and time consuming process. His solution was a redesigned unit that sported an all welded tank. They are instantly recognised by their slab sided appearance where the flares at the top are incorporated into the sides. These were not just limited to the Modified Halls either, featuring on other classes too. They weren't fitted to all the Modified Halls, they were just added to the pool of available tenders for use.
To reflect their lineage, the numbering series of the Modified Halls simply carried on from the previous Collett Halls. The last of the latter being No. 6958 and the first of the former being No. 6959 Peatling Hall. Although, it wasn't. Due to the wartime conditions, number plates to tell the engines apart were really important. Names were a frivolity, so the first 12 were built in plain wartime black with no names. These Halls had to wait until 1946 to start getting their identities.
The first Modified Hall, No 6959 Peatling Hall heading a westbound express through Southall on 28 October 1961. Photograph by Ben Brooksbank.
There were several subsequent batches of Modified Halls, built both under the auspices of the G.W.R. and the Western Region of the newly formed British Railways. The Last were in fact finished as late as November 1950 with No. 7929 Wyke Hall. The total reaching 71 machines alongside their Collett sisters. Given that the first Saint class engine was built as far back as 1902, a nearly 50 year production run is quite the achievement. Given their late construction date, their tenure on the railway was understandably short. No. 6962 Soughton Hall was the first to be withdrawn and scrapped in January 1963. The last went late however – in December 1965 there were no less than 14 survivors.
No 6998 and train departing from Westbury with the stock move from Devon to Didcot on 2 December 1967. Photograph by Adrian Vaughan.
One of those is our very own Modified Hall, No. 6998 Burton Agnes Hall. She was built in January 1949, making her our example of a BR-built engine to a GWR design. She has a real claim to fame in that she was the engine selected on 3 January 1966 to pull the very last steam hauled regular passenger train from her Oxford shed. This, coupled with the fact that she was in far better condition than all the other surviving Halls at that point, meant she was an obvious candidate for preservation. The amazing thing is that at this point No. 6998 was going to be the only 2-cylinder GWR 4-6-0 to survive. It was only Barry Scrapyard that provided the other 5 Modified Halls in preservation today.**
She was bought for the then princely sum of £2,500 not long after her star turn and was delivered to the then GWS depot at Totnes. In 1967, she was the leader of a cavalcade of society vehicles that included 14XX class No. 1466, and the coaches: Dreadnought No. 3299, all third No. 5952 and auto-trailer No. 231. This was the exodus to her new home at Didcot. From here she ran in almost constant service until 1996 when her boiler certification expired.
No 6998's Hawksworth welded tender tank being lettered by the Crawley brothers at the final stage of the locomotive's first restoration at Didcot, August 1972.
The legacy that she and her Saint and Hall sisters of all varieties represents is second to none. They are the influence for a great many other classes - notably the London, Midland and Scottish Black Fives and the London, North Eastern Railway's B1 class. They were a seminal design that set the standard for much of what was to come and although they themselves were a little outdated by the time the last one was built, they were immensely successful. You don't build well over 200 engines if they don't do the job they were designed for. For that job, on the GWR, they were perfect. They are a milestone in British steam locomotive design and truly deserve the title I have given them – The Halls of the mighty.
No 7903 Foremarke Hall on a visit to Didcot in June 2019.
*With apologies to Captain Jean-Luc Picard...
**The seventh was No. 7927 Willington Hall but this has become a parts donor for the Grange and County 4-6-0 projects.
---
FRIDAY 22 APRIL
The Halls of the Mighty - Part 2: The Classic
Last time we looked at how No. 2925 Saint Martin was chosen to become the basis for the hundreds of G.W.R. 2 cylinder 4-6-0s designed by Charles Collett and Fredrick Hawksworth. Let's take a dive into the production machines that follow on from that 'Saint Hall' leader.
5989 Cransley Hall on the Basingstoke goods leaving the up yard at Reading West Junction. This is a wartime scene, note the blanked out cabside window. Photograph by Maurice Earley.
There were just a few differences between the prototype – No. 4900 – and No. 4901 Adderley Hall, built in December 1928. The bogie wheels at the front were changed from 3' 2" diameter to 3'. There was a slight change in the rocking arms and the travel of the valves that they moved. The tenders at this point were all the same as their Saint class forbears, the 3,500 gallon type although in later life these were swapped out for the larger 4,000 gallon versions. There were several batches of Collett's Halls, these machines proving so successful that they continued to be built into 1943 to a total of 259 engines. From No. 5921 Bingley Hall onwards, the engines gained a tool tunnel, to house the various tools used to manipulate the fire.
3953 Leighton Hall running as an oil burner between April 1947 and September 1948. When converted back to coal burning she reverted to her original number, 6953.
While the Castles and Kings were seen as the most glamorous machines and featured in all the publicity that the G.W.R. put out, the Halls were the maids of all work. The first 14 of them went to work in the South-Western section between Penzance and Plymouth. There is some challenging geography in this area and they coped magnificently with it. The class were then cascaded throughout the whole system as new locomotives were built. The one disadvantage they had was that they were 'red route' machines - their axle weights were quite high at 18 tons 19 cwt. This meant that they were restricted to the more sturdily constructed main and secondary routes. A smaller, lighter, go anywhere version of the Hall class was needed. That is another story for another time...
4958 Priory Hall on a down fast goods train, climbing the 1 in 36 gradient of Dainton Bank in Devon. The locomotive has lost her painted buffer beam number, but has not yet been fitted with the BR-era smokebox number plate. Photograph by John Ashman.
World War II was the ultimate test for these fine workhorses. They were put under immense strain, as was the entire U.K. railway system. They were not found wanting. As with all the G.W.R. classes, blackout restrictions were applied and the Halls had their cabside windows replaced with steel sheets to stop the light of the fire lighting up the night sky and attracting the attention of enemy aircraft. The Halls did suffer a casualty. No. 4911 Bowden Hall was at Keyham Station on the night of the 29/30 April 1941 when a Luftwaffe air raid struck the area. The engine was at a standstill and the crew had taken shelter under the steps of a nearby signal box when a bomb struck the ground next to the driver's side of the cab. The damage was extensive to both the signal box and the locomotive. The crew and the signalman thankfully survived but the engine was a write off and its remains were scrapped soon after.
5957 Hutton Hall at Exeter St David's, painted in early British Railways lined black livery with red background to her name and number plates. Unusually she is coupled to an eight-wheel tender.
Post war, there was an experiment undertaken that saw a number of G.W.R. designs converted to burn oil instead of coal. This was applied to a number of Halls, Castles, and 28XX class heavy freight 2-8-0s. The Hall class engines that were converted to oil firing were renumbered into the 39XX series. The cost of the fuel oil and the parlous state of the finances of the U.K. at the time, coupled with the fact that this country has vast coal reserves soon put an end to the oil experiment. The locomotives were all converted back to coal firing.
Apart from No. 4911, all of the Hall fleet lasted intact until the late 1950s. The march of modernisation meant that it was only a matter of time before they went. The first to go, as mentioned last time, was No. 4900 Saint Martin in 1959. The axe fell on the class during the early 1960s and it was extinct on the main line by 1965. The sad thing was that despite the significance of the class, not one was put aside for preservation in those early days. However, the South Wales Retirement Home for Old Steam Engines was to come to the rescue once again!
5959 Mawley Hall at Dawlish on 26 July 1958. She is hauling the summer Saturday 9.10 am Kingswear to Birmingham Moor Street train & 5960 Saint Edmund Hall on 24 February 1962 hauling a northbound goods train through Stroud. Both photographed by Ben Brooksbank.
Dai Woodham's Scrapyard became a bolt hole for the class and no less than 11 of them found their way there and thence to preservation. Of these, 7 of them have run in preservation as Halls. Another, No. 4942 Maindy Hall, was rebuilt by the G.W.S. to become Saint Class replica No. 2999 Lady of Legend. That leaves 3 to go and some of these engines are being restored as I write this. A weird off-shoot to this was that No. 5972 Olton Hall has gained movie star fame in the Harry Potter franchise, in its red liveried guise as Hogwarts Castle at the head of the Hogwarts Express train in the films. Such is the fame of this engine that it has been put on static display at the Warner Brother's Studio Tour at Leavesden. One of its classmates, No. 4920 Dumbleton Hall, has recently been bought by Warner Brothers and sadly shipped away to far-flung Japan. There it will deputise as No. 5972 in a 'Potter' attraction there. Hopefully, this isn't the start of a trend for restored but out of ticket Halls...
5972 Olton Hall leaving Didcot on 18 July 2009 and heading towards Oxford with the Hogwarts Express.
The miracle of preservation that was Barry Scrapyard also enabled the Great Western Society to not only give the Saint class back to the world but it supplied an original Hall class machine for the collection too. No. 5900 Hinderton Hall was built in 1931 and was the 101st member of her class. She was a West Country machine for the vast majority of her life, being withdrawn from Bristol in December 1963 and being sent to Barry. She was rescued from there in 1971 and was back in traffic by 1976. She saw extensive use on the main line as well as on site but is now on static display, welcoming visitors to her footplate to see how things are done. She has an interesting modification that was applied to a number of the Halls. She has an updated 3 row superheater and this means that she is slightly more powerful than other members of her class.
All of which just leaves us with the Modified Hall class to have a chat about. Which is the subject of the final in this three-part extravaganza...
5900 Hinderton Hall at Didcot Railway Centre.
---
FRIDAY 15 APRIL
The Halls of the Mighty – Part 1: Evolution
Enough Pendennis Castle for now – she's running this weekend if you are interested by the way... Back to the matter at hand which is the wide smorgasbord, pantheon or vivid panoply of Great Western rolling stock. Having had a chat with Photo Frank at the weekend, we noticed that some of the various big classes of the G.W.R., which are represented in our collection, haven't been discussed on Going Loco. So, in order to redress the balance, let's start with one of the big ones. The Hall class 4-6-0 mixed traffic machines.
The Halls are related to an engine that we have already had a chat about – the Saints. That means we get to rub shoulders again with the greatest of the great – George Jackson Churchward. Certainly the greatest locomotive engineer of his era. His designs and his standardisation policies set Swindon Locomotive practice until the end of steam traction. There is one hole in his fantastic career though. His Saints and Stars were fantastic Passenger locos. All manner of heavy freight machines, tank locos and the mighty mixed traffic 2-6-0 Moguls were produced. He did propose a large mixed traffic engine that would sit in neatly between the passenger machines and the Moguls but he never did anything about it. Quite why is a mystery.
No 4900 double-heading with No 4960 Pyle Hall and descending Rattery bank with the 8.15am Newquay to Newcastle on 27 July 1957. Photograph by Ben Brooksbank.
By the time of his successor, Charles Benjamin Collett, the increased traffic on the railway was beginning to put a few of Churchward's classes a bit too close to the limit on a more regular basis. The traffic department was introducing more and more fast freight services at the time too and there was a need to power these trains as well. Having taken the Star class 4-cylinder 4-6-0s and modified the design to become the Castle class*, a similar idea presented itself regarding the Saint class 2-cylinder 4-6-0s.
The basic design of the Saints was outstanding. Really, the only possible area of improvement was to increase the tractive effort (the pulling power)** to allow it to cope with the increasing traffic and to take on the freight duties with the same style as the passenger services. Given that the cylinders, boiler, boiler pressure and most of the mechanics were pretty much spot on – don't fix what 'ain't broke! – there was just one sure fire way of increasing the tractive effort. Make the wheels smaller. And that's what he did.
No 4900 double-heading with No 5055 Earl of Eldon, climbing Dainton bank with the 8.25am Paddington to Penzance on 27 July 1957. Saint Martin was evidently on pilot duty over the south Devon banks that Saturday. Photograph by Ben Brooksbank.
He not only did this as a paper exercise, like he did with the Castles, he did it in reality as well. The plan was to take a Saint and modify it to be the prototype of this new mixed traffic machine. No. 2925 Saint Martin was chosen to be the guinea pig. She was built in 1907 and was withdrawn from service on 8 August 1924. The engine entered Swindon Works shortly afterward. This is where the transformation began. It wasn't too radical to be honest. The driving wheels were changed from the 6' 8½" diameter versions fitted to the Saints to a fresh set of 6' diameter versions. The only other major change was the addition of a new Castle style cab with such luxuries as side windows and a roof large enough to effectively keep at least some of the weather off the crew.
No 4900 with a milk train at West Ealing in the late 1950s.
No. 2925 reborn as what they were calling at the time the 'Saint Martin Class' (guess why?), re-entered traffic on the 6 January 1925. There was an idea that a further 9 Saints would be converted the same way but strangely, this never happened, leaving No. 2925 to soldier on as the only testbed. She ran on passenger, fast freight and in as wide a variety of different situations as befits the moniker 'mixed traffic'. She accrued an impressive 182,835 miles until the 15th October 1928.
The results were an immediate success. The tractive effort had been raised from 24,395lbs to 27,275lbs. She accelerated faster than before and passed all the tests with regard to reliability, fuel consumption and so on. The reaction was so positive in fact that in December 1928, an order went out for 80 of these machines to be built. We will look at those next time but we really ought to finish the story of the first of them all. The first of the new engines was originally numbered No. 4900, almost as of the intention was to discard No. 2925 after the test period ended. Shortly afterwards however, a decision to keep the engine was made and No. 2925 became No. 4900 on 7 December 1928 to denote her rightful place as class pioneer.
For comparison, No 5976 Ashwicke Hall at Exeter engine shed on 12 April 1953. The taller smokebox saddle to compensate for the smaller driving wheels compared with a Saint can be seen. Photograph by Ben Brooksbank.
She was always unique. Certain of her dimensions didn't quite match the productionHall class locomotives. The boiler and the frames were set 4" lower than the rest of the class for example. This isn't easy to spot in pictures but was readily apparent in real life according to those that had the pleasure of seeing her. She also had something no other Hall ever had. A name that didn't end with Hall! She kept her original name right through to the end. The end came on 3 April 1959. A sad end for a pioneer such as she was. She had lived two lives over 52 years of faithful service to the railway. In that time she travelled 2,092,500 miles. A remarkable record for any machine – especially a prototype that possibly wasn't going to be kept past an experiment.
While she was lost, she was the progenitor of not just the Halls. The evolutionary tree she started lead to the Granges, Manors, Modified Halls and the Counties. She was therefore the genesis for nearly 500 engines in all these classes. She also opened an unexpected door many years later. A bunch of enthusiasts decided that if Collett could turn a Saint into a Hall, then they could go the other way and bring back to life the then extinct Saints from the still corpse of a dead Hall. A story I have already told,*** but a testimony to the solidity and practicality of that original Churchward design and the common sense Collett showed in mostly leaving it well alone! Next time we do a Hall blog, we shall look at the production machines and finish off part three with the modified halls. Until then good reader...
The first discussion on whether a Hall could be converted back into a Saint was published in Great Western Echo, Summer 1973 edition.
*Yes, I know we haven't done that yet - there is a reason...
** There's a blog on that! Look up Working This Out Was A Real (Tractive) Effort!, February 2021 in the archive.
*** There's a blog on that too! Look up my Saint Series Called Very Virtuous Vehicles?, Posted between August and September 2021
---
FRIDAY 8 APRIL
Return of the Champion Part 10 - Go For Launch!
Well, there we are. It's almost a week since we let Pendennis Castle loose for the first time. I thought we would have a quick round up and a look at some of the fantastic pictures taken by Frank at the event. A bit of a reflection on what went on if you will...
We all had a fantastic weekend. The preparations were numerous and there was a good deal of work that was done between the initial runs and the launch day. It took a great deal of effort from the team to get us where we were by Saturday morning and I am really grateful to them all for what they have done. Thursday saw a second test steaming to check though a few more points and then a working party on the Friday to do the last few things to get us ready. The upshot of all this was that there was a wonderfully shiny looking Pendennis Castle sat ready to go by the evening.
Pendennis Castle giving train rides on the main demonstration line.
The obvious bit we didn't get right - you couldn't really miss it - was the less than steam tight cylinders. There&aposs a number of issues here, not least of which is the entirely new set of cylinder drain cocks. We really couldn't do any more tests than we did, especially given the fuel shortage the heritage sector is currently suffering. We still haven't got it right either. We were left with the stark choice of leaky front end and happy people or a still No. 4079 and unhappy people. Guess what we went with? Every steaming we do, we get a little closer to sorting it out. We did a bit of work on Saturday evening and this was a step in the right direction. As one of her former owners once said: "We're getting there"...
We started off on the Saturday morning by being pulled out of the shed by No 1340 Trojan while we worked to bring the fire round. The little warrior then went to its duties on the branch line. We were joined on the Saturday by the other Pendennis Castle - No 57 604. The Class 57 was very kindly loaned by today's Great Western Railway and I would like to thank them for doing so. They had met before, but No 4079 was just a set of frames at the time! We were posed alongside No 57 604 to start with and many a photograph was taken to record the event.* Working the main demonstration line was our Class 14 0-6-0DH No. D9516. The cool connection here is of course that it was built at Swindon the same year that No 4079 was withdrawn - 1964!
4079 and 57 604, two Pendennis Castles.
We moved off to the turntable for the launch ceremony at about 10:30hrs. We had invited a large number of people that have had association with the engine over the years. There were three speakers at the launch. Our vice president, Richard Croucher, regaled us with the tale of how he helped return the engine to the U.K., remembering how the agreement was signed in the Great Northern Hotel. Upon looking up, it was discovered that the painting over the table was that of No 4472 Flying Scotsman. These two really do have an entwined history don't they?!
Richard Croucher, Lady Judy McAlpine and Drew Fermor on the turntable for the launch ceremony.
Lady Judy McAlpine gave us some excellent reminiscences about Sir William's association with the locomotive and paid us some really lovely compliments about the restoration. Then it was my turn. My first job was to thank Lady Judy and give her a gift of a section of boiler band that we removed during the overhaul, framed with a photograph of her and Sir William on his last meeting with No 4079. I then turned to the family of Doug Godden. Doug was famous for wearing his grease top hat and we invited them to allow us to place the hat in the cab for her first passenger runs. A place where we would have dearly wished for the man himself to occupy.
The next order of business was 'the last piece'. I had put the large brass washer that goes between the two smokebox door handles in my pocket when I noticed it loafing around in the works with a "I'll put that somewhere safe later on" sort of general idea. I forgot. It ended up becoming a sort of game as to where could this small bit of Pendennis go! It's been to Poland on the footplate at Wolsztyn for example... My good friend and No 4079 team member Harry Pettit was selected to return it to its rightful place. Maybe this will start a new tradition on launch day?
The members of Team 4079.
I thanked Richard for his work in giving us a project to work on and to keep us funded. No small task and one he is very humble about too. Thanks again Richard! I then turned to my team. I invited them all to stand with us on the turntable so that I could thank them too. Without them, I'm just a bloke in a shed with a broken engine... I then paused to remember those members of my team that didn't make it to see the locomotive finished. With the pleasantries over and the ribbon cleaved in twain by Lady Judy, we ambled up to the demonstration line and did something that hadn't happened since 1994 - we pulled a passenger train with Pendennis Castle!
Lady Judy McAlpine cuts the ribbon. She was wearing one of Sir William's hats to give him a presence at the ceremony & Richard Croucher and Lady Judy McAlpine with Pendennis Castle on the turntable.
I will let Frank's amazing pictures tell the rest of the story but I will end with these few words for today. The day had long been in my imagination but there was one element of it that I wasn't prepared for. That was the emotional reaction caused by the engine. There were certainly smiles all round - there was no chance of that not happening - but there was also a deeper connection to No 4079 that I had failed to realise. I'm obviously a bit attached to the old beast but a young lad came up to me with a box of chocolates to say thank you to you for restoring his favourite engine, families turned to me with tears in their eyes thanking us for keeping their father's or husband's memory alive and complete strangers came up to me and shake me warmly by the hand for our work. It's only then that you fully appreciate what my incredible, dedicated, hard-working and loyal team and I have achieved here. It's a very humbling experience. One that I am very grateful for, and that I will never, ever forget.
Pendennis Castle and train entertains the audience in the picnic area.
I dedicate this Going Loco to all that have worked on Pendennis Castle over the years. Thank you! We've only got to look after it for ten years now...
Drew & Team 4079
* If you then went into the museum, one of No 4079's original nameplates is on display. The letters on these were first applied to the Duke of Cornwall Class 4-4-0 locomotive of the 1890s. Three Pendennis Castles for the price of one?
The original Pendennis Castle built in 1895. This locomotive lost her nameplates in May 1923 to avoid confusion when the Castle class began to appear, and we believe the letters were removed to make the nameplates for 4079.
---
FRIDAY 1 APRIL
Return of the Champion - Chapter 9: From Defeat to Victory?
The last time we left our 4-6-0 hero sat at Old Oak Common, about to take flight on a final mission to 100mph and glory but with an uncertain future ahead. Let's finish the report of the events of the 9th of May 1964 in time for the loco launch tomorrow!
So there No. 4079 stood, old but in fine condition. Gleaming in the early morning sunlight. She had been polished to perfection. Her old GWR numbers had been put back on her buffer beam as well as the British Railways cast iron numberplate that now adorned her smokebox. There had been much hype surrounding this trip and it remains to this day a remarkable venture. Quite what it cost to put on is unclear but it can't have been cheap for B.R (W) to do. Still, the day was here, the crew was here and they were ready to go.
Except, they weren't. There was a disagreement going on between the inspector, Bill Andress and the driver, Alf Perfect. Pendennis Castle had been supplied with Ogilvie 1A steam coal. This was coal that had a huge calorific value and was very potent stuff. Alf's problem was that he was sure that the heat this was going to generate would damage the locomotive. He was arguing for one of two solutions to the problem. 1st, the spreading of lumps of old brick arch brick on the cast iron grate to protect it from the fierce heat. His 2nd option was to reduce the potency of the coal a bit by mixing in some slack or poor coal with the hot stuff to lessen the punch. Both these suggestions were denied him and he wasn't best pleased about it either...
When the time came to go to Paddington, the engine slowly backed down from the shed to the platforms. The sight that greeted the crew was unbelievable. There were people everywhere. It was a major event and they weren't quite prepared for this. The crew were being treated like celebrities, with them all signing autographs and being wished the best of luck on their trip. Everyone had determined that if this was to be the last great Castle trip, then it was going to be one to remember.
Upon leaving Paddington, the engine leapt into action. The decision to carefully select both crew and engine was vindicated in the most spectacular manner. The flying section out of London passed in a blur. She flew through Reading, Doug Godden – one of the two firemen with Brian Green – later told me that speed limits were 'liberally interpreted'. All on the authority of the railway. You can't imagine that today can you?! Alongside that was Bill Andress and Alf Perfect's steely determination to 'break the ton'. Surely, it was in the bag?
Doug Godden visited Pendennis Castle in the loco works on 8 November 2008. Is that a smile or a grimace as he holds the heavy numberplate for the photographer?
The best chance for the train to hit the magic three digits was thought to be going down Lavington Bank, not far from the town of Westbury. The gradient would be with her and the scene was set. Doug told me what it was like on the footplate at the top of the bank. His description was intense. The vibration and rocking around got more and more evident. Although the Castles were quite smooth at speed, No. 4079 was being pushed hard. The tender and loco have their own rhythms and the fall plate that join the two responds to both. Brian was at the fireman's side cab window, on the look out and had been tasked with keeping the water level in the boiler topped up. Doug himself was firing, for all he was worth. He told me that he had never seen a fire like it before or since on a steam engine. He likened it to being "as white as a sheet of paper"...
Alf and Bill were on the other side of the cab. Alf was being the consummate professional that ever he was, eyes on the road and with Pendennis Castle responding in kind. She was in full cry – the noise must have been incredible on that footplate but there was one voice ringing out above it, Bill was calling out the speeds. Past 90 she went, as she approached 100mph, the forces involved are hard to imagine. The front set of driving wheels on a Castle weigh over 5 tons. At 100mph, they are revolving at nearly 7 times a second. Every revolution means that the pistons are reaching one end of the cylinder, changing direction and going to the other at that same 7 times a second. Add to that the weight of all the rods, motion and all the other moving parts and it starts to become quite amazing really!
The count continued.
94.
95.
96...
The leading driving axle of Pendennis Castle is the crank axle driven by the inside cylinders. Imagine that lump of metal with rods attached rotating nearly seven times a second at 100mph. It doesn't bear thinking about!
It was then that things went wrong.
The issue wasn't spotted in the cab but had been seen by the guard who had looked out of the window to see sparks and lumps of molten metal flying off the engine. Seeing this he pulled the emergency cord. This put the brakes in and Pendennis Castle was brought to a rather unceremonious halt on the bank. To say that the crew were annoyed was an understatement but when the guard ran to the loco and explained what he had seen, it was found that Alf's prediction had come true. The intense heat of the fire had melted the fire bars. This had dumped a large part of the fire into the ash pan. On a Castle, this has a design whereby the rear driving wheel axle is in the middle and thus there are two 'bottom sections' to it, with fore and aft damper doors on each of them. The fire, sat in here had heated the rear axle bearings to the point where they melted and it was this that the guard had spotted. The only words out of Alf's mouth apparently were "I told you so..."
This is the ashpan of 6023 King Edward II being test fitted during the locomotive's restoration. It is similar to a Castle's ashpan, with a slot in the middle to fit over the rear driving axle and two bottom sections into which the ash drops.
The engine limped to Westbury, where decisions had to be made. There were spare engines placed at various points along the route but Westbury was supposed to be passed in a flash. It was a fair distance to the next one. There was no way that No. 4079 could continue as she was. It was then that a weary looking locomotive was spotted, coming onto the shed after a day's work. This was Hall Class No. 6999 Capel Dewi Hall *. Now, compared to the preparations that No. 4079 had benefited from, what was to happen next was equally remarkable. The Castle crew became a Hall crew! The engine was pressed into service.
Pendennis Castle at Westbury engine shed on 9 May 1964, with smoke drifting ominously around the rear driving wheels.
6999 Capel Dewi Hall became the hero of the hour. This photograph shows her hauling a Festiniog Railway Special on another occasion.
With almost no preparation, No. 6999 became the centre of attention. Later on, she was reckoned to be by many to be the star of the show, plucked from nowhere, she ran at over 90mph on very poor quality coal. She was only stopped and replaced by one of the official engines as the tender was becoming a bit empty and the crew weren't sure that there was enough to get them through to Plymouth. They all wanted to go on with the Hall though! Throughout the day, neither No. 7029 Clun Castle (Plymouth to Bristol) or No. 5054 Earl of Ducie Bristol to Paddington) managed to reach 100mph.
But what of our engine? Pendennis Castle had given her all and it had cost her dearly. She was done for the day and possibly forever. This level of damage was a death sentence at this time. Steam was on the way out and investing time and money of this magnitude into an engine that was going to be withdrawn very soon was simply not going to happen. As the engine cooled on a siding reserved for broken engines at Westbury shed, an era ended. She had served the railway for 40 years. Had been a great champion and a wonder of the age. But now it was all over.
Or was it? The silver lining in all this was that while the damage had prevented her going on with the train, it prevented her going back to work. It also prevented her moving. This meant that, for a time at least, she had found sanctuary. All the while she was there, although she had been withdrawn from traffic, she wasn't in the hands of a scrap merchant. This is where a book seller by the name of Mike Higson comes in but in 'Return of the Champion's' finest traditions. I'll finish off this tale next week.
An anonymous clerk wrote Pendennis Castle's epitaph on her record card: "Firebars dislodged following speed of 97 mph on Spotters' Spcl Paddn to W of E 9/5/64".
We hope to see you all at the locomotive launch tomorrow. There are still tickets available to buy on the door for both days so if you haven't booked, there is a last minute opportunity for you to join us to welcome the G.W.R.'s mighty warrior back to the land of the living.
Excited? Us? Yeah – more than just a little bit!
All the best,
Drew and the 4079 Team.
PS: I told you last time that the 100mph test that Pendennis Castle did before the run was significant. I think it might be but I need your help. If none of the other engines reached 100mph, was this the last time a Castle hit 100mph. It was certainly after the tests of the other engines, so does No. 4079 have another claim to fame? If you know different, please let us know!
* I've always loved the irony that the last three numbers were 999 - like a call to the emergency services in the U.K.!
Going Loco - Explore The Archive