With railway centre activities necessarily a little restricted at present - here's an opportunity to have a look at some parts of this website which you may not have found as yet! There's much more here than an ability to book a visit - once we re-open of course!
Monday 18 May 2020 – Links: to more information for enthusiasts and our visitors
Did you know there is a Links page, which can be accessed from the menu towards the bottom of all our website pages?
For railway enthusiasts there are links to 'Great Western Society' and 'Other Associated Projects'.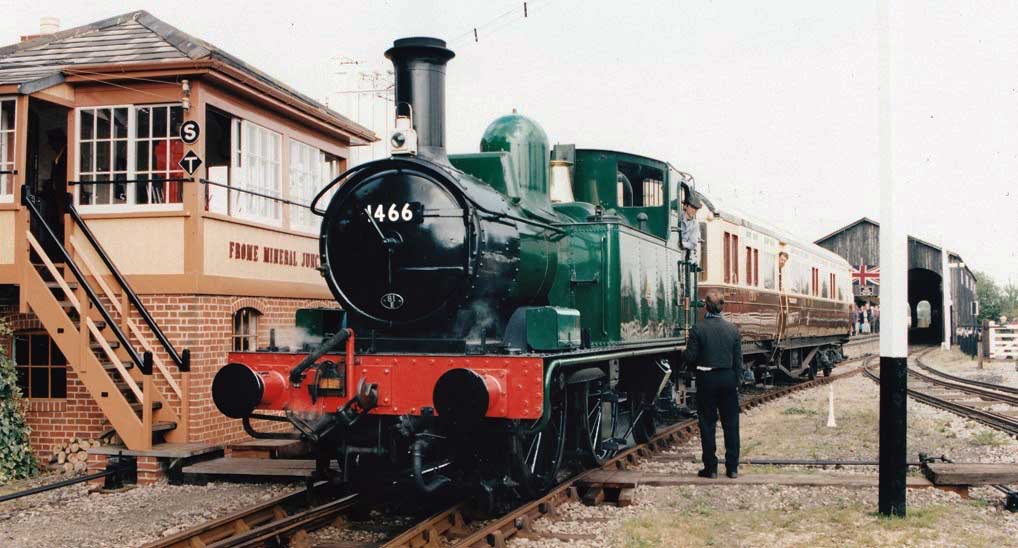 'Great Western Society' includes links to all known websites and Facebook pages, maintained by individual sections and projects being run by the Society including some archived sites which give details of completed projects such as the Steam Railmotor and Trailer and 2999 'Lady of Legend'. If you know of any other GWS websites not listed here please let me know – webmaster@didcotrailwaycentre.org.uk
Of particular interest at present is the Facebook page detailing the restoration of the locomotive the Great Western Society was set up to save - 0-4-2T No.1466. Work on this locomotive continues during lockdown at a private contractor's site in the Forest of Dean. Don't forget that you can donate to the fund to complete restoration of this delightful locomotive in time for the Society's 60th Anniversary next year.
Another interesting Facebook page is an unofficial one by members of the Carriage and Wagon Team entitled 'Didcots Victorian Carriages, including the rest of C&W too'. Although there is no C&W restoration taking place at present the page is running an interesting series on 'wreck of the week' looking at some of our 'long-term' carriage restoration projects.
You can also get the latest on our two current loco 're-creation' projects 1014 'County of Glamorgan' and the 47XX Project.
'Other Associated Projects' covers links to the Swindon Panel Society who restore and run the panel in The Signalling Centre and to the GWR 813 Preservation Fund who, as well as locomotive 813, own a large quantity of goods stock, which is based at several centres around the UK, including Didcot.
In addition, there is a section on 'Heritage Attractions (with a Great Western Railway flavour)'. As well as providing links to the major preserved railways with GWR ancestry, there are links to more general preservation websites and to the Brunel Network, of which we are a part.
The final two sections are 'Local Accommodation Providers' and 'Local Tourist Attractions', whose titles, I suggest, speak for themselves!
Why not check-out our links - I'm sure you'll find something of interest?
Monday 11 May 2020 - Wagons – The only ones that are still 'Open'
There are over 50 goods wagons at Didcot Railway Centre and it should not be forgotten that in many cases goods traffic was at least as important to the railways as passenger traffic – and often more profitable.
You can find out a lot more information about all of our goods stock in the wagons section of our locomotives and rolling stock directory.
This article looks at the most basic and earliest design of goods stock - the four-wheeled open wagons. The earliest designs had very low sides with just one or two planks, but later three, four, five, six and even seven plank wagons became common.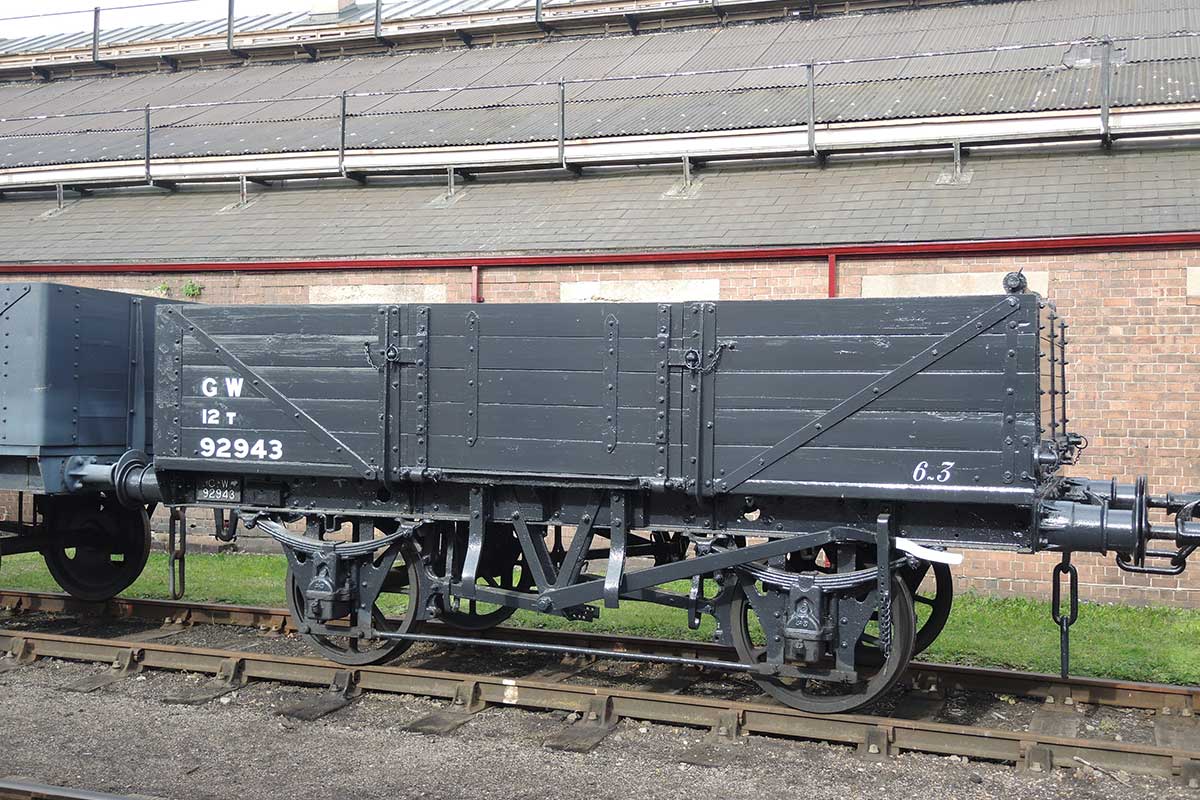 The Great Western Railway designated two major types of open wagons – Those built to diagrams in the N series described as locomotive coal and mineral wagons and those built to diagrams in the O series described as open merchandise wagons. Having said that a lot of the earlier designs were simply 16 ft long boxes and were in all probability used for either traffic as required. It should be remembered that the majority of bulk coal moved travelled in wagons owned by the collieries. In addition to this there were also wagons in the P series, for railway engineering use described as ballast and sand wagons.
The open wagons at Didcot Railway Centre include two not built by the GWR, these are No. 10153 a 7-plank open built for Taff Vale Railway by Gloucester RCW and No. 18553 a 5 plank Open Wagon built by Sheffield C&W. Both these have wooden frames.
The Great Western Opens are represented by:
There is also the specialised No. 92943 of 1913 to Diagram O.13 which was designed for china clay traffic and features an end opening door to allow for tipping into the holds of ships.
The N series of loco coal wagons is represented by No. 63066 of 1946 to Diagram N.34. The final design for such wagons by the GWR.
We also have three ballast wagons - Ten tonners, No. 80659 and No. 80668 built in 1936 to Diagram P.15 and the larger twenty tonner, No. 80789 built in 1937 to Diagram P.17.
Monday 4 May 2020 - Coaches - The Dean Era and the Victorian Train project
Didcot Railway Centre provides a home to no less than 46 original GWR coaches plus two replica broad gauge coaches. Let's start by looking at some of the earliest.
William Dean (1840-1905) was Chief Locomotive Engineer of the GWR from 1877 to 1902 during which time he presided over the conversion from broad to standard gauge and later the introduction of all-corridor trains. We have nine Dean era coaches in our collection, and these could reasonably be described as illustrating the way the Victorians would have travelled - Queen Victoria reigned from 1837 to 1901.
There is an ongoing project under the auspices of the Carriage and Wagon team to restore a number of these vehicles to provide the railway centre with an authentic Victorian train.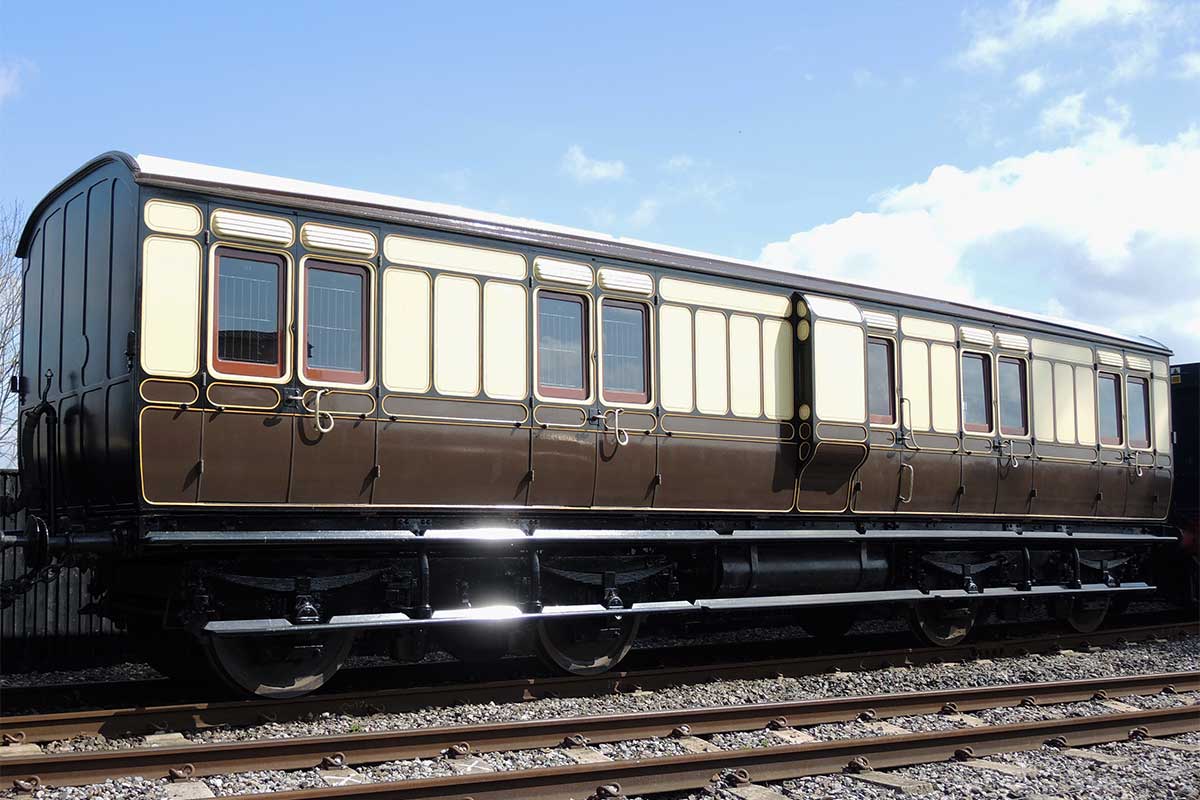 Our nine vehicles can be categorised by their state or restoration, into those serviceable, those under active restoration and those stored carefully under cover until such time …
The vehicles comprising our current Victorian train are, Nos. 416, 933 and 1941:
No. 416 is a 31' 4-wheel brake third coach of 1891, No. 933 is a 40' bogie full brake coach built in 1898 and No. 1941 a 46'6" bogie clerestory third of 1901.
Our 'Victorian' train currently often includes No. 3755, a Churchward non-corridor brake third which, being built in 1921, is technically far too modern but still looks the part.
Also in the restored category is No. 2511 - a 6-wheel family saloon, but this is normally displayed inside the carriage shed as it has a largely complete original interior, which is too delicate for regular use. This is despite the body being sold off by the GWR in 1937 and used as a private residence near Pangbourne!
The Victorian Train normally runs on one weekend per month in the summer and is particularly to be seen at gala events where it forms an appropriate load for our recreated 'Saint' class locomotive – No.2999 'Lady of Legend'
There are two 4-wheel vehicles currently under restoration to join the Victorian train. These are No. 290 a composite 1st/2nd and No. 975 a third class vehicle. The underframe of No. 290 was restored as part of a filming contract and work is now well underway on the extensive bodywork repairs required before this coach can re-enter service. No. 975 appears almost complete externally and has indeed appeared as part of an ambulance train as part of our First World War commemorative events, in a temporary maroon livery. There is however quite a lot more to be done, particularly on the interior before the vehicle is fit for passenger use.
Finally we come to the stored vehicles. No 1357 is a 46'6" bogie clerestory third of 1903, very similar to No. 1941. This may be the next vehicle to be restored as part of the Victorian train once Nos. 290 and 975 are complete.
No. 6824 is a 6-Wheel Tricomposite of 1887. Sadly only the body has been preserved and it is temporarily placed on another underframe. This coach was originally built as a 'convertible' being placed on a broad gauge underframe, before being converted to narrow (standard) gauge use when the broad gauge was abolished. There has been some speculation that it could eventually be restored in that form.
No. 9520 is an interesting vehicle being a bogie clerestory non-corridor composite dining car of 1903, featuring a central kitchen, a first class dining room at one end and a 2nd/3rd at the other. Again without its original underframe, and largely stripped internally having served as a cobblers in Newbury restoration would be a major project.
---
Monday 27 April 2020 - Locomotives – The 'Not entirely GWR' part of the collection
Did you know there are 28 steam locomotives based at Didcot Railway Centre as well as 4 diesel/gas-turbine locomotives, three self-propelled rail cranes, a steam railmotor, a diesel railcar and not forgetting a 'Wickham' permanent way trolley?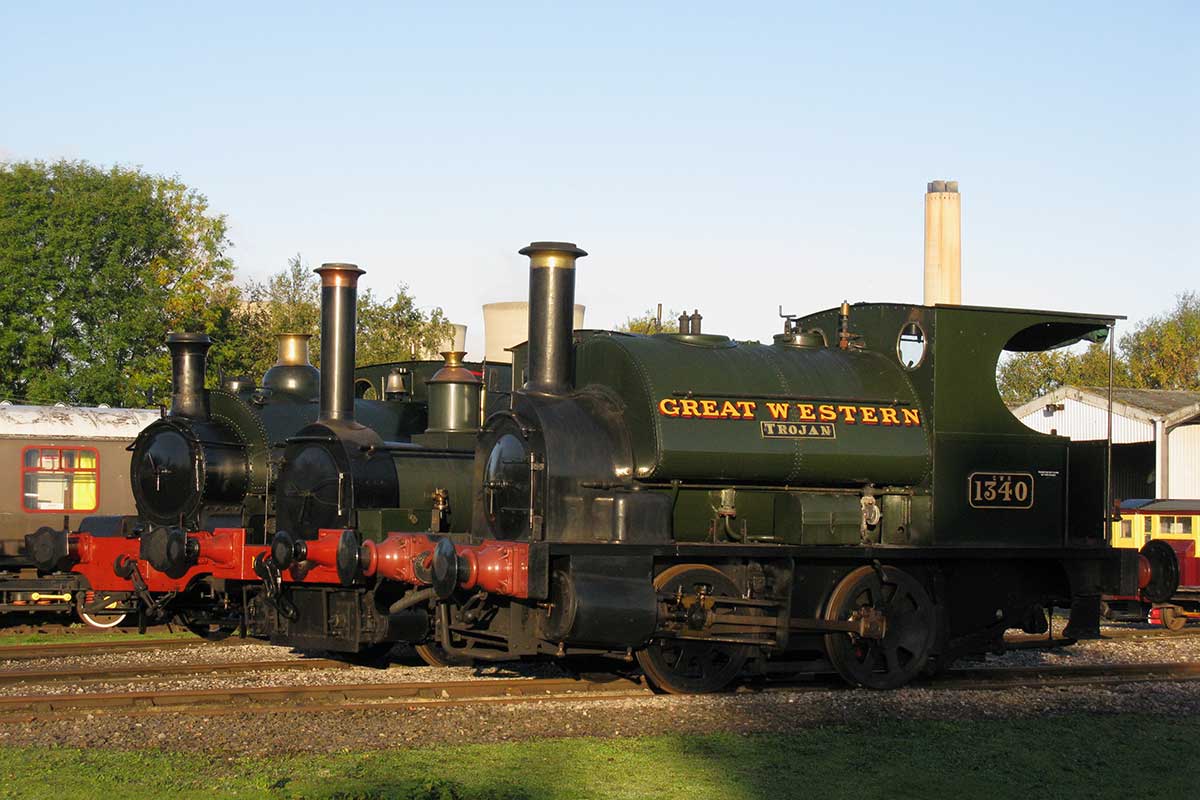 24 of the steam locomotives, the railmotor, railcar and arguably the gas-turbine locomotive were owned by the Great Western Railway at some point in their existence - making this, we believe, the largest collection of preserved locomotives of any one company anywhere in the world (though we are open to correction of course!).
You can find out a lot more information about all of our engines in the locomotives section of our locomotives and rolling stock directory.
It is a popular, though inaccurate, view that all GWR locomotives look the same, but what about the 'non-GWR' locomotives in the collection?
The only two steam locomotives at Didcot with no real GWR connection whatever are industrials No.1 'Bonnie Prince Charlie' which was used at private sites on the south coast for twenty years, before coming to the Railway Centre in 1969, and No.2409 'King George' which moved to Didcot in 2011 and is being rebuilt as a certain blue tank engine beloved of 'children of all ages'.
The other two locomotives never owned by the GWR are our broad gauge replicas Fire Fly and Iron Duke. The originals were most definitely GWR products, but with the Broad Gauge being abolished in 1892 it is perhaps unsurprising that no original locomotives survived. The two replicas were inspired by the GW150 celebrations in 1985 and together with two replica carriages and a reconstructed broad gauge running line serve to show what 19th century travel must have been like on the GWR. Sadly neither locomotive is in running order at present.
Of course even some of the locomotives ultimately owned by the GWR were not actually originally constructed by that company.
Interestingly, one locomotive was only taken into GWR ownership once it was no longer in running order! No.5 'Shannon' or 'Jane' was used by the Wantage Tramway Company to run a service from the GWR station at Wantage Road into the town. Although the locomotive was overhauled at Swindon Works on two occasions, it was not until the Tramway closed in 1945 that she was purchased by the GWR - for static Display on the platform at Wantage Road.
Nos. 1338 and 1340 'Trojan' were built for docks railway companies in South Wales, by locomotive contractors, Kitson of Leeds and Avonside of Bristol respectively. The docks railways, were absorbed by the GWR with the locomotives tending to become increasingly 'westernised' as they passed through works.
No.6697, although of GWR design, was actually built by Armstrong Whitworth of Newcastle. It was unusual for the company to have locomotives built by private contractors but it seems that even the mighty Swindon Works had a limit to its capacity.
It is well known that the Great Western Society has been at the forefront of creating locomotives of long-lost classes, utilising the GWR's 'standardisation of parts' policy to allow us to back-convert classes of locomotives well represented in preservation into other classes where no representative survives. The first such locomotive to be completed is No.2999 'Lady of Legend' incorporating many parts including frames and boiler of No.4942 'Maindy Hall'. Also in this category but still being restored/created are No.1014 'County of Glamorgan' incorporating many parts including frames and boiler of No.7927 'Willington Hall' and No.4709 incorporating parts from several donor locomotives. Are these 'real' GWR locomotives? To GWR design certainly and probably containing as many 'original' GWR parts as many other preserved GWR locomotives – but opinion remains divided.
Finally there is Gas Turbine No 18000 which was ordered in 1946 by the Great Western Railway from Brown Boveri of Switzerland, but didn't arrive at Swindon until February 1950, well after the GWR had ceased to exist as a company.
---
Monday 20 April 2020 - The Great Western Society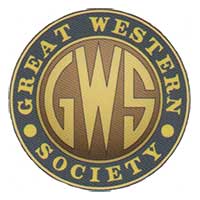 I expect you know that Didcot Railway Centre is the home of the Great Western Society - but did you know that the organisation originally set out to preserve one small steam engine? You can read much more about the Society and its foundation by 'four schoolboys' in a brief history of the GWS.
Incidentally, that 'one small steam engine' - 0-4-2T No. 1466, is currently being restored so that it can steam at the Society's 60th anniversary celebrations. There is quite naturally a 1466 restoration appeal to which you are more than welcome to contribute!
Members of the Great Western Society receive a quarterly magazine - The Great Western Echo. This contains news of Society activities at Didcot and elsewhere and also items of historical interest about the Great Western Railway. You can find out more about contributing to the magazine and you can also view backnumbers from issue 209 (Spring 2015) to issue 221 (Spring 2018).
The Great Western Society is proud to have been in receipt of many awards over the years, including most recently at the Heritage Railways Association award in February - where we were delighted to receive two! Some of our more recent awards are described.
Of course the Great Western Society is more than Didcot Railway Centre and there are active groups in Bristol, Oxford, the South West (Torbay), Swindon and Taunton. All these groups normally hold regular meetings, though many do not meet over the summer months, and all meetings are, of course, cancelled at present. Some groups also organise outings and various other events based on their local areas. You can find out more about local groups - if there's one near you, maybe bookmark the page for future reference.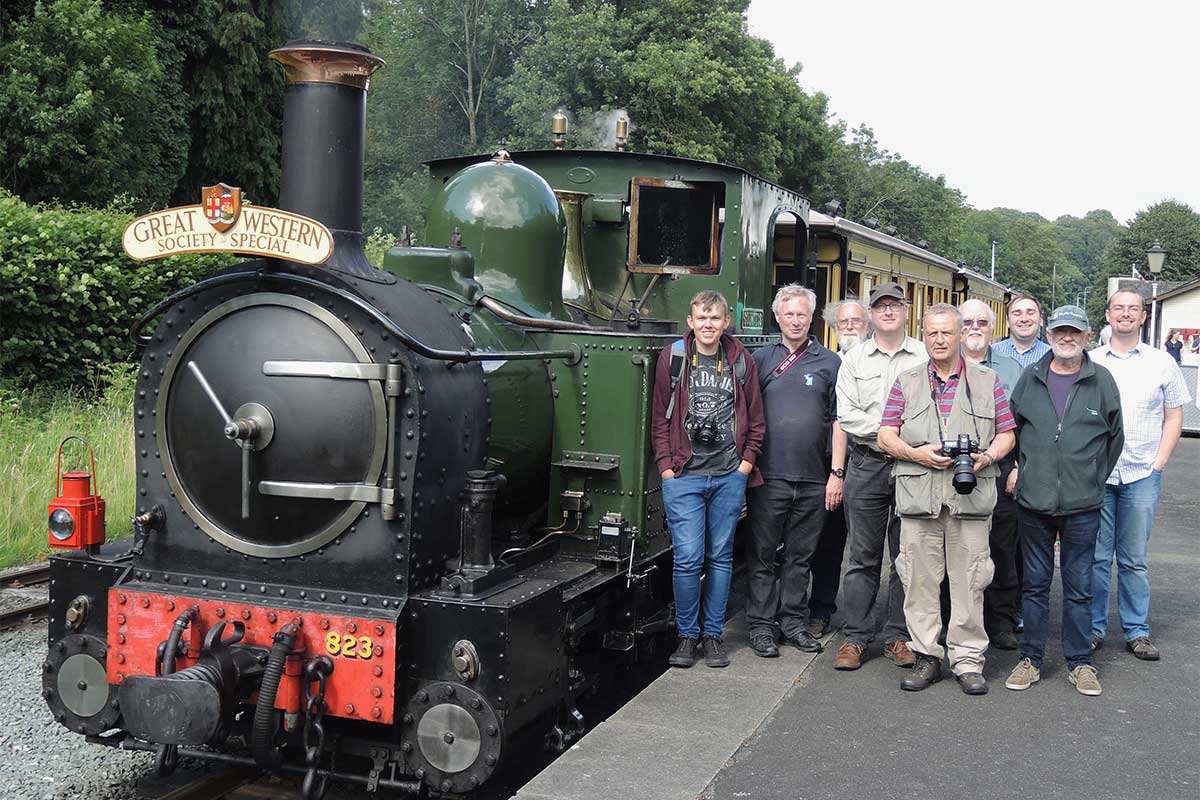 Bristol Group visited the Welshpool and Llanfair Railway in 2019, amongst other places.
Finally you can of course join the Great Western Society. As membership is currently a paper-based process it might take a little longer than usual to respond to you, but we will of course deal with your correspondence a soon as we practically can.